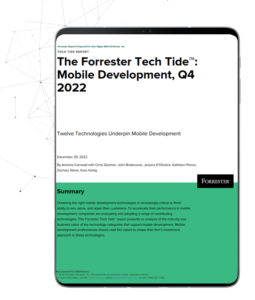 Mobile is the primary gateway to the customer for most businesses. The unique channel provides an always-on relationship with consumers that modern companies desire. Mobile technology decisions are unique to each business, but require careful consideration in order to meet the demands of modern consumers.
As the modern mobile ecosystem continues to evolve, mobile developers face greater challenges with choosing the right technologies, frameworks, and tools for implementation. In the recent Forrester Tech TideTM: Mobile Development, Q4 2022 report, Forrester examines the business value and maturity of 12 mobile development technologies to help mobile development professionals make informed decisions on their technology investment approach. According to the report, "Forrester surveyed technology decision-makers, suppliers, and other subject matter experts (SMEs) in [their] search for the most important mobile development technologies."
Defining the Optimal Mobile Technology Strategy
In the report, Forrester evaluates twelve front-end mobile technologies that have broad market traction and are commercially available at enterprise scale. According to Forrester's research, the twelve technologies that contribute to mobile development are:
AI-based UI testing
Low-code development platforms
Machine translation
WebAssembly-based solutions
Cloud-based mobile device labs
Cross-platform for mobile and web
Native widgets
Progressive web apps (PWAs)
Single-platform native environments
Cross-platform for mobile, web, and extended reality (XR)
New mobile OSes
Cross-platform without web support
The technologies were assessed by their business value, defined by expected ROI for an experienced development team and maturity in terms of enterprise adoption. Forrester then placed each technology into one of four categories:
Experiment: low maturity and low business value
Invest: low maturity and high business value
Maintain: high maturity and high business value
Divest: high maturity and low business value
Perficient Interviewed on Mobile Development
"We are proud to be among the vendors and subject matter experts interviewed for the Forrester Tech TideTM report. At Perficient, we believe that mobile is more than just a project or an app, selecting the right underlying technology is crucial for mobile product success."

Jonathan Crockett, Principal – Mobile Solutions
Perficient was listed among 16 companies at which technology decision-makers, vendors, and subject matter experts were surveyed by Forrester for The Forrester Tech TideTM: Mobile Development, Q4 2022 report.
To learn more, download The Forrester Tech TideTM: Mobile Development, Q4 2022, available for purchase or to Forrester subscribers, or contact Perficient's Mobile Solutions experts today.