The previous two years have been full of chaos and mystery, divulging our world into uncharted territory. Our society was forced to shift online and away from in-person events. The feeling of connectedness could be found over Zoom meetings and was the new closest thing to face-to-face interaction.  
COVID-19 impacted every aspect of life: personal, social, work, and the list continues. 2022 began much the same as the previous years, with much left to question. Luckily, as 2022 has progressed, we have slowly begun to shift back to in-person activities. Businesses have employees reporting back to the office, concerts and sporting events are at full capacity, and restaurants have waitlists again.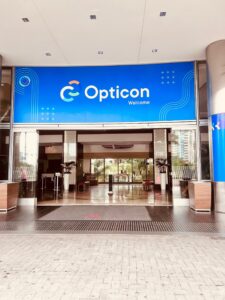 Opticon 2022
It's been almost three years since Perficient has hosted or attended national conferences, but thankfully 2022 brought the return. Specifically, we were able to sponsor and attend Optimizely's first in-person user conference, Opticon 2022, in San Diego.  
Our team members traveled from across the US and joined nearly 900 attendees from customers, partners, media, analysts, and more. For our Perficient team members and Optimizely, this was a reunion after many years apart, and for others, it was a first-time meeting that was long overdue.  
The three-day conference celebrated the theme of Boundless Digital Invention. Days consisted of well-deserved awards and recognition, informative product sessions, and great networking opportunities. Our Perficient team was fortunate enough to leave bearing the award for Optimizely's 2022 Solution Partner of the Year. We were also awarded for our work with International Fresh Produce Association.
Boundless Digital Invention 
Alex Atzberger, Chief Executive Officer at Optimizely, introduced Boundless Digital Invention, which addresses how to break through business complexities to achieve higher outcomes. This new era of marketing combines experimentation, collaboration, and content creation and will seamlessly come together to enhance the customer experience.  
While there were endless sessions to attend and knowledge to be gained, attendees were surrounded by plenty of fun and sweet treats. Bright and early, attendees were treated to breakfast and a coffee bar. Once the day was underway, even a midafternoon lull could be cured by a donut wall and appetizers.  
Attendees heard closing remarks from NBA Hall-of-Famer Earvin "Magic" Johnson to cap off the conference. Magic shared how his experiences in basketball and business led him to the top.  
Before goodbyes were said, Optimizely hosted an Opticon Block Party. The party was filled with pizza, drinks, music, and great laughs before everyone returned home.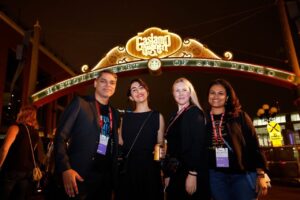 Optimizing Happiness
The mood of Opticon was energetic, inspiring, and thrilling. Being surrounded by others who are zestful and creative in their work life is encouraging. We all have a stake in Optimizely and are excited to see the growth of their products and company in the coming years. 
We thoroughly enjoyed Opticon22 and thank the people of Optimizely for their incredible hospitality and well-organized event. We'll see you again next year in San Diego and can't wait to see where the next year takes our partnership.  
This slideshow requires JavaScript.