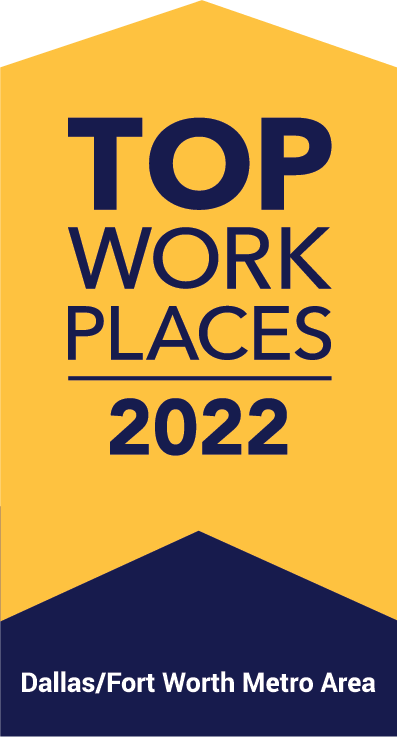 People are at the core of who we are and what we do at Perficient, and we work to cultivate a culture that challenges and champions great people every day. We are thrilled to announce that this culture has earned Perficient recognition as a 2022 Top Workplaces National Standard winner in the Dallas-Fort Worth area! This recognition comes from The Dallas Morning News in partnership with Energage and is primarily awarded based on employee feedback.
This team is a close-knit group that genuinely enjoys spending time with one another. Our General Manager sums it up perfectly:
It is an honor to be recognized as a Top Workplace in Dallas. Our team is truly one-of-a-kind. Our Dallas colleagues are passionate, engaged and client-focused.

We do a lot to help our colleagues understand how their work is meaningful, particularly in how their work impacts our clients. One of our primary objectives is to help every colleague work at their full potential and to craft and experience a challenging, rewarding career path for themselves at Perficient.

– Erin Moloney, General Manager
From intentional local colleague appreciation and recognition, community engagement, local market activities, and festive cultural gatherings, the Dallas team at Perficient offers many incredible opportunities to engage and enjoy working together as a 2022 Top Workplace.
Embracing Our Community
Perficient does a lot for the communities we are located in, with our Dallas office being especially involved locally.
Back in 2019, we announced a partnership with the Dallas Mavericks NBA Franchise that included courtside and digital signage along with home game tickets throughout the season. Many of our Dallas colleagues are avid Mavericks fans and partnering with the team is a fun perk each year. And let's face it – it's pretty cool seeing your company's logo courtside too!
Another huge part of the culture in our Dallas office is the team's dedication to advancing STEM education opportunities within the metropolitan area. Over the past few years, our team has partnered with the Mark Cuban Foundation to host Artificial Intelligence (AI) Bootcamps for high school students, at no cost to the student. These bootcamps introduce students to the concepts of AI through educational seminars, interactive lessons, and lab exercises. Our Dallas colleagues are invited to volunteer for sessions to share their expertise and be hands-on with making a difference in these students' lives.
Perficient's Bright Paths Program is also launching a new training camp in Dallas, furthering our support of STEM education. The Bright Paths Program is a coding bootcamp and software engineering program designed to equip students from underrepresented communities with the skills to start their journey toward a career in technology. We have had massive success with this program in Detroit and Minneapolis recently, and our Dallas team is ecstatic to be supporting the program and expanding our company's impact within the Dallas-Fort Worth community.
Check out some of the other events our team has supported in 2022 including a Toyota SWARM Hackathon and a Virtual Design-a-Thon hosted by the Mark Cuban Foundation.
Celebrating Our People
While the Dallas team has a lot going on outside of the office that brings them together, there is no shortage of internal culture events for this group. Dallas colleagues are invited to attend a Town Hall every month to cover company updates, colleague shoutouts, client project highlights, recent wins and successes and more. The Dallas team is always adding a fun factor to add some excitement. Food and beverages are provided for colleagues who join in-person, and a themed happy hour follows the meeting.
For example, this past summer, the team hosted a Luau-themed happy hour and folks were invited to wear matching attire and use themed Teams backgrounds if joining virtually. Most recently, the team hosted a costume contest during the October town hall that featured lots of creativity and some friendly competition among participants.
This slideshow requires JavaScript.
Speaking of competition – our Dallas office also participated in a company-wide Hunger Action Month contest in September that was led by our Giving ERG (Employee Resource Group). Offices around the country competed to see who could make the largest impact in their area through food donations, advocacy email sends, and volunteering. The Dallas team went all-in on this contest and helped Perficient reach an overall total of 5,624 meals that were donated to local food banks. Several colleagues made an additional contribution by volunteering their time to LovePacs in Dallas to further the team's impact.
Challenging and Championing Our Colleagues
Our Dallas team makes it a priority to share our stories and our gratitude for one another, both in person and virtually. Each month, in our town hall meeting, local leadership recognizes "shoutouts" from colleague to their peers for a job well done. Employees are applauded and appreciated in person for their contributions. Additionally, Dallas colleagues at all levels are invited to stand up and tell their story about a unique colleague experience, a special project, or a client project they've completed.
The Perficient Dallas team is one-of-a-kind, and we are proud to be called a 2022 Top Workplace. This win adds to our growing list of achievements which can be found in full on our awards and recognitions page. We can't wait to see what this group does next!
---
JOIN AN AWARD-WINNING WORKPLACE
At Perficient, we continually look for ways to champion and challenge our talented workforce with interesting projects for high-profile clients, encourage personal and professional growth through training and mentoring, and celebrate our people-oriented culture and the innovative ways they serve Perficient and the community.
Visit our Careers page to see career opportunities and more!
Go inside Life at Perficient and connect with us on LinkedIn, YouTube, Twitter, and Instagram.