John Dymond is involved from start to finish on projects as a Director in Perficient's Optimizely practice. His deep knowledge of the platform and individualized attention builds trust among his team and clients.
The hard work and dedication of all the colleagues in our Optimizely practice led Perficient to recently be recognized as a Solution Partner of the Year at the Optimizely 2022 Partner Awards, and receiving a joint award for Most Customer-Centric Digital Experience. These awards are a testament to the team's ability to deliver exceptional Optimizely solutions. Below, John discusses his role on this award-winning team, his optimism for the team's future, and more.
What is your role? Describe a typical day in the life.
I'm a Director in our Optimizely practice, and my role is very client facing. I assign time in my day to be a Delivery Director on existing projects and support our Portfolio Specialists with their current opportunities. There is rarely a week that goes by where I am not working on a new estimate or slide deck for a client.
In addition to this, knowledge from my past experiences helps me and my team successfully embark on new Optimizely projects – whether that be a site redesign, re-platforming from another system, or planning integrations with other systems. These are all stressful initiatives for our clients, but I help put them at ease because I've been in their shoes before. I reassure them that what we're doing is achievable, and by utilizing my past experiences, I can explain how our team has accomplished and overcome similar challenges previously.
How do you explain your job to family, friends, or children?
If you stop by my desk, there is a 50/50 chance you will see me with the headset on, so my fiancée likes to tell people that I am a "Director of Talking on the Phone."
I often tell people that I'm in software sales because I find it easier to explain my job if I start with a simple, relatable topic. The reality is that I have been in content management for so long and served in so many roles, that I can relate to just about anyone's perspective on the process.
Why did you choose Perficient?
In my previous consulting experience, it was exhausting trying to remain an expert on all of the different platforms. It is a full-time job maintaining status in any single one, so I wanted to turn my focus specifically to Optimizely.
A former colleague of mine, Daved Artemik, was telling me how happy he was that he made the jump to Perficient. The stars soon aligned, and Perficient was starting a dedicated Optimizely practice around the same time that I joined the team. I'm thankful that leadership gave me the time and space to get things started. It wasn't easy, but we are really proud of the heights the team has since reached.
READ MORE: A Premier Platinum Optimizely Partner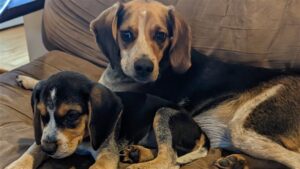 What are you passionate about outside of work?
My family practically runs an animal rescue out of our house. This may be an over exaggeration, but we have two beagle puppies and two cats, and a large portion of our week involves spending time with them. If you meet me in person, I will probably show you at least a dozen pictures of the pups.
Outside of the animals, I'm a sports fanatic. I grew up just outside of Pittsburgh, Pennsylvania, so naturally, I am a Steelers and Penguins fan. I also played college tennis, still play competitive softball, and I love playing Fantasy Football. It's great to watch my team rally around the cause on a weekly basis and win me the occasional victory, even if they aren't aware.
Why are you #ProudlyPerficient?
There are several things, but the first is the potential of our Optimizely practice. Our recent award wins speak volumes about our current reach in the space, the clients we've served, and we are just getting started. Optimizely is a massive product, and there is still so much more we can do to expand our reach and help our clients.
Secondly, I love the people I work with. We have so many talented people that lead and work on Optimizely projects. They make my role as a Delivery Director much easier because they are passionate about the product and are always willing to help the client and their fellow team members. While I'm very proud of our team for the awards we received, I'm even more proud of the relationships we've built with each other and our clients to achieve such accolades.
READ MORE: Perficient Wins Big at Opticon22
---
It's no secret our success is because of our people. No matter the technology or time zone, our colleagues are committed to delivering innovative, end-to-end digital solutions for the world's biggest brands, and we bring a collaborative spirit to every interaction. We're always seeking the best and brightest to work with us. Join our team and experience a culture that challenges, champions, and celebrates our people.
Visit our Careers page to see career opportunities and more!
Go inside Life at Perficient and connect with us on LinkedIn, YouTube, Twitter, Facebook, and Instagram.