3 Upcoming Updates for Salesforce Marketing Cloud
It is that time of the year again for another Salesforce Marketing Cloud release! The Winter 2023 release is happening October 5-23, 2022.
Get an exclusive, in-depth look at the new features by tuning into the Winter '23 Marketing Cloud Release New Feature Overview. Join this Salesforce webinar on October 27, 2022, at 11 AM CDT.
Please read the full release notes here.
Here are some key updates in 3 areas that we are excited about!
1. Marketing Cloud App, Setup, and Security
  New _AutomationInstance and _AutomationActivityInstance views allow ways to improve Automation Health.

  Import and Export beyond SFTP: Azure, Amazon S3, Azure Blob Storage, Google Cloud Storage
Consent Data Model Best Practices for leveraging Consent Data Model in Sales Cloud. If you are building a data model for a custom preference center, this is very important.
2. Marketing Cloud Cross Cloud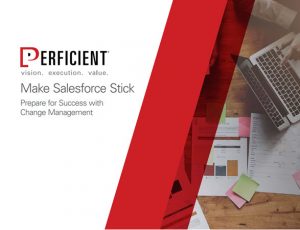 To ensure your Salesforce implementation or migration goes as planned, our team of change management professionals discuss how to manage the transition process to ensure your team is ready, willing, and able to perform effectively in the new environment.
  AMPscript, as of Feb 2023, will only be able to access Synchronized DEs in the same BU.
  Tag your favorite content when viewing Quick Sends with the start icon.
  Starting in the Spring 2023 release, formula fields can no longer be used to filter a synchronized Data Extension. Check your synchronized data settings, so you are ready.
3. Marketing Cloud Journeys

Monitor Marketing Cloud Automations in Slack. Slack is becoming increasingly integrated; do not underestimate the power behind this!
Configuration Warnings are more prominent in Journey Builder.
Image Carousel Block available for Interactive Emails. Include up to 10 images with no coding.
Enjoy the new release!
If you have questions about Marketing Cloud, I can be reached at Terry.Luschen@Perficient.com. Perficient has the Salesforce Marketing Cloud Experts to support your business opportunities!