The decision between food and other necessities shouldn't be an impossible choice, yet food insecurity remains a nationwide issue. According to Feeding America,
the largest hunger relief organization in the U.S., over 38 million people in the U.S., including more than 12 million children, struggle with hunger. 
September was Hunger Action Month (HAM), a campaign sponsored by our community partner Feeding America that seeks to raise awareness and fight food insecurity in the U.S. Our Giving Employee Resource Group (ERG) coordinated several activities throughout the month that invited U.S. colleagues to support Feeding America during HAM.  
By the end of September, Perficient and our colleagues donated $21,047 to Feeding America, provided the equivalent of more than 5,624 meals to communities across the U.S., and volunteered 245.5 hours at local food banks!
Individually, our colleagues are passionate about giving back. Together, we made a real difference. Here's a recap of just some of the activities that took place at Perficient during the month-long initiative. 
Our "Get to Know" Event with Feeding America
Our Giving ERG hosts regular events that educate, enable, and engage colleagues in ways to give back. We kicked off the HAM initiative with a virtual "Get to Know Feeding America" event where colleagues heard from representatives from the organization about the essential work they are doing in communities across the country.  
Feeding America's mission is to advance change in America by ensuring equitable access to nutritious food for all, and they achieve this by partnering with food banks, policymakers, supporters, and the communities they serve. Their network is comprised of 200 food banks that are connected to more than 60,000 meal programs, which include everything from community soup kitchens and food pantries to programs designed specifically to serve vulnerable populations like seniors and veterans.  
Feeding America serves every county in all 50 states and Puerto Rico, serving more than 40 million people annually. Curious about what hunger looks like in your community? Visit Feeding America's interactive hunger map to learn more. You can also find your local food bank using their food bank map. 
How We Donated $21,047 to Feeding America
During a recent Perficient sales conference, attendees could visit a Giving ERG exhibit booth to learn more about the group and the HAM initiative. While there, attendees were invited to make monetary donations to Feeding America and be added to an onsite donation leaderboard – making a difference while earning bragging rights among their peers.  
Colleagues generously opened their wallets to make donations all in the name of connecting people with food and ending hunger. By the end of the two-day event, dozens of colleagues raised an incredible $6,620 to fight food insecurity. Congratulations to these colleagues who topped the leaderboard: Angela Engel, Felicia Johnson, Paul Schoknecht, Stu Huels, and Lori Sackowitz and Kathryn Bogen.  
Feeding America is a Perficient Gives community partner, and the generosity of our colleagues inspired Perficient to make a matching $6,620 donation. In addition, Perficient Chairman and CEO Jeff Davis personally matched the $6,620 donation. Add to that the monthly donations colleagues made through the Perficient Gives charitable match program, and our grand total comes to an incredible $21,047! Every dollar donated to Feeding America helps provide meals to people facing hunger, and we are so proud that the generosity of our colleagues is making an impact.
Our HAM Competition Inspires Nationwide Action and Generosity
Our HAM activities weren't just limited to virtual learning opportunities and one onsite event. The Perficient Giving ERG hosted a nationwide HAM competition throughout the month of September challenging all U.S. Perficient colleagues to get involved.  
Here are a few of the ways colleagues could make an impact: 
Food Donations:

During September, all U.S. Perficient office locations acted as temporary food donation centers. Colleagues could bring non-perishable food items to their local Perficient offices for donation to area Feeding America food banks.

Advocacy Emails:

Colleagues were invited to use

Feeding America's email templates

to contact their political representatives and urge them to take action to end food insecurity.

Volunteer:

Colleagues were also encouraged to volunteer their time at a local food bank. Local office liaisons could also organize group volunteer outings to amplify efforts and overall impact. 

 
Each office received points for every item of food donated, advocacy email sent, and hour spent volunteering. In the end, the two offices with the most points received a prize. Colleagues eagerly embraced the opportunity to make a difference locally, serving as a true testament to the care and generosity found among Perficient's people.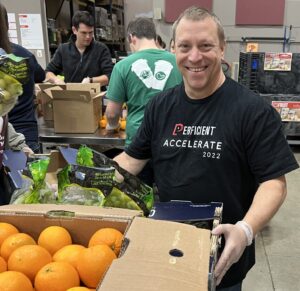 So, what were the results? Queue the drumroll! By the end of HAM, we collectively donated the equivalent of more than 5,624 meals to local food banks across the country. Here's how the numbers break down: 
4,356

pounds of dry food

 

2,560

cans of food

 

245.5

hours volunteered

 

111

advocacy emails sent

 
Our Minneapolis colleagues topped the leaderboard with Lafayette following in second place. Both locations will receive a snack box from Caroo to share with local colleagues. As an added benefit, Caroo makes a donation to Feeding America for every snack box purchased, extending Perficient's impact even further.  
 As indicated by the results above, colleagues turned out in droves to support HAM. Take a look at the slideshow below to see photos of our colleague's giving in action. Together with our colleagues and community partners, Perficient is committed to helping those in need and building a better world.
This slideshow requires JavaScript.
---
At Perficient, we continually look for ways to champion and challenge our talented workforce with interesting projects for high-profile clients, encourage personal and professional growth through training and mentoring, and celebrate our people-oriented culture and the innovative ways they serve Perficient and the community.
Visit our Careers page to see career opportunities and more!
Go inside Life at Perficient and connect with us on LinkedIn, YouTube, Twitter, and Instagram.