We're proud to announce Optimizely has recognized Perficient as the 2022 Solution Partner of the Year. The award recognizes the top-performing partner that has demonstrated outstanding business performance and excellence in the sales and delivery of Optimizely solutions. Perficient made the most significant contributions to the success and growth of Optimizely during 2021 in North America. 
In addition, Optimizely also awarded Perficient and the International Fresh Produce Association for Most Customer-Centric Digital Experience. The award is presented to an Optimizely customer who leverages the Content Cloud platform to its full potential and has built a customer-centric experience for end users.
"With more than 7,000 colleagues across the world, our Perficient team is committed to transforming how our customers connect with their customers – and grow their business," said Ed Hoffman, Vice President, Field Operations. "We are beyond excited and proud to be given these awards from Optimizely and recognize that without our dedicated team (and the Optimizely team), this would not be possible."  
Both awards were announced at Optimizely's annual tradeshow, Opticon22, which took place in San Diego on October 3-5th. 11 team members from Perficient attended the tradeshow and represented Perficient and Optimizely's partnership.
An Optimizely Premier Platinum Partner
An award-winning Optimizely Premier Platinum partner, Perficient has designed, implemented, and delivered numerous sites powered by Optimizely. Our team is comprised of three OMVPs and more than 75 Optimizely experts.  We understand how to get the most out of Optimizely's diverse digital experience platform to create highly effective and personalized experiences for our customers.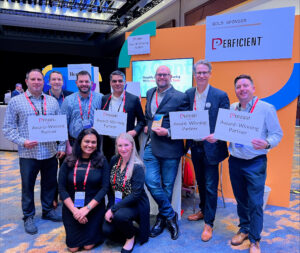 2021 and 2022 are years that have brought incredible growth to our partnership and 2023 promises to take our partnership to new heights. Well done team!   
We look forward to sharing the insights, perspectives, and expertise of this talented team over the next few weeks through our People of Perficient series. Stay tuned!