IT'S ROBOT FIGHTING TIME! The fighting robot Minotaur is preparing for battle, and Perficient will be there cheering it on every step of the way! Today, Perficient announced our partnership renewal with the Latin American robot building team, RioBotz, and their BattleBots competitor, Minotaur. Perficient will serve as Minotaur's primary sponsor bringing worldwide visibility to an audience of highly engaged STEM (science, technology, engineering, and math) enthusiasts.
BattleBots, the most popular robot fighting competition in the world, is a fusion of science and sport. In renewing our partnership with RioBotz and Minotaur, we're making an investment to build brand awareness on a global stage while showcasing all the great career opportunities available at Perficient.
The next season of BattleBots will begin broadcasting to fans on Discovery Channel and the Discovery+ streaming platform worldwide in early 2023. As we prepare for the upcoming season, let's take a look back on Minotaur's epic performance last season.
Minotaur's Journey from Fiery Start to the BattleBots World Championship
Perficient's global colleagues united behind Minotaur to witness the fierce competition unfold throughout the sixth season of BattleBots. Whether or not they were fans of BattleBots before, thousands of Perficient colleagues were quick to form a passionate community to cheer on Minotaur and the RioBotz team.
READ MORE: Why Perficient Partnered with the Fighting Robot Minotaur.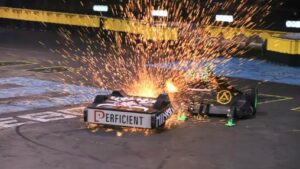 Despite erupting in flames during the first battle of the season, the mighty bot's incredible strength and endurance continued throughout the rest of the season and impressed commentators, fans, and Perficient colleagues alike.
Following its fiery debut, Minotaur remained undefeated the remainder of the regular season. Here's a rundown of Minotaur's performance:
Loss – a fiery battle that went to Sawblaze
Win – slayed the Dragon Slayer
Win – sent Deep Six flying with a TKO
Win – compromised Bloodsport's weapon
Win – ended defending 2020 World Champion End Game's chance for the crown
Minotaur and the RioBotz team entered the BattleBots World Championship tournament as a 16 seed and swiftly dominated their initial competitors to ascend the tournament bracket. However, during the quarterfinals match, Minotaur lost by a controversial decision that sent shockwaves throughout the BattleBots fandom and Perficient colleague community.
Although Minotaur was unable to bring home the Giant Nut Trophy, their grit and determination inspired Perficient colleagues and fans around the globe.
Perficient's Fighting Robot Minotaur Prepares for Battle Once Again!
"We're so excited to continue our partnership with a global technology consulting leader like Perficient. Our first season together was one the RioBotz team will never forget," said Carlos Souza, RioBotz team lead. "Engineering relies on constant improvement, and the team has continued making adjustments to Minotaur during the off season. We're eager to return to the BattleBots arena with Perficient by our side and show what the mighty Minotaur can do."
We can't wait to cheer on our favorite fighting robot, Minotaur, and Team RioBotz this season on their journey to take home the Giant Nut Trophy!