Last week, our team attended Salesforce's largest conference, Dreamforce, in San Francisco. For many attendees, it was the first time in three years that they were able to gather in-person with peers and clients. During the three-day conference, 40,000 Salesforce partners, clients, and vendors got together to hear from Salesforce leadership, industry experts, and a handful of celebrities, as well as get hands-on experience with Salesforce platforms.
The Perficient team learned about new Salesforce capabilities and technologies, heard new product announcements, and connected with peers and clients from across industries. Read on to learn about my top eight takeaways.
Launch of Salesforce Genie
Salesforce Genie is a real-time, industry-agnostic, data-based platform that allows you to meet your customers where they are. It leverages artificial intelligence, automated workflows, and integrated data from any system, channel, or data stream into a unified customer profile record. Think of it as a data lakehouse built on the Salesforce platform.
This real-time customer profile enables a level of personalization that has yet to be seen on the market.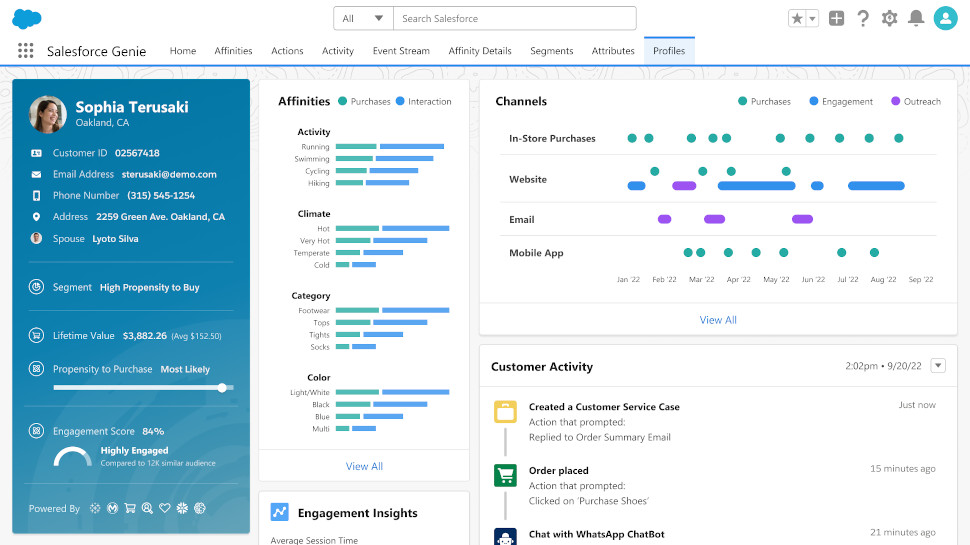 Real-world use cases for Salesforce Genie include:
A lost credit card
Customer service issues
Personalized product offers
Urgent healthcare needs
Salesforce Genie runs on Salesforce public cloud infrastructure, and aims to ingest and store real-time data streams at a massive scale and unite them with transactional data. According to Salesforce, the platform can bring data from mobile, web, APIs, legacy data using MuleSoft, historical data from proprietary data lakes, and other means.
Extending the Salesforce and AWS Relationship
In 2016, Salesforce started to use AWS infrastructure, and in 2018, the two tech giants made it easier to exchange data between their platforms. Now, Salesforce will move data to Amazon SageMaker so customers can build machine learning models based on that data. The data can be moved back to Salesforce where Einstein can use that model to complete intelligent tasks. This capability is made possible by Salesforce Genie.
New Slack Capabilities
Slack canvas
In December 2020, Salesforce acquired Slack, bringing it under the same ownership umbrella as Quip, a collaborative productivity tool. Up to this point, Slack had tried to become a competitor to Quip via acquisition of Spaces, but the capabilities weren't there.
Now, a new feature called Slack canvas, which aims to take Quip components and integrate them natively into Slack, enables interactive boards that pin key information related to your Slack channel.
Slack canvas will be available next year.
Slack huddles
This feature enables quick discussions and live co-working sessions from any channel or DM, and can include video and screenshare, pop-out windows, reactions, and other capabilities. Huddles rolled out during Dreamforce, and will be generally available to all users in the coming weeks.
Away Messages
Like Microsoft Teams and other apps, Slack lets you tell your peers you're "away" or unavailable, but these notifications are easy to ignore in Slack – statuses aren't highlighted or in bold lettering and don't offer any context.
Senior VP of Product at Slack, Ali Rayl, is toying with the idea of a landing page or wiki for Slack users who are "away" for an extended period of time – think parental leave or illness – so they don't come back to hundreds of unanswered messages. Stay tuned for more developments on this future capability.
Integrate WhatsApp with Salesforce
Meta has integrated WhatsApp with Salesforce to help businesses add new ways to communicate with customers. By integrating WhatsApp Cloud API capabilities with Salesforce, you will be able to offer new experiences on WhatsApp and easily manage these experiences across Salesforce Customer 360 applications.
The WhatsApp Business Platform is available to anyone who wants to get started. WhatsApp believes these capabilities will help deepen customer relationships, drive sales, and provide effective support.
The Need to Increase Cybersecurity
Uber recently reported a cyberattack where a hacker downloaded Slack messages and posted a note that many employees saw. This is an example of "social engineering," which exploits trusted individuals instead of hardware or software.
Salesforce co-CEO Marc Benioff says the company has been through every type of security issue with its customers, but that Salesforce needs to do more to help prevent these kinds of issues. I would expect innovative new security and trust capabilities in the near future.
The Net Zero Cloud and Net Zero Marketplace
Salesforce is the first Fortune 100 Company to become Net Zero. To that end, Salesforce built Net Zero Cloud, which allows you to integrate a sustainability management program into your organization. Features include carbon accounting, executive stakeholder reporting, emissions forecasting and simulations, and supplier management. Another resource is the Net Zero Marketplace, which is a climate action hub where you can purchase carbon credits.
You can sign up to be alerted when the marketplace goes live.
Interested in More Dreamforce '22 Content?
If you weren't able to attend Dreamforce in-person, or want to revisit some of the sessions, you can sign up for Salesforce+ for free to get access to content on-demand.
Perficient + Salesforce
We are a Salesforce Partner with more than two decades of experience delivering digital solutions in the manufacturing, automotive, healthcare, financial services, and high tech industries. Our team has deep expertise in all Salesforce Clouds and products, artificial intelligence, DevOps, and specialized domains to help you reap the benefits of implementing Salesforce solutions.