As a solutions architect, Rashmy Patwari uses the skills she has gained from working on three different continents to make an impact on our clients. The adaptability she's developed from three unique cultures has contributed significantly to her success at Perficient and within the Sitecore community.
The knowledge and expertise Rashmy has gathered from her varied work experiences have contributed to her being recognized as a Sitecore Technology MVP. Talented colleagues like Rashmy are the force behind Perficient's award-winning Sitecore business unit. Below, Rashmy shares more about leveraging her different work experiences to lead her to where she is today.
What is your role? Describe a typical day.
I work with a mid-size, national healthcare client and help with backend development as it relates to Sitecore, data, site accessibility, and leveraging SEO. The content on the sites I help develop constantly changes, so I ensure it's ready at all times by having data easily accessible, searchable, and accurate.
My days usually begin with a call to catch up with the team, obtain new assignments, and prioritize work for the day. It can sometimes be chaotic, but it's balanced with a reasonable number of challenges, and this allows for there to always be something interesting and new to work on.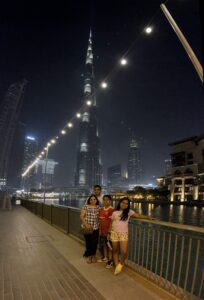 How does your role support Perficient? How are you making an impact?
I've worked with one client since joining Perficient and my team has consistently been pretty small, so it's easy to build strong relationships quickly. I bring my expertise, technological contributions, and natural adaptability skills to the table from my personal, global experiences. My prior experience has allowed me to leverage my specialized skill set and make significant contributions to the Perficient team, our client, and their customers.
I started my career in India and moved to the United States in 2006. Since then, I've also worked in Scotland, so I've had unique work experiences in three different countries. This has taught me invaluable lessons specific to cultures, work environments, and working in different time zones, which naturally led to my adaptability. Once I realized the weight this held, I used these skills to help adjust to my first remote role, making it a seamless transition.
What has your experience at Perficient taught you?
What I like about Perficient is that we don't have a stereotypical corporate work culture. We work in small teams for clients on projects where we collaborate with people across the globe. Our organizational culture works to bind our global organization together, and this gives me a sense of belonging. It enables us to be more united and collaboration opportunities can occur naturally.
What are your proudest accomplishments, personally and professionally? Any milestone moments at Perficient?
Joining Perficient has been my first experience working remotely and although I was hesitant in the beginning, it was as smooth of a transition as it could've been. Working remotely also means that I can be available for my family all the time, when previously I wouldn't have had the same opportunity to see my children grow up. This may not be an accomplishment, but it is something I'm very proud of personally.
Professionally, my proudest accomplishment has been the recognition of becoming a Sitecore MVP. This was a huge milestone in my career and is something I would like to continually strive for in the future.
What does it mean to be a Sitecore Technology MVP?
I was first introduced to Sitecore at my previous employer, and I was intrigued. I transitioned from Microsoft to Sitecore technologies and have since dedicated my time to fully understanding all the capabilities of Sitecore. Being recognized as a "Most Valuable Professional," or an MVP, shows that I am seen as an expert who actively participates in Sitecore community discussions to share expertise with partners and customers.
When I was first recognized, I thought it was solely an expertise recognition, but I soon learned it extended beyond that. As an MVP, I've been forthcoming about sharing my thoughts with the Sitecore community. This entails sampling new features of a product, working with other MVPs to understand and fully adopt these new ways, and sharing my experience with the community at large. Being an MVP has given me first-hand experience testing products before they're on the market, and in turn, immersing myself within the community, collaborating with other technologies, and sharing my work through writing.
READ MORE: Sitecore MVPs at Perficient 2022
What motivates you in your daily work?
One of the biggest perks of being a software engineer is that the opportunity to learn something new is feasible in almost everything I do. This truly keeps me motivated, and I can't see myself doing anything other than this. There's always something new, exciting, and thought-provoking, which also allows me to tune into my problem-solving skills.
Why are you #ProudlyPerficient?
Being valued as a consultant at Perficient directly stems from the people-oriented culture we have. Communication is at the forefront of everything we do, and our work truly does impact the company's overall success. At Perficient, you really feel rewarded for your small successes, and there are so many opportunities to get involved and feel like you're a part of something bigger than yourself.
---
It's no secret our success is because of our people. No matter the technology or time zone, our colleagues are committed to delivering innovative, end-to-end digital solutions for the world's biggest brands, and we bring a collaborative spirit to every interaction. We're always seeking the best and brightest to work with us. Join our team and experience a culture that challenges, champions, and celebrates our people.
Visit our Careers page to see career opportunities and more!
Go inside Life at Perficient and connect with us on LinkedIn, YouTube, Twitter, Facebook, and Instagram.