I recently sat down with one of our senior project managers, Ruby Lin, to discuss the many facets of her role at Perficient. She told me about how she leads teams and facilitates collaboration. We also discussed how her voice and work are appreciated by her team. I loved learning what Ruby values most about her colleagues and her company, and I'm sure you will too.
Ruby, thank you so much for joining me today. I'd love to kick off by hearing more about your role at Perficient. Can you describe a typical day?
I am a senior project manager and a delivery lead for clinical data management. In addition, I manage multiple projects for the clinical data warehouse and pharmacovigilance groups. I am a liaison on the global testing team in the life sciences industry, supporting the sales team in areas involving common data models (CDM) and common data warehousing (CDW). I am also working with the Agile community that is bringing the Agile practice to life sciences.
My typical day is not very different from many other team leads. Most of the time, I'm running to and from internal, external, customer facing, or seller supporting conference calls. When I'm not in a call, I'm leading project and organization teams to ensure they are:
Functioning well
Being supportive
Being innovative
I also help them to resolve challenges and look for growth opportunities.
EXPLORE NOW: Meet Our Other Senior Project Managers
What are the things you value most about Perficient's culture? 
In my role, I value that what I do or don't do matters. What I say or don't say also matters. It is important to me that I can be collaborative and challenged on my team. I value learning new thinking and methodology. My team supports me through challenges and celebrates me through successes. At this company, I value the people, the trust, and the honesty. Perficient invests into finding ways to do things better.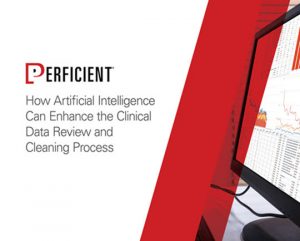 This guide analyzes how artificial intelligence – including machine learning – can be used by pharmaceutical and medical device companies to improve the clinical data review and cleansing process.
LEARN MORE: Perficient Promises to Challenge, Champion, and Celebrate Our People
How did you come to work at Perficient? What motivates you in your everyday work?
I joined Perficient as a part of their acquisition of Biopharm Systems. I went into labor on the day the buy-out was announced. So as long as I remember how old my girls are, I'll know how long I have been with Perficient.
What motivates me is the fact that I really enjoy what I do and appreciate all the collaboration and support from my teams.
How do you think diversity and inclusion should be prioritized in an organization? 
As a minority and a woman in a high-tech environment, it is important to me that a company tries to provide support and opportunities.
I believe that Perficient is committed to doing just that.
READ MORE: Diversity, Equity & Inclusion (DE&I) in Healthcare
Healthcare Leaders Turn to Us
Our healthcare practice is comprised of experts who understand the unique challenges facing the industry. The 10 largest health systems and 10 largest health insurers in the U.S. have counted on us to support their end-to-end digital success. Modern Healthcare has also recognized us as the fourth largest healthcare IT consulting firm.
We bring pragmatic, strategically-grounded know-how to our clients' initiatives. And our work gets attention – not only by industry groups that recognize and award our work but also by top technology partners that know our teams will reliably deliver complex, game-changing implementations. Most importantly, our clients demonstrate their trust in us by partnering with us again and again. We are incredibly proud of our 90% repeat business rate because it represents the trust and collaborative culture that we work so hard to build every day within our teams and with every client.
With more than 20 years of experience in the healthcare industry, Perficient is a trusted, end-to-end, global digital consultancy.
---
It's no secret our success is because of our people. No matter the technology or time zone, our colleagues are committed to delivering innovative, end-to-end digital solutions for the world's biggest brands, and we bring a collaborative spirit to every interaction. We're always seeking the best and brightest to work with us. Join our team and experience a culture that challenges, champions, and celebrates our people.
Visit our Careers page to see career opportunities and more!
Go inside Life at Perficient and connect with us on LinkedIn, YouTube, Twitter, Facebook, and Instagram.