Finding a new shortcut, such as DIY home projects or driving to a familiar location, is always helpful.  Of course, it is nice to be more efficient at work; any tips can help improve your speed.
Specifically, the Compensation module for Oracle Cloud HCM has many shortcuts to enhance the user experience.  Unfortunately, we continue to repeat the same habits with an insane amount of clicks and end up with sore fingers or boring presentations.
Never fear Oracle Cloud HCM Compensation customers!  I am here to guide you in redirecting your behaviors by creating new habits and helpful tips.  Let's get started and look at four shortcuts in Oracle Cloud HCM Compensation: Favorites, Search for tasks, Preview Worksheet and Common Configurations.
4 Shortcuts in Oracle Cloud HCM Compensation
1. Favorites
Favorites is one of the most overlooked items in not only the Compensation module but most likely other modules too.  This feature allows you to retrace your recent steps without having to see multiple Oracle pages or use the endless mouse clicks.  For example, instead of navigating to the "Workforce Compensation Plans" on the Compensation Landing page, you can easily go to favorites and click, then you are there!  Of course, if you have not set the page as a favorite, you can always go to the "Recent Items" that you have visited.   See screenshot below.
2. Search for Tasks
I have seen myself and clients perform this meaningless task many times.  You know…the dreaded scrolling!  Specifically, the Compensation Landing Page has many sections to choose from.  So why not just search for it?  And you do not need to enter the entire word.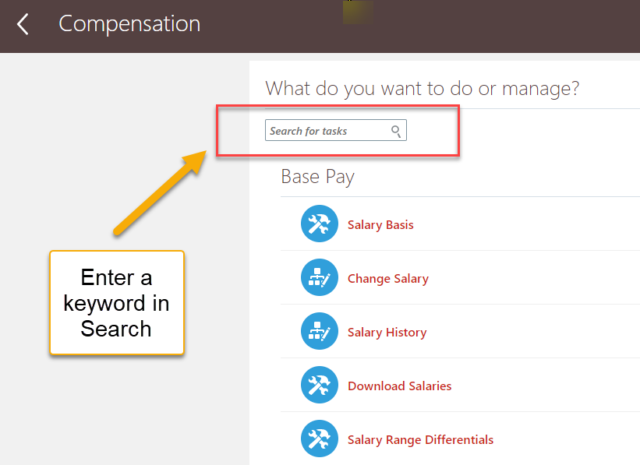 3. Common Configurations
Going into the world of Setup and Maintenance can seem overwhelming at times.  Cheer up!  How about going to the Compensation Landing page and finding the Common Configurations section?  This will quickly lead you to the same places in Setup and Maintenance such as Lookups, Fast Formulas, or Elements.  Even better, you can use two of the shortcuts from above and land on the Common Configurations section: Favorites and Search for Tasks!
4. Preview Worksheet
This is a newer feature that was recently released by Oracle in a quarterly update.  I love it!  When you make property changes on the back end of configurations such as a column, instead of maneuvering back to the "Act As A Proxy Manager" page on the front end, you can see the Detail Table changes by simply clicking the "Preview" tab which is near the "Detail Table" tab.  Note that this will only show simple property updates and not new calculations.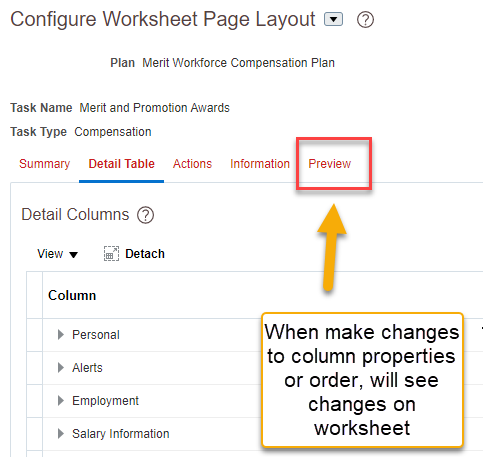 Get Started With Oracle Cloud HCM Compensation!
What are you going to do with all of this extra time?  How about share one of your top shortcuts or tips in the "Reply" section below?  Also, try using this phrase to remember the four tips: "my Favorite Search is a Common Preview."
Contact us to modernize your Compensation tools with Oracle Cloud HCM.  Or even tweak your existing Oracle Cloud HCM configuration for compensation.