Successful application development in the modern competitive landscape requires a strategic partnership with a trusted vendor that combines industry-leading technology partnerships with modern, scalable delivery methodologies. In the recent report,  The Forrester WaveTM: Modern Application Development Services Q3, 2022, Forrester states, "Modern application development (MAD) services focus on delivering modern digital software products that leverage the coolest and most modern technologies for great and differentiating customer experience. But that is not enough. MAD service clients also want to improve software development self-sufficiency and learn modern development practices and techniques themselves."
A Strong Performer for Modern Application Development Services
Perficient was named as a Strong Performer in The Forrester WaveTM: Modern Application Development Services, Q3 2022 report. In the report, Forrester evaluates 14 of the most significant midsize vendors in the modern application development landscape against 28 criterion. Data collected in the Forrester Now Tech: Modern Application Development Services, Q1 2022 report served as the inclusion criteria for the WaveTM. In the report, Forrester states that Perficient is, "a good option for those looking for a provider with strong partners and engineering, AI, and data skills".
It is an honor to be recognized as a Strong Performer in this Forrester WaveTM report, as we believe it's a testament to Perficient's comprehensive approach to create custom digital solutions that deliver value.

Glenn Kline, Area Vice President of Custom Development, DevOps, and Mobile Solutions
Driving Growth with Strategic Partners
In the evaluation, Perficient received the highest possible score (5.00) in the partner ecosystem criterion. "Perficient fuels growth with managed partners…It leverages its differentiated, well-structured partner program to drive opportunities for its MAD services based on AI/ML, Data, DevOps, Cloud, and product development, and the program is key to its growth," stated the Forrester report.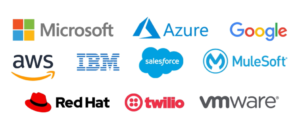 Perficient's Partners in Modern Application Development
Superior Talent Management
Developing and Managing talent is key to successful modern application development. Perficient received the highest possible score (5.00) in the talent management criterion. The report states, "[Perficient's] superior talent management program includes women in tech, philanthropy, LiveWell@Perficient for wellness, D&I-sponsored programs, a fully-funded bootcamp advancing STEM education and opportunities for underrepresented communities, and a comprehensive training curriculum."
Global in Our MADS Delivery
Perficient's global colleagues play a significant role in the successful delivery of modern application development services. Forrester states in the report, "Perficient has about 3,400 MAD employees across dozens of offices in the US…and various global delivery centers around the world". A reference customer told Forrester, "they are the right size with good tech depth".
Our global colleagues are committed to excellence in modern application development. We champion an optimized global delivery model that leverages digital hubs across time zones to deliver high-quality, innovative solutions for our clients.

Keith Schwierking, Global Principal
"Businesses need a trusted partner that can build modern products and applications while also working collaboratively to integrate those systems. Perficient is committed to meeting our clients' needs by expanding our innovation initiatives and growing our incredible talent over the next several years," said Glenn Kline.
Forrester WaveTM: Modern Application Development, Q3 2022 Report
To learn more, download the Forrester WaveTM: Modern Application Development, Q3 2022 report (available for purchase or to Forrester subscribers). Forrester surveyed leaders from Perficient's Innovation + Product Development, Strategy + Transformation, Platforms + Technology, Data + Intelligence, and Optimized Global Delivery teams while researching this report.