Be intentional. Be simple and intuitive. Focus on the future. Use a global mindset. These are the guiding principles in how Perficient's Oracle ERP and HCM practice is transforming our own back office from Oracle E-Business Suite to Oracle Cloud.
In a recent webinar, Perficient's Vice President of People, Andrea Lampert, Chief Financial Officer, Paul Martin, Vice President and Controller, Susan Adomite, and our Oracle ERP Directors, Matt Makowsky (Finance) and Holly Higgins-Smith (HCM) discussed our journey and how we're modernizing core business functions with Oracle Cloud to scale and grow.
You can tune in to the full webinar here.
Laying the Foundation
About a year ago when we began to evaluate a migration to Oracle Cloud, it didn't start with a current state assessment around our Oracle business suite. The focal point was not just on retiring traditional maintenance, software servers, hardware and infrastructure support. It was very much focused on the transformational opportunities in this project.
Room for Improvement
We took a good hard look at the things that weren't working and put them into three buckets: poor employee experience, poor business experience and ongoing EBS maintenance.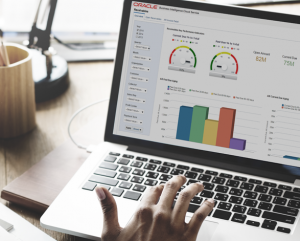 Explore key considerations, integrating the cloud with legacy applications and challenges of current cloud implementations.
When looking at employee experience, the current on-premises solution has a user interface that is difficult to use and not intuitive. We found this was having a big impact on our large ERP community. Another pain point is that we have multiple integrated systems. Employees and users are going from one system to another and is not very consistent.
For the business experience there's a lot of multiple manual steps, especially as it pertains to monthly, quarterly, and annual reporting. We're a fast-growing organization, both organically and through acquisition. So, our inability to scale our current processes and platforms is very painful and costly.
The third bucket is ongoing EBS maintenance which causes costly updates, patches and support. Upgrades with the on-premises solution takes months, if not years, and costs a lot of money around Oracle E-Business Suite.
Divide and Conquer
Our roadmap is being rolled out in two phases.
Phase 1 was focused on streamlining the financial close process and replacing some of the current EBS functionalities. We're utilizing Accounting Hub, which links back to EBS seamlessly, bringing our sub ledgers into a single source and eliminating the need to switch applications. This provides a quick path to integrating our potential acquisitions.
In just nine months, we were able to retire our EBS general ledger and financial reporting is now all in one system 100% in the cloud.
Oracle Cloud gives us the ability to streamline our close process, enabling us to provide boardroom-ready financial statements quicker than with EBS and other systems.
Susan Adomite, Vice President and Controller, Perficient
Phase 2 is centered around our people and improving the employee experience. The plan is to take our disparate systems such as time and expense, recruiting, onboarding and all other workforce management solutions and get everything connected in the cloud. Perficient's 6,500+ employees will have a more intuitive interface with more mobile applications.
We believe our people are our greatest asset and empowering them to do their best work is our top priority as we roll out this second phase.
Work Smarter, Not Harder
With Oracle Cloud, we've reduced the reliance on manual reconciliation and spreadsheets, and processes are now completely automated.
Moving to the cloud removes our dependency on managing our own hardware, networking and infrastructure.
Paul Martin, CFO, Perficient
Oracle keeps our applications current and modern and our business up to date with the latest improvements on a quarterly basis. We don't have to wait years between upgrades, and with that comes additional features and functionalities that we can deploy as part of our solutions.
We're excited to share this transformation journey, are you ready to start yours?