The culture at Perficient fosters collaboration and genuine connections. Rupa Amin has built a familial atmosphere and learning environment with her peers that motivates her at work. In her role as a senior solutions architect, she helps simplify the complexity of the commerce world. She enjoys creating e-commerce experiences that are equipped for end-users and aligned with the client's growth strategy. 
READ MORE: Perficient's Expertise in the Commerce World
Rupa discusses her role as a trusted advisor for customers and a forward-thinking leader for her team. Additionally, she shares how she's making an impact at Perficient and how she has grown during her time with the company.  
What is your role? Describe a typical day in your life.
I have spent nearly 20 years in the IT and e-commerce research space. At Perficient, I work alongside a very talented group of folks and clients to deliver scalable content and experience-driven commerce solutions. I help with pre-sales solutions engineering and leading a variety of delivery projects from site migrations to building B2B, B2C, and B2B2C commerce architectures for small to large enterprises. I enjoy crafting a customized point of view that caters to clients' business models as our clients seek guidance and recommendations to achieve their enterprise goals.
In addition to offering expert services, I also serve as a delivery liaison between Perficient and the Optimizely B2B Product Team. We collaborate to bridge knowledge, technology, and process gaps, strengthening our overall partnership and ability to go to our clients on a united front.
How do you explain your job to family, friends, or children?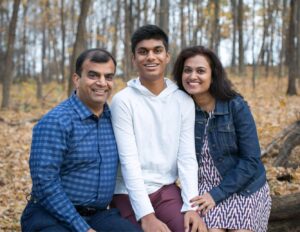 We help clients build e-commerce websites leveraging industry best practices. I help optimize clients' online buying process so it is easy for the end users to shop for products and our clients can most efficiently serve their customers. Through market research and analysis, I compile multiple options for the clients to achieve their vision and goal for the e-commerce site. I help win projects for our delivery teams by engaging with the clients early in the pre-sales cycle and through visuals, charts, architectural frameworks, and presentations. I help the development team understand the big picture of what needs to be built by simplifying complex business terms and taking industry jargon out of the conversation.
How does your role support Perficient? How are you making an impact?
My role is often viewed as a trusted advisor for customers from supporting sales pursuits to landing business and successfully delivering on our commitments. My role is a forward-thinking leader that takes the initiative on getting things done for clients and guiding the teams to navigate through difficult conversations with the client. Additionally, I co-lead multiple college career fairs annually and represent Perficient to seek talent who are graduating with top-notch skills that would complement our teams. I support interns while they're simultaneously working on projects and training to gain real-life experience so they can connect their learning to their curriculum.
What has your experience at Perficient taught you?
Through client engagements and projects, I have had the opportunity to deepen my skillset in the e-commerce and analytics area. Though it may seem like a simple concept, building an e-commerce experience that is cut out for end-users and aligned with the customers' growth strategy is something I thoroughly enjoy!
What advice would you give to colleagues who are starting their career with Perficient?
Throughout my career, I've always worked with a "family" and not an organization. At Perficient, there is a family atmosphere with my peers. We encourage giving back to the community and enjoying our work. If you have recently joined our team, my advice is to get out there and make connections!
Why did you choose Perficient? What keeps you here?
I had several offers, but my decision for Perficient was made because of the commitment and core values Perficient displays. Perficient is a great fit for me culturally and professionally. I have been impressed with how much I matter to my leadership team and colleagues. We are a 'cool' team working toward achieving a common goal of being the best global digital company! At Perficient, individuals grow from within and get a chance to explore opportunities within other areas of the company. Through a diversified business model, colleagues can participate in cross-platform training. I enjoy working with such a dynamic group!
What motivates you in your daily work?
I cannot name a project where I have not had the best team working alongside me. Each day, our colleagues motivate me through their dedication and the pride they take in their work. I've followed the 'do it right the first time' attitude from a young age, which was reinforced through my school and IT experience. I'm delighted to bring this drive to my work because my peers have a similar mindset. It beautifully aligns with Perficient's values and culture.
What are you passionate about outside of work?
I am passionate about environmental safety. I also support the Feed My Starving Children organization. I love to practice Indian classical dance, which is my passion outside of work.
---
It's no secret our success is because of our people. No matter the technology or time zone, our colleagues are committed to delivering innovative, end-to-end digital solutions for the world's biggest brands, and we bring a collaborative spirit to every interaction. We're always seeking the best and brightest to work with us. Join our team and experience a culture that challenges, champions, and celebrates our people. 
Visit our Careers page to see career opportunities and more!
Go inside Life at Perficient and connect with us on LinkedIn, YouTube, Twitter, Facebook, and Instagram