What is Adobe Customer Journey Analytics?
Adobe Customer Journey Analytics is an analytics ability that allows you to utilize the power of analysis workspace with data from Adobe experience platform. Adobe Customer Journey Analytics (CJA) is the new and upgraded successor of Adobe analytics. CJA can separate, filter, query, and visualize years' worth of data, and is joined with platform's capacity to hold a wide range of data schemas and types.
Adobe CJA offers more broad elements like unlimited metrics and dimensions, along with an upgraded data model. Simultaneously, it is not just made for web analytics, so you need to construct those elements yourself in the event if you really want them.
Customer Journey Analytics Architecture
The high-level CJA architecture is shown here: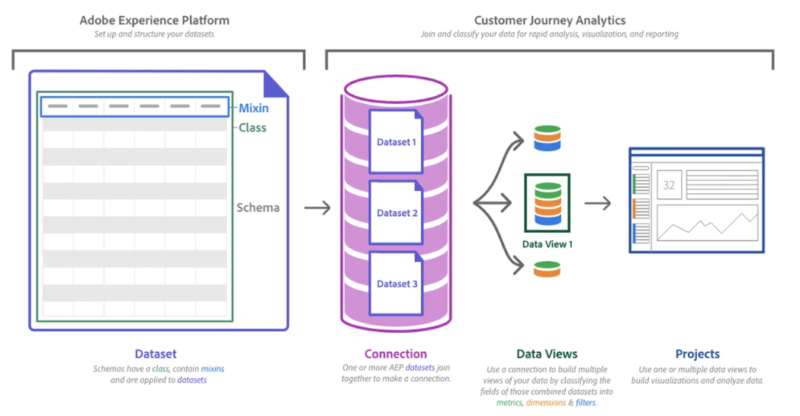 Image Source – experienceleague.adobe.com
CJA Prerequisites
Before you can begin using Adobe CJA, the below mentioned prerequisites must be met:
Your organization needs to have an active Adobe Analytics Select, Prime, or Ultimate contract, with the Customer Journey Analytics add-on. (If you are not sure what type of contract you have, or not sure if you have the CJA add-on, just contact your organization's account manager.)
Your organization has been provisioned for Adobe experience platform and purchased the customer journey analytics SKU (Stock Keeping Unit).
Key Benefits
CJA gives a toolkit to business insight and data science teams that help them stitch and analyze cross-channel data. Its abilities deliver context and clarity to the complex multichannel customer journey.
Data Ingestion and Transformation – Ingest any data from any system – like digital, call center, IoT (Internet of Things) and much more – and use a flexible data composition that is not limited by order or the hit-visit-visitor model.
Adobe Experience Platform Query Edition – Get direct SQL admittance to any data stored on Adobe Experience Platform so you can stitch and plan for analysis like pathing or attribution in analysis workspace.
Analysis Workspace on Adobe Experience Platform – Ask and address business inquiries involving multichannel sewed data and construct customer segments for activation and personalization.
Prebuilt Data Science Models – Give admittance to data science capacities for the citizen-data scientists to open profound customer insights through machine learning & AI (Artificial Intelligence) models.
Terminology Changes
To align with industry standards several features in Adobe customer journey analytics have been renamed, when compared to traditional Adobe analytics. Below are some updated terminology changes:
Virtual Report Suites are now known as 'Data views'
Segments are now known as 'Filters'
Visitor containers are now known as 'Person' containers
Classifications are now known as 'Lookup datasets'
Visit containers are now known as 'Session' containers
Customer attributes are now known as 'Profile datasets'
Hit containers are now known as 'Event' containers.
Wrap up
Adobe Customer Journey Analytics (CJA) truly is the future of more advanced analytics. Assuming you are looking for an answer that can deal with raw, event level data across all channels, with no doubt Adobe's CJA can offer a ton of benefit for you.
Adobe CJA allows even non-analyst business users to profoundly understand customer journeys across all channels whenever set up accurately.