Delivering effective customer experiences requires an omnichannel mindset. Customers want brands to understand their needs and help them on their journey, no matter what part of the organization they are interacting with.
Your website or mobile app visitors do not think in terms of channels, product lines, or business units, they just think about their relationship with a brand. However, many organizations struggle to piece all these properties together, and as a result, they are unable to meet their customers' expectations. Here at Perficient, we use a priority framework called Journey Science to transform the customer experience using data.
Journey Science is a cross-functional discipline that combines research-based insights with data-driven evidence to understand, predict and optimize the customer journey at every touchpoint.
Does your organization find it challenging to create an effective personalized user journey?
Some common challenges that enterprise organizations experience include:
Lack of Data – Customer understanding is developed based on assumptions and opinions instead of data.
Forgotten Artifacts – Research-based insights are often "put on the shelf" and/or forgotten within an organization.
Vanity Metrics – Metrics may look good on the surface, but they do not translate into meaningful business insights.
Siloed Views – Business teams only focus on their view of the world without considering the full customer journey.
Limited Analysis – Data is collected but not sufficiently analyzed and modeled to predict customer behavior.
Journey Science is the next frontier in Data-Driven Customer Experience
You have heard the saying "data is the new oil" … Yes, you usually have too much data and are not utilizing it to your advantage in the most efficient way. Data is a key asset to creating an exceptional, personalized experience. In most cases, data is not used holistically across marketing, product, and IT teams. Too many enterprise organizations still work in multiple silos that lack communication and collaboration to provide the best solutions for their customers. Since the data is not effectively used, many questions are solved by assuming the key stakeholders know the best answers to their key personas.
Journey Science can help answer the following questions:
Who are our customers?
What are their actual experiences with our website/app?
How does that differ from their expectations and other experiences they have?
What should the optimal customer experience be?
How can we influence the customer experience?
How will we prioritize improvements?
How can we best measure the impact?
Three parts of Journey Science
Journey Science includes three parts that fulfill several core competencies: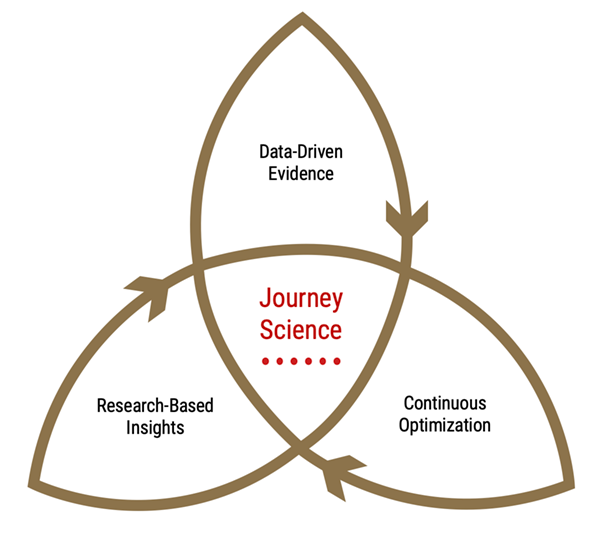 Data-Driven Evidence

An Omnichannel, business-focused approach to CX (Customer Experience) that provides the empirical, unbiased evidence needed to make predictive recommendations on the experience.

Research-Based Insights

Our comprehensive approach combines qualitative and quantitative research with data and analytics to understand, track and measure actual customer behavior.

Continuous Optimization

To be successful there needs to be an ongoing repeatable system in place to feed the evidence and insight into new outcomes and learnings.
---
The core competencies include:

Research – Gather insights that will inform your strategy

Data & Analytics – Capture data and activity across multiple channels

Segmentation – Identify and empathize with your customers

Journey Design – Examine the experience across interactions

Predictive Modeling – Analyze patterns to predict future outcomes

Experimentation – Validate predictions and optimize experiences

Research
Research provides a foundation for understanding your customer. A holistic research approach includes multi-layered insights that are continuously collected and analyzed.
Qualitative – Used to understand opinions, influences, and motivations. We use insights to understand the context and illuminate nuances in the quantitative data that may otherwise go unseen or without understanding.
Quantitative – Used to identify statistically relevant trends and patterns about a given audience segment versus others, to glean insights into their defining characteristics and behaviors.
Competitive – This analyses analysis helps identify strengths and weaknesses compared to top competitors for features, user experience, and branding.
Immersive – Enables researchers to gain empathy for users by walking in their shoes.
Data & Analytics
Customer data and analytics enable an organization to track and measure performance across multiple channels, interactions, and touchpoints that support the customer journey.
Data Analysis – Provides insights based on customer attributes, traits, and competencies.

This is accomplished by completing a deep dive analysis using website and mobile app analytics tools like Google Analytics or Adobe Analytics.

Path Analysis – Examines how visitors are moving through the journey and areas of struggle.

This type of process is done using a combination of user testing, user recording tools, heuristic evaluation, and completing a competitive analysis.

Heatmapping – Demonstrates how customers interact within a specific environment.

Heat maps and scroll maps are created by adding behavioral analytics software to monitor your site's digital experience.

Sentiment Scoring – Measures customer sentiment across various parts of the journey.

This scoring system is customized based on different industries and the main KPIs the digital experience is targeting. It includes task analysis, user surveys, and interviews with the ideal user personas.
Segmentation
Segmentation enables organizations to develop more meaningful insights about their customers. Data-driven personas enable empathy and understanding around specific audience types, while marketing segmentation enables the activation of optimized campaigns and personalization. Some examples of segmentation include:
Rules-Based – Assign specific if this, then that logic to target users on a series of conditions.
Automated – AI and machine learning determine the best experience based on primary metrics.
Real-Time – Ability to switch to different audiences based on events that happen in real-time.
Journey Design
Exploring the customer journey through multi-dimensional models enables an organization to better understand the customer experience across multiple touchpoints and interactions. The artifacts produced during the journey design include:
Personas – Identify and understand your target audience segments.

Personas communicate a shared understanding of the real target audience segments in terms of their goals, capabilities, and context that can be used to drive personalization across multiple business processes.

Experience Maps – Examine the customer experience across the lifecycle.

Experience Maps are multi-dimensional models that enable an organization to better understand the customer experience across touchpoints and interactions.

Customer Journeys – Optimize outcomes across the customer lifecycle.

Tell the story of the customer's experience from initial contact, through the process of engagement, and into a long-term relationship. Customer Journeys focus on specific customer outcomes and help to identify gaps – points in the experience that are disjointed or painful.
Some of the outcomes addressed in a customer journey map include:
Tasks: What is the user trying to achieve at this stage?
Questions: What does the user want to know at this stage?
Touchpoints: How does the user interact with the organization at this point?
Emotions: What is the user feeling at this stage in the process?
Weaknesses: How does the organization let the user down at this stage?
Predictive Modeling
Pattern Exploration – Surface and validate data patterns with subject matter expertise.
Model Development – Engineer features that demonstrate the necessary patterns for a model to learn from. Iterate and optimize the model hyperparameters.
Machine Learning – Utilize artificial intelligence to analyze and predict based on previous behavior.
Decisioning – Challenge and validate the prediction results to inform, recommend or automate the decision-making process.
Experimentation
Experimentation is the path to optimization. It enables organizations to test out their hypotheses and implement an evidence-based approach to reaching their goals.
Split Testing – Compares unique concepts against baseline performance.
Reinforcement Learning – One or more variables are tested within a live environment to provide a direct feedback loop into predictive models.
Path Exploration – Evaluate multiple journey flows to evaluate the effectiveness of a given sequence of triggers, touchpoints, and events.
Exploitation – Capitalize on experiment findings to optimize for success.
---
Supporting The Journey
Supporting the customer journey requires the coordination and integration of multiple channels, platforms, and business functions to deliver frictionless experiences. Journey Science enables organizations to continuously understand and predict the needs of customers to deploy frictionless and cohesive omnichannel brand experiences.

Establishing Outcomes and Opportunities for an Exceptional Omnichannel Experience
Following the Journey Science framework will provide your business with everything you need to determine the gaps for overall KPI improvement and enable accelerated growth through your organization. For example, some of the activities and outcomes include:
Clear OKRs (Objectives and Key Results)

Documents the objectives and key results that are driving the strategy.

Prioritization Scorecard of Opportunities

Documents the criteria used to score the individual modules within a capability.

Capabilities and Resource Gaps

Details the individual capabilities and modules needed to deliver the strategic vision.

Roadmap for Continuous Growth + ROI Model

Defines the prioritization and planning of the individual models based on ROI value.
---
If you have questions or want to learn how your organization can utilize Journey Science, get in touch with Perficient today.