Life sciences organizations aim to bring life-enhancing innovations to market. More and more, the agility to do so and to remain competitive is driven by digital investments, which require resources and expertise. Perficient is a partner that makes you stronger by enabling your teams to optimize performance and accelerate customer-centered outcomes and business-driving value. Our life sciences experts can partner with you to extend and amplify your teams' performance through managed services, project management, Agile leadership, validation and compliance, and compliant cloud hosting.
Let's explore each of these five areas in a bit more detail.
Managed Services
Managed services optimizes your business processes to meet your strategic goals, overcome operational obstacles, and optimize day-to-day work. Partnering with a highly skilled third party to gain additional resources takes the busy work off your shoulders, so that you can focus on your core-critical business needs to fully optimize your operations. Leading consulting and support services will implement best business practices specific to each client's needs, with a sound understanding in technical consulting, strategic thinking, and industry expertise.
Managed services can add value to your organization in the following ways:
Reduces Business Risk​: Life sciences leaders must navigate a highly regulated industry. Managed services reduces your risk by equipping you with the knowledge you need to stay compliant and secure.
Provides Proactive Support & Monitoring: Offers proactive monitoring, system performance improvements, and minimized downtime/glitches
Unlocks Technology Enhancements: Introduces new technology/functionality to keep up with evolving demands from customers and relevant to the industry
Allows for Third-Party Vendor Management: Using a third-party vendor allows you to partner with a single vendor to address all of your needs.
Lowers Costs to the Business: Managed services allows for continuous service without additional costs from maintaining internal/sub-contractor personnel. It also helps minimizes the disruption of services.
Improves IT Efficiencies: MSO provides access to specialized resources with defined SLAs. Support is available in multiple time zones.
Enables Scalability & Availability: Life sciences organizations grow rapidly, and their needs are constantly evolving. Managed services makes it easy to scale depending on demand, adding skilled resources for SOC, validation, GDPR, and more. ​
Optimizes the Business: Let us handle the complex IT situations so that your staff can focus on critical and core business needs, functions, and strategic initiatives.
READ MORE: Could Managed Services Be the Strategic + Tactical Catalyst Your Life Sciences Teams Need?
Project Management
Our project managers have worked in the life sciences industry for 20+ years to drive successful project delivery with the optimal blend of resources, planning, and forecasting. They strive to help you thrive in the delicate balance between planning, tactical exaction and collaboration/buy-in.
The success of a project depends on the project manager's agility and focus on your organization, your portfolio, and your project. Especially in the life sciences industry, the external environment must also be accounted for. We recommend solutions-driven governance that blends plan, process, and people to keep your initiatives on track. This approach will hold the customer's perspective and needs at the heart of consideration and continuously improve managed services workstreams that evolve your program's impact with project management experts that deeply understand your business.
EXPLORE NOW: Lean Transformation: Learn to Evolve Quickly
Agile Leadership
Life sciences organizations navigate a fast-changing landscape and need to fulfill accelerated drug approval with efficient data collection and reporting.
In this industry, It's vital to remain agile without leaving your organization's vision behind.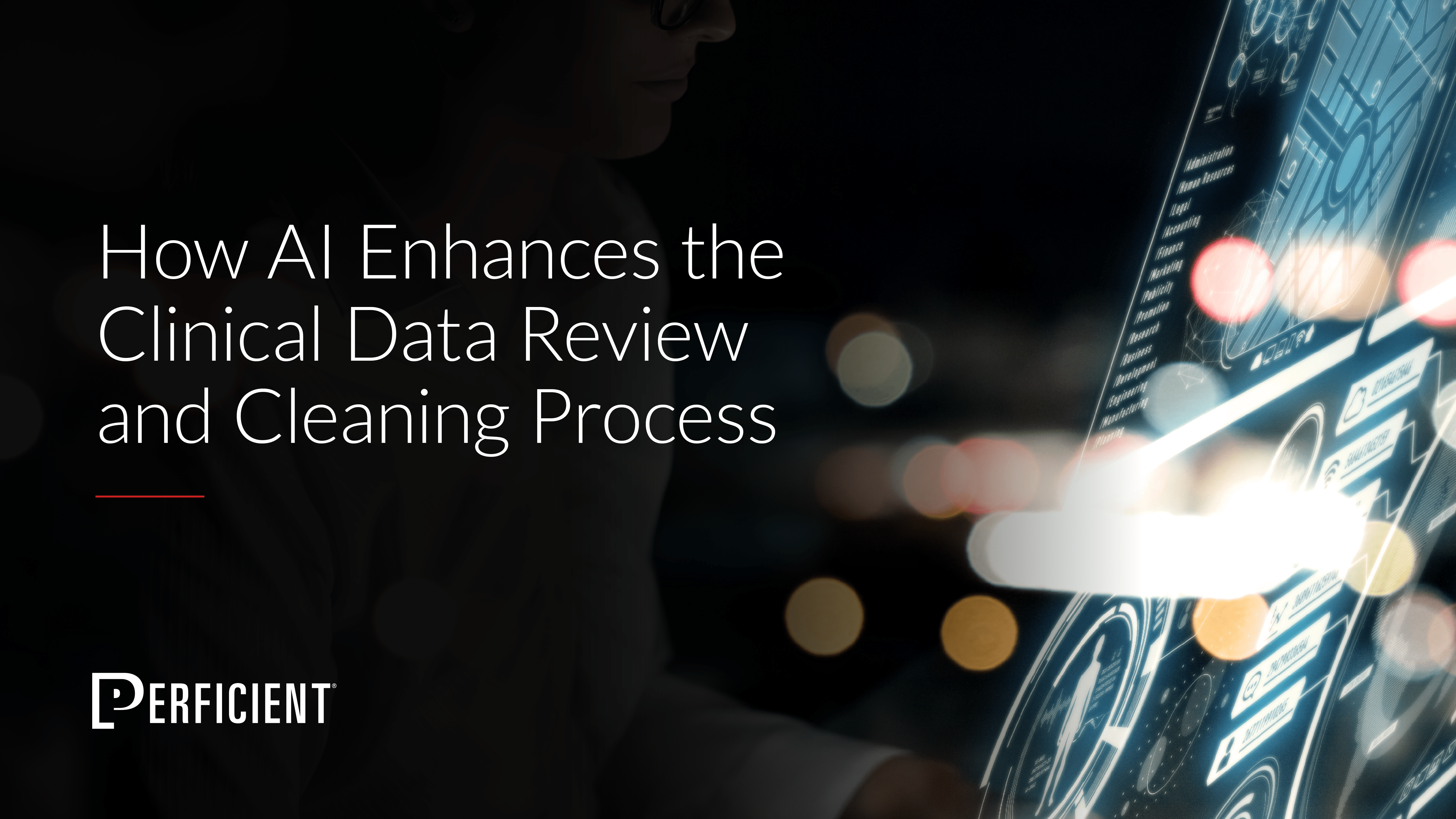 Learn how AI/ML can be used by pharmaceutical and medical device companies to improve the clinical data review and cleansing process.
Our Scrum certified project managers know life sciences strategy, and our servant leadership approach supports your organizational culture. We help leading life sciences enterprises embrace change and optimize outcomes.
Organizational transformation impacts every aspect of your business. It's critical for your organization to navigate and embrace change successfully for fully optimized outcomes and greater business value. Perficient has prioritized Agile from the beginning, and we continue to embrace it today. Contact us to learn more about our Agile Accelerator Jumpstart.
LEARN MORE: An Agile Approach to M&A
Validation & Compliance
While it's costly and complicated to remain compliant, life sciences organizations must adhere to FDA regulations and standards.
Expert guidance on validation & compliance helps life sciences organizations by:
Minimizing risk
Acing audits
Maximizing data accuracy and integrity
In addition to being SOC 2 Certified, our team has decades of experience with validation, quality, and compliance, as well as a 100% audit success rate. Our validation specialists are tuned to rapidly changing regulations and industry standards. We provide solutions to resolve FDA enforcement actions and support clients when implementing, upgrading, or migrating new systems.
We power your productivity with timely, cost-effective, compliant computer systems and a qualified infrastructure supported by knowledgeable consultants who can help you navigate regulatory hurdles with confidence at every stage of development.
SEE ALSO: Helping Pharma Meet International and Regulatory Standards
Compliant Managed Hosting
Maintaining clinical, safety, and business IT systems can be complex and expensive, especially for organizations that lack the right resources and infrastructure.
Hosting applications that need to be regulatory-compliant require sophisticated technology and specific knowledge of regulations and systems.
We support multiple cloud-hosting solutions. Perficient's Compliant Cloud Hosting Service for Life Sciences uses the most advanced hardware and software on the market to ensure optimal performance, reliability, and security.
Our compliant cloud hosting services deliver reliable uptime and system tuning so you can keep your team focused on core business objectives that deliver value. Our state-of-the-art data center provides the right balance of security and usability to organizations.
RELATED CONTENT: Addressing the Complexities of Conducting Global Clinical Programs
Partner with Perficient for True Digital Transformation in Life Sciences
Life sciences organizations' ability to accelerate transformation is crucial to succeeding in a highly competitive, highly regulated, and quickly-evolving landscape. Life Sciences leaders rely on us for strategic, industry, and technical expertise to achieve their missions in a technologically advancing industry. Our thought leaders are here to support you in achieving business goals and solving your most complex challenges.
Our Life Sciences practice has a global footprint, with locations across the globe to meet your skill and budget needs at the right time and in the right place. We work seamlessly with our domain experts across Perficient to best execute for our clients' outcomes. Our comprehensive end-to-end support keeps your organization efficiently moving forward. Extend your capacity with our expert solutions and add day-to-day value where you need it most.
Have questions? Contact us to discuss your organization's specific needs.