Param Singh: Hello, everyone. My name is Param Singh. I'm Director of the clinical operations solution practice here at Perficient life sciences. I want to welcome everyone to today's discussion on our new partnership with Jeeva Informatics. This discussion is a way for us to introduce the new offering and solution as well as the partnership to all of you.
I'm very excited to have Harsha Rajasimha, Founder and CEO of Jeeva Informatics, with me today. Harsha, thank you so much for joining us. We're really looking forward to this discussion. And first, I would love for you to introduce yourself.
Harsha Rajasimha, PhD: Thank you so much, Param. It's a pleasure to be here. And we are so thrilled to be partnering with Perficient.
First of all, my background is in computer science, engineering and specialized in computational biology, bioinformatics, and precision medicine over the last 22 years. I am based out of the Northern Virginia D.C. Metro area, and my experience has spanned National Institutes of Health and FDA. I also wear a patient advocate hat, having founded the Indo U.S. Organization for Rare Diseases, and bring technology innovation through the startup Jeeva Informatics' solutions that I'll be talking about today.
PS: Great. Thank you, Harsha. Again, I'm glad to have you with us here today. For those who have not seen our recent posts and announcements, Perficient and Jeeva have entered a new partnership to bring the power of the Jeeva platform and solutions to streamline and support decentralized or hybrid trials for our customers.
The Growth of Decentralized and Hybrid Clinical Trials
As we all know and have seen, decentralized trials have been an area of focus for several years. But really, due to the recent pandemic, this has accelerated the opportunities and the evolution of decentralized trials and really has forced organizations to overcome certain challenges and gaps in their current systems and processes to support decentralized trials.
So, Harsha, before we get into the solution itself, can you speak to some of the specific industry challenges that you've seen and have worked to try to address with the Jeeva platform.
HR: Absolutely, Param. When we started back in 2018, early 2019, we started with customer discovery, so we could understand the key bottlenecks and barriers to accelerating clinical trials. What intrigued me as a healthcare life science consultant is that the biopharmaceutical process of bringing new, innovative therapies to market had been deteriorating in terms of efficiency, costing more than $2.5 billion dollars for a successful drug, and taking ten to 12 years to get one successful therapy through the regulatory process. And that's because clinical trials are long, complex, and have significant workflow and human inefficiencies built into the process. And it's a highly regulated market as well, as we know.
So what we did is interview over a couple thousand stakeholders of clinical trials – sponsors, CRO sites, key opinion leaders, regulators, patients themselves who have participated in trials, and caregivers – and asked them what the barriers were. Why does it take so long? What's the good, bad, and ugly of clinical trial operations?
Clinical Trial Challenges: Patient Recruitment, Retention, and Data
What became really clear is, one: obviously, patient recruitment is the gorilla in the room of clinical trials and continues to be a significant burden. About 85% of all clinical trials are delayed by 30 days or longer due to delays in patient recruitment. And 30% of all clinical trials terminate because of poor enrollment. So recruitment was the number one thing that stands out.
The next was patient retention. You know, once patients enroll, about 30%, on average, drop out during the course of a clinical trial across all therapeutic areas and all phases of trials. Thirty percent is a significant dropout rate in clinical trials. That's got to do with patient experience, patient satisfaction, how patients are being treated and engaged as partners in the process of clinical trials.
And then incomplete data. Data quality and having proper tools to enable data capture and the ability to do all of this in an efficient but also flexible way is paramount in clinical trials. As we were going through the customer discovery, the pandemic came and then it really became important that clinical trial operators consider the continuity and integrity of trials in situations, where patients do not want to walk into a clinical trial site in-person and expose themselves to infections. They need to safely and securely continue clinical trial operations during a pandemic or similar situations.
Those were key things that were keeping our customers up at night. And those are the key challenges that we have been looking to address with technology innovation as well as advocacy.
PS: In our experience, we've been helping, supporting, and advising the life sciences industry globally. We'd seen our own clients experience these challenges even before the pandemic, and have helped support them and evaluate solutions and processes that will help them overcome these barriers. This is one of the main reasons for our partnership with Jeeva. We strongly believe that Jeeva will help bring key benefits to organizations in this area.
Harsha, I recognize that the audience today may not know much about the Jeeva platform and the set of solutions to address the challenges that you just mentioned. Could you provide a short overview on what Jeeva can do for our customers?
HR: Absolutely, Param. We have the unique position of having custom developed (or developed from scratch) in the last two to three years and on a modern technology stack a solution that, with a single sign-on, allows users to configure a study within two to four weeks instead of 90 days – which was the industry -standard for configuring a clinical trial protocol in an EDC system and a decentralized platform.
Jeeva Informatics: A Compliant Cloud-Based Solution That Bridges the Gaps in Clinical Trials
Our solution enables remote patient screening, which significantly enhances the patient recruitment scope from being restricted to the physical clinical trial sites. For example, historically only about 1-2% of cancer patients participate in a clinical trial, which is really low compared to the kind of investments that go into oncology as a disease area.
With online patient recruitment that the Jeeva solution enables, we can now reach out to patients who are medically underserved in rural areas and hard to reach geographies.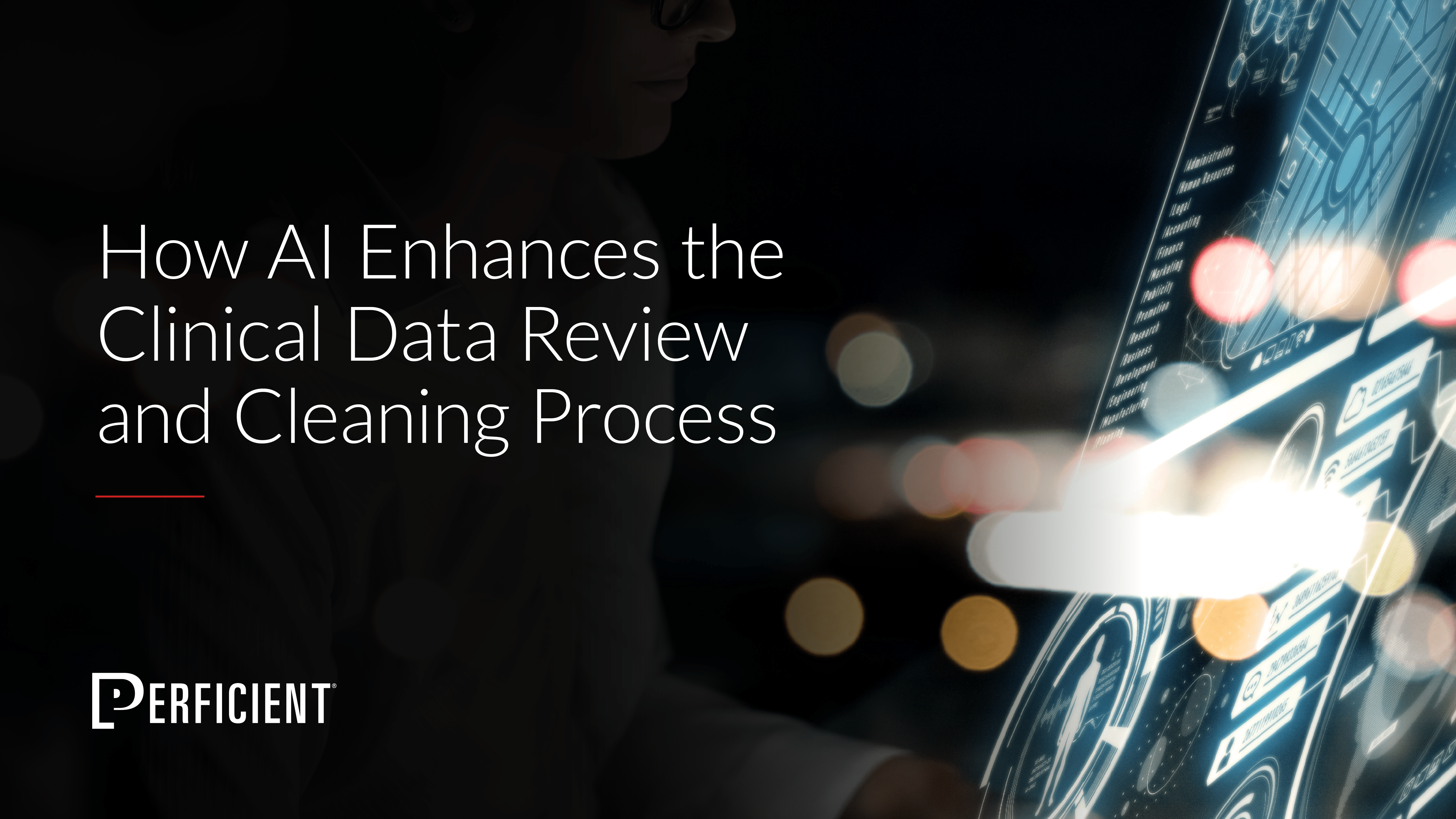 Learn how AI/ML can be used by pharmaceutical and medical device companies to improve the clinical data review and cleansing process.
Jeeva speeds up the patient enrollment process by enabling online screening of patients through telemedicine, video calling, email, SMS, and multi-channel online communication features, which are all built into the Jeeva platform along with the ability to compliantly enroll patients through remote informed consent and electronic signatures. The Jeeva platform also offers the ability to collect patient-reported data and clinical assessments, as well as conduct follow-up visits, which helps reduce burden on patients and study staff. All of this can be accomplished from a single login and a flexible cloud hosted experience so customers don't have to worry about vendor compliance, data compliance, security, or FDA 21 CFR Part 11; it's all managed on the cloud by the Jeeva team.
It's a platform offering and the site staff, who are already logging into 30 different tools, can accomplish all of this from one login, essentially. And it also has a patient portal where, from enrollment screening to study completion, patients have just one place to go for all study-related activities. They can share data and communicate with the site staff, ask any questions before, during, and after enrollment. So that's the Jeeva solution.
PS: It's great to be able to provide an overview of the platform and solution. From my experience, I know that once folks see the platform firsthand, they will quickly recognize the potential from the current modules as well as what Jeeva has planned for future modules. And how it can be fully integrated in the clinical IT landscape of their current systems as well.
As a global digital consultancy, Perficient works with many software vendors that provide solutions to our clients. And as the industry has leaned into decentralized and hybrid trials, we've seen software providers try to, in essence, adapt their current solutions to support this shift. But what makes us extremely excited about this partnership is that, rather than retrofitting a solution, Jeeva has built all of this from the ground up to support companies in their journey. And this has been our observation as we independently evaluate solutions for our clients.
Harsha, can you provide some detail around how Jeeva Trials is unique and some key differentiators that set it apart from some of these other solutions and platforms?
HR: Yes, absolutely, Param. And you know, I'd like to thank the Perficient team for having done the due diligence and rated our platform over several months. And going through the process was very enriching for us. And we are very honored to be partnering with you and your team.
From a unique differentiator point of view, like one, you just pointed out that, you know, it was completely built from the ground up in the last two to three years on the modern Amazon Web Services technology stack and built specifically to address the customer challenges that we heard firsthand from a couple thousand stakeholders from various perspectives. So it's not just the sponsor – the site users, the CROs, and patients are all also ultimately the end users of this platform. Having a single login to manage the entire clinical operations in one place, that's one significant differentiator. Instead of having that piecemeal ala carte tool-based approach.
The second is that it's modular, which means, you know, not every clinical trial needs all the features and all the modules for a given trial protocol. And we all know that every clinical trial protocol is so unique and different. And so the platform is highly configurable and flexible and modular. That makes it easy to pick and choose.
A particular sponsor may only be looking for a remote informed consent as a service offering. We can do that. Or if we need the whole end-to-end suite with eConsent, ePRO, eCOA, eVisits, EDC, credit capability and the whole end-to-end aspect, we can stand that up as well without requiring any programing or customization. It's just a configuration without requiring any programing.
And then third is a critical part of this is "bring your own device," right? So it's a BYOD model where there is no specific hardware requirement on any users. All users can log into the platform from their own browser-based device, whether it's a smartphone, tablet, PC, laptop of any operating system, as long as they have a browser on the device. And the screens, it doesn't matter what the screen size is. The application adapts automatically to the screen size.
And lastly, we back our solution with technical support, training, and professional services to go with the platform, managing compliance, annual penetration testing, and annual audits so our customers can have that confidence that they are on a safe ground.
PS: That's great. And I know, again, once we get into detailed demos of the solution, people are going to be able to see some of these key differentiators that set it apart for themselves.
Amplifying Diversity, Equity & Inclusion in Clinical Trials
In traditional site-centric models, we've seen a lack of diversity where randomized controlled clinical trials have been historically successful in enrolling Caucasian adult male participants as opposed to other demographics. With decentralized trials, I see a key opportunity from both an access to treatment perspective and an opportunity to engage underrepresented communities and geographies, better ensuring that the data set and the results are not skewed towards one particular demographic.
Can you speak to how Jeeva can help you address diversity, equity, and inclusion in trials?
PS: Absolutely, Param. You bring up a great point.
If you look at clinicaltrials.gov and look at all the clinical trials currently ongoing – more than 320,000 clinical trials in the database, – and click on the map view, you will see a global map with red portions on the United States and European Union where 80% or more of clinical trials happen. And the remaining 20% of trials happen in the rest of the world.
As we know, the population focus within U.S. and Europe accounts for less than 10% of the world's population, yet it's where most of the clinical trials are run. And so scientifically, safety, efficacy, all of those data are based on majority of the patients being in the US and Europe. Whereas, as we saw with the COVID-19 pandemic, the vaccines were distributed globally for all patients in Africa, Asia, Latin America, etc. And they are not all engaged at the same level or at the proportional level to their population size during the clinical trial process.
So that's something that I have been focused on for many years, and I believe it takes a combination of technology, innovation, and advocacy at a cross-border international level. Now from a technology innovation point of view, to really scale diversity on a global scale – meaning diversity in geography, race, ethnicity, gender, and age – there are multiple factors that we look at when we talk about diversity, equity and inclusion.
Even within the United States, there are underserved medical populations and there are also rural mountain and hard-to-reach geographies, and also the ethnic minorities, right? So the ability to meet patients where they are from the comfort of where they are is very critical. That means going from being restricted to those 1 or 2% of the patients who heard about a clinical trial opportunity and could enroll through academic medical centers in large metro cities like the Boston, Bay Area, Houston, Chicago, and Bethesda, to having the ability to enroll online using a bring your own device by any person who has access to the internet. In the US, about 82% of Americans have access to internet. Still not 100%, but they're better than one or 2% of people who accidentally heard about a trial and happen to be living in the right zip codes. And that's what we're looking at. It's really about taking the offline clinical trials online with a very flexible, nimble, modular platform, which is device agnostic.
PS: For me that is really an exciting area, and I know that we're going to be able to see some really tangible benefits from that in the diversity, equity, and inclusion and that hybrid and decentralized trials will allow.
SEE MORE: Diversity, Equity & Inclusion (DE&I) in Healthcare
Magnify Success of Your Decentralized Trials With Jeeva Trials and Perficient
So, as you can tell, we're very excited about our partnership with Jeeva. To give everyone a bit more insight, this partnership leverages the key strengths of each company and its resources. With Jeeva's expertise in this space, we'll continue to focus on delivering on that product value. Harsha and his team have already developed and delivered several modularized solutions and are continuing to add modules. So this partnership is going to allow their team to continue to enhance the product to ensure that the platform is scaling with the needs of the customers and continuing to deliver that additional value.
Perficient's life sciences team brings depth and breadth of the knowledge in implementing solutions like these in our regulated industry. We've partnered with more than 150 life sciences companies worldwide to help people feel better and live longer. Our expertise in providing implementation and integration services, identifying industry best practices, advisory, system validation and support, are key drivers in ensuring our customers succeed with this solution as well.
Jeeva and Perficient will work seamlessly as one team to deliver and help sustain value for our customers.
Today, we've only scratched the surface of what Jeeva can do, and I look forward to more opportunities to share details with Harsha around the capabilities of the solution and how it can be used to:
Effectively conduct and manage remote trials with a globally-available cloud platform,
Promote faster enrollment across diverse demographics,
Accelerate trial timelines, and
Improve outcomes by designing studies that fit in your patients' lives and truly adopt a patient-centric approach to clinical trials.
So, Harsha, I really want to thank you for being with us today and helping give an overview and introduction to the solution in this partnership. Our team is extremely excited to work alongside yours in serving our customers.
And I also want to thank everyone that joined Harsha and me today for this introductory session. If you'd like to learn more about Jeeva and have a much more detailed conversation about the solution, please reach out to us, and we'd be happy to schedule a demo and a discussion.
HR: Thank you so much, Param, for having me. I think this is a very exciting time in the decentralized trials adoption curve. I think it's still early days, though, and we are very excited to have a strong global partner like Perficient that we can work with in helping our customers really scale this and take this innovation globally.
NOTE: Transcript above has been edited for clarity.