Perficient's Women In Technology (WiT) Employee Resource Group (ERG) was introduced in our Nagpur Global Delivery Center (GDC) on the very apt occasion of International Women's Day. The induction comprised of briefing all the women colleagues about the purpose of forming the WiT ERG in Perficient, its inception and growth story and its goals for the year 2022.
The WiT ERG has been very active in our U.S. offices, conducting collaborative virtual events on various topics from wellness to a monthly Career Growth Panel. It has offered a platform for all the women colleagues and their allies to learn, grow and collaborate.
With an impeccable kick-start on International Women's Day and the incredible response from the women colleagues, the ensuing days of the WiT Nagpur team were filled with deliberations.  Finding an answer to just one question: HOW DO WE GET THE BALL ROLLING? Because as it's said, you never get a second chance to create a first impression.
And that is how STRAIGHT FROM HORSE'S MOUTH! , our event, happened.
The Ideation
We wanted to bring something real and authentic, something that would augment the enabling growth attitude of our people. So, how about inviting somebody influential from the industry and hearing their story out!? Quite enabling, right!? Wait…that has been done already.
How about real women around us, sharing real stories? Sounds like a plan! Everyone has a story that can act as a catalyst in somebody else's journey. Discovering those inspiring stories amongst us and sharing the learning experiences of the women leaders around us was the goal.
The Preparation
We rolled up our sleeves and embarked on our way to put together a great show in terms of engagement, value-addition, and learnings but with a subtleness of fun!
First things first. Who will our speakers be? It was quite a task as Perficient GDC Nagpur has 280+ women colleagues and each one of them is amazing. After much thought, we decided on four women of different experiences, technological practices, and personal stories.
Everything seemed to be going just as planned, idea set, speakers shortlisted but then the elephant in the room was: How do we fit the experiences of four women, each with 14-plus years of experience in just one hour? The solution to this was organizing this event as a talk-show, questions around just what they have experienced in their line of work, so that we can deliver the most, keeping it interesting for the audience by not overwhelming them with information.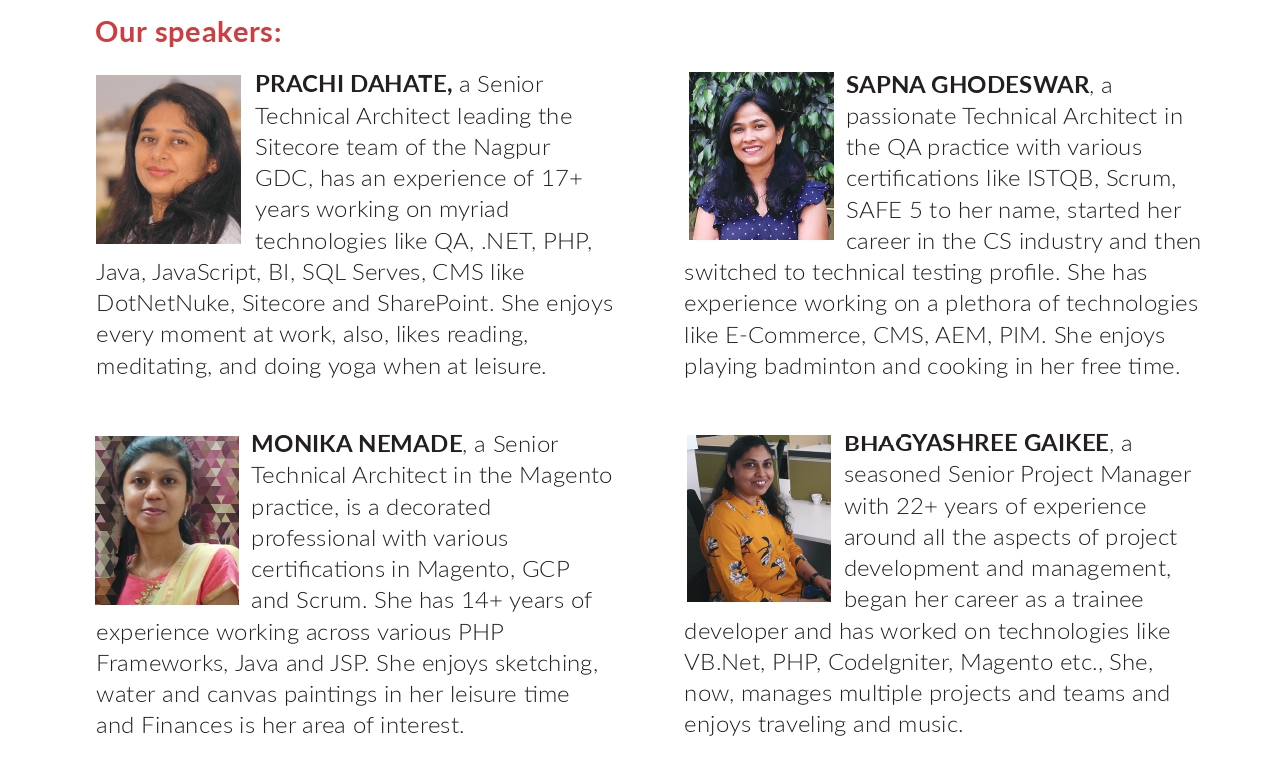 The Fruition
The day of execution arrived. And we were all set. Thanks to the support from the HCM Team, we had the logistics sorted, their experience at conducting such activities helped us evaluate the risks and be prepared. We did not intend for any last-minute surprises.
But wait! There was a surprise!
An astonishing one. It left everyone amazed and grinning, by everyone I mean, speakers, audience and even the organizers. And this surprise talks a lot about the social fabric of Nagpur GDC, the culture, and the support each one gets in here, irrespective of one's gender and years of experience.
As soon as the speakers were introduced, Anurag Shivhare, General Manager – GDC Nagpur, addressed the audience. Right after the greetings, he requested the Senior Managers Vijay Agrawal, Prashant Nandanwar, Ajay Pohankar, and Kapil Khadgi to do the honors. We were a bit puzzled and what we saw next became one of the highlights of the event! All the panelists were felicitated with a floral bouquet. Wonderful enough, right! But wait until you know that one of our speakers, Monika Nemade, had joined remotely from Pune, and wasn't an exception for the surprise. Kapil Khadgi, one of our Senior Manager who works from Pune Location and will be supervising our upcoming Pune office, made this felicitation possible by travelling to her place. Do note, Pune is a new location out of all the upcoming Perficient India offices!
This small act highlights the environment we have built here in Nagpur that supports, empowers, and facilitates our teams' growth while making colleagues feel special and valued.
This slideshow requires JavaScript.
Back to the Rendezvous
Our speakers talked on a plethora of topics from how the IT industry has matured to dealing with identity crisis. Each one of our speakers shared their authentic experiences. A few highlights from our conversation are:
Becoming Financially Independent
Firstly, it is a myth that women cannot make financial decisions, women have been managing household expenditures for ages now. Becoming financially literate is the first step towards financial independence. Understanding the difference between saving and investing is of utmost importance.
Managing Identity Crisis
Whenever one finds themselves in such situations, it mostly means that some change is required. One must take a step back, analyze and introspect, set goals, and move forward all while believing in themselves and being determined.
Feeling Not Heard or Seen?
In such situations, our panelists suggested, one must validate themselves by asking a few questions like have I put my thoughts in correct manner, is my expectation realistic and if we get answers to this, we can navigate out of these situations easily.
Professional Success vs. Upbringing Traits
We should remember our teachings and, culture but it is very important to maintain the balance as this is related to not just our growth but the organization's growth as well.
Valuable Conversations
Just like any other successful talk-show, we had a rapid-fire question round to give our audiences some quick tips that would help them succeeding in the industry. We made the most of the time by taking up questions from the audience.
An interesting question on how to stay grounded popped-up. To which our speakers replied pertinently, listed down that this can be done by respecting hard work not just ours but everybody's, practicing gratitude, distancing away and looking at the big picture (both positive and negatives) always.
One of male colleagues put forward a wondrous question – what can men do to support Women in Technology? To this everyone answered in unison that they already have the support that's needed and just wish to keep on getting that in future as well.
It's Time to Wrap Up!
Our hour-long conversation came to an end on a high note. The audience found this meeting inspiring, motivating and very authentic.
BEFORE YOU BID FAREWELL TO THIS BLOG, read what our people have to say about the event:
"I realize this event at Nagpur GDC is done too late…after listening your wisdom & experiences it seems many of our team members missed such a great insight over past so many years. But, better late than never. Thank You PRFT for such a great initiative and the GDC Nagpur WIT Team for organizing this. It was flawless, it was very insightful, it was very inspiring…Awesome experience… a WOW (World of Women!!!) event…"
Anurag Shivhare, General Manager, Nagpur GDC
"It was an astounding experience to connect with all those inspiring women. Very inspirational, engaging, vibrant, and insightful event. You all leave us empowered, inspired and ready to take on any challenge. Thank you, WIT team, for arranging this wonderful session. Looking forward to many such amazing sessions !!"
Hiral Jain, Associate Technical Consultant, Perficient GDC Nagpur
"It was such a great WIT session to attend. The entire session was very motivational and as rightly said by panelists and all women will agree that Women are now becoming independent and we can see as they are handling their own finance rather than depending on anyone. So I would like to say to all the Women just believe in yourself, don't give up, and achieve your goals!"
Renuka Deshpande, Technical Consultant, Perficient GDC Nagpur
"When I saw the event invite, I thought it would be a formal meeting but when this conversation started, it was something we were waiting to listen to, I could not stay out of track for a single second, I was attending with full focus and actually enjoying listening all speakers.  I would love to be part of many more such session, this was the first and bang-up session."
Mamta Deotale, Technical Architect, Perficient GDC Nagpur
WiT session was very engaging, focused and inspirational on so many levels. Not only this session motivated us all but gave directions to many of us choosing the right path and make the right decisions. I guess I would just say it was "AMAZING" and would indeed wait for the next session.
Mukesh Soni, Director, Perficient GDC Nagpur
It was Just the Beginning, More to Come!
The WiT ERG Nagpur has just started. The success of our very first initiative, attended by 190+ colleagues, has pumped us up to bring more diverse events for our colleagues to connect, grow and just have fun.