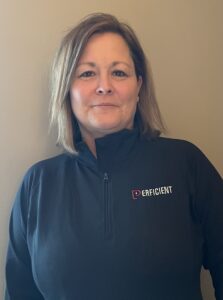 CRN's Women of the Channel list aims to recognize and honor some of the most influential women leaders in the channel. CRN recently recognized five Perficient colleagues on their 2022 list for their incredible accomplishments, strategic vision, thought leadership, and channel advocacy.
We previously celebrated Liza Sisler, Liz Stuart, Lynn Brading, and Kathryn Bogen for their achievements. Today, we're eager to profile Angie Clark, alliance manager, who was named to the Women of the Channel list for the first time.
"About a year ago, I made a pivot from a long career in marketing to alliance because I was ready for new challenges. Fast forward to today, and I'm honored to be part of CRN's Women of the Channel list. I'm extremely grateful to be part of an organization that didn't just support me in my career goals, but helped me reach them – and then some!
"As the mother of a daughter on the cusp of adulthood, I want to set a good example and show she should never be afraid to venture out of her comfort zone. Venturing into the unknown is where the fun can happen!"
Here are some of the insights Angie shared with CRN to receive this recognition. Visit CRN to learn more about Angie and the 2022 CRN Women of the Channel list.
How have you personally helped advance your company's channel business over the past year? 
This past year I concentrated on building a solid partner foundation that will foster growth and opportunity, by first focusing on the basics. This started with creating a business plan that was inclusive and aligned to key business drivers across Perficient and not siloed or specific to only one business unit. By partnering with internal stakeholders to build the plan, I ensured key actions had ownership and were met, and scorecard metrics, gaps and opportunities for growth were clear. Most importantly, there was a defined roadmap for creating marketplace go-to-markets and offers that would differentiate Perficient within an increasingly overcrowded partner ecosystem.
As a result, Perficient's Microsoft scorecard performance was off the charts, with triple-digit growth across multiple solution areas, and top positioning among competitive partners. This had a tremendous impact when it came time for partner of the year awards. For the first time in four years, Perficient was awarded a Microsoft Partner of the Year Finalist designation. Additionally, this opened new avenues for partnership, including a key cloud partner advisor and early adopter program participation.
These accomplishments helped to create a narrative that internal teams rallied around, while opening new opportunities for partnership within Microsoft.
READ MORE: Perficient Named a 2021 Microsoft Healthcare Partner of the Year Finalist
What goals have you set for your own professional development this year? What new skill sets have you added or training are you taking or plan to take?
This year, I plan to seek several Microsoft certifications. Increasing my technical acumen will enable me to drive deeper partner conversations, most especially around expansion opportunities.
I will also seek out new leadership opportunities and will serve as a Communications committee co-lead for our Women in Technology Employee Resource Group (ERG).
What's one thing you love about your job and why?
I love that I have the freedom to make a mistake and learn from it. I love that I am encouraged to grow in my career and learn. I have first-hand experience in pivoting my career from marketing to alliance and I received full support from my peers in making the move.
READ MORE: Perficient Champions Growth for Everyone
What advice would you give to women just entering the channel?
Be creative! This can be an energizing environment that can also be highly competitive at times. Be yourself and tap into your own key differentiators. One of my favorite sayings is, "Be yourself, everyone else is already taken." Tap into what makes you unique and lean into that…fully.
What are your goals for your company's channel business over the next year? 
My goal is to significantly grow Perficient's all-up Microsoft business over the next two years and ensure Perficient is the designated partner of choice to deliver trailblazing solutions for our clients.
Leveraging tools such as the online marketplace will continue to be key to our success as they continue to replace physical channels and the global pandemic prohibits in-person activities such as workshops and demos.
The channel is an increasingly frenetic environment where partners can disappear as quickly as they emerge. So, I'll continue to lean into my marketing background to find creative ways to build stronger channel relationships.
---
At Perficient, we continually look for ways to champion and challenge our talented workforce with interesting projects for high-profile clients, encourage personal and professional growth through training and mentoring, and celebrate our people-oriented culture and the innovative ways they serve Perficient and the community.
Visit our Careers page to see career opportunities and more!

Go inside Life at Perficient and connect with us on LinkedIn, YouTube, Twitter, and Instagram.