CRN is a prominent channel outlet that recently recognized five Perficient colleagues on the 2022 CRN Women of the Channel list. This annual list highlights women who are some of the most influential leaders in the channel for their incredible accomplishments, strategic vision, thought leadership, and channel advocacy.
We previously celebrated Liza Sisler and Liz Stuart for their accomplishments and recognition on the 2022 list. Today, we're eager to profile Lynn Brading, global alliance director, who was named to the Women of the Channel list for the third consecutive year.
"To be recognized alongside such an amazing group of female leaders for the third year in a row is humbling. I'm so grateful for the recognition and am thrilled for my other Perficient colleagues who were recognized. We really have such a talented group of alliance leaders at Perficient, and seeing our partnership growth over the past few years has been tremendous. The CRN Women of the Channel Award truly signifies the importance of partnerships."
READ MORE: Building Exceptional Experiences Together
Here are some of the insights Lynn shared with CRN to receive this recognition. To learn more about Lynn and the 2022 CRN Women of the Channel, visit CRN.
How have you personally helped advance your company's channel business over the past year? 
In addition to overseeing Perficient's partnership with Adobe, I also manage a team of alliance managers who are responsible for our customer experience and commerce partnerships. These platforms make up a substantial portion of Perficient's overall business, and our team has excelled in engaging those partnerships to enhance our relationships and produce innovative solutions for our customers. In the past year, we have received several recognitions and partner of the year awards from multiple partnerships, signifying the high-quality relationships we continue to build. These recent accolades include being named an Adobe Power Ten Partner, HCL Commerce Partner of the Year, Sitecore Partner Award for Excellence in Solution Delivery, and the recipient of the Acquia Engage Best of Both Worlds award.
READ MORE: See the Recent Awards Perficient Has Won
What goals have you set for your own professional development this year? What new skill sets have you added or training are you taking or plan to take?
My new goal is to give back to the next generation of alliance managers. I learned so much in my 10 years in that role, so in this next phase of my career I really want to make an impact and spend time growing the future of alliances and partnership roles.
What advice would you give to women just entering the channel?
Be ready to put yourself out there! This is a relationship role so leaning into as many relevant connections as you will help make you successful. Additionally, you should be willing to put in the work to realize the end result you want to see. This can be an ever-changing job that requires you to be nimble and react quickly.
What's one thing you love about your job and why?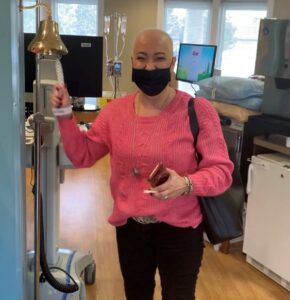 All of the amazing relationships I've made, both at Perficient and across the channel, over the years really add to my passion in my role. I was diagnosed with breast cancer for the second time this past summer. The love and support that I have received from all the relationships I've developed over the years has been such a comforting silver lining to what has been a very challenging time in my life. They've rallied around me to make sure my health and wellbeing are the priority. Recognizing the human factor behind a business goes a long way!
READ MORE: Lynn Moderates Perficient's Giving ERG Get to Know American Cancer Society Event
How do you find motivation when you really need it? 
I genuinely love what I do, so it's pretty easy to stay motivated. That said, a kind word or compliment, even at this stage of my career, always gives me that extra boost!
---
At Perficient, we continually look for ways to champion and challenge our talented workforce with interesting projects for high-profile clients, encourage personal and professional growth through training and mentoring, and celebrate our people-oriented culture and the innovative ways they serve Perficient and the community.
Visit our Careers page to see career opportunities and more!

Go inside Life at Perficient and connect with us on LinkedIn, YouTube, Twitter, and Instagram.