CRN recently recognized five Perficient colleagues in their 2022 CRN Women of the Channel list. The annual program honors some of the most influential women channel leaders for their incredible accomplishments, strategic vision, thought leadership, and channel advocacy.
We previously celebrated Liza Sisler, partner marketing and alliances director, for her inclusion in the 2022 list and the Power 70 Solutions Provider list. Today, we're excited to profile Liz Stuart, alliances director, who was named in the Women of the Channel list for the fifth time.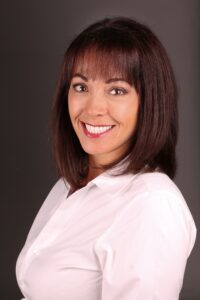 "I am honored to be a recipient of the CRN Women of the Channel recognition. When I started in the channel over 20 years ago, I did not know yet that I would have a village of women who, like me, would go on to build their careers in the channel. I now work alongside a leadership team that champions and challenges me to stretch beyond my imagination. That's influenced my approach when leading teams of future leaders as they navigate their own career growth. It's inspiring to hear their great ideas and innovations while taking my channel expertise to develop initiatives that drive success for our teams, partners, clients, and future colleagues."
READ MORE: Perficient Promises to Challenge, Champion, and Celebrate Colleagues
Here are some of the insights Liz shared with CRN to receive this recognition. Visit CRN to learn more about Liz and the 2022 CRN Women of the Channel list.
How have you personally helped advance Perficient's channel business over the past year?
I helped advance Perficient's channel business by taking a people-first approach centered around hiring a team that brought new perspectives and curiosity to collaborative partnering. I fostered an environment that opened doors to new multi-partner collaboration on solutions that have helped our customers digitally transform their businesses. I like finding the synergies of complementary partnerships and teams to build unique go-to-market strategies that meet our clients' broad, yet specific needs.
What's one thing you love about your job and why?
I love that my work touches all aspects of our business, and that I get to work with people across the world within our organization. My contributions to Perficient are impacting the work we do for our customers, and it's helping my team grow their careers through professional development. Being connected to people is essential to me, and I get to do it every day.
READ MORE: Meet the People of Perficient
What goals have you set for your own professional development this year?
This year, I want to focus on learning new things, recognizing what I do best, and growing. I am reading again to inspire myself and focus on leadership and team topics. I am also committed to practicing and learning how to golf. I'm excited to improve my golfing skills because it will get me outdoors, spending time with my family, while also helping me refine my focus, follow through, and discipline to push through challenging situations.
READ MORE: Perficient's Winning Partnership with PGA and LPGA Pros
How do you find motivation when you really need it?
I am most motivated when I am learning and have clear goals. As such, my focus during 2022 is on learning, specifically geared toward hitting my personal and professional goals. So far, I have picked up reading about Agile Leadership and have practiced my driving and putting on the golf course.
What advice would you give to women just entering the channel?
No matter where you are in your career, you always have value. Your ideas can spark innovation and movements, so never hesitate to share your thoughts and ideas. The channel is evolving so quickly. Don't worry about not having previous channel experience, focus instead on the future and how you can materially impact or influence growth.
---
At Perficient, we continually look for ways to champion and challenge our talented workforce with interesting projects for high-profile clients, encourage personal and professional growth through training and mentoring, and celebrate our people-oriented culture and the innovative ways they serve Perficient and the community.
Visit our Careers page to see career opportunities and more!

Go inside Life at Perficient and connect with us on LinkedIn, YouTube, Twitter, and Instagram.