CRN is the voice of the channel and helps solutions providers make the best, most strategic and well thought out decisions for their organizations. The annual CRN Women of the Channel list honors some of the most influential women leaders for their incredible accomplishments, strategic vision, thought leadership, and channel advocacy.
READ MORE: Five Perficient Colleagues Recognized on CRN Women of the Channel List
For the second year in a row, CRN has recognized Liza Sisler, partner marketing and alliances director at Perficient, on their Women of the Channel list. Liza was also recognized on the Power 70 Solutions Provider list, which highlights 70 female executives at solution provider organizations whose insight and influence in their respective companies help drive channel success.
"It's an honor to be listed among so many talented female leaders. I feel fortunate to be part of a company where the culture not only supports growth for everyone, but also has specific programs designed to elevate women and provide new opportunities for them," said Liza.
Here are some of the insights Liza shared with CRN to receive this recognition. Visit CRN to learn more about Liza and her recognition on the 2022 CRN Women of the Channel and Power 70 Solution Provider lists.
How have you personally helped advance Perficient's channel business over the past year?
As the leader of Perficient's centralized partner team, I drove partner program creation that focuses on our largest partners and allows us to spend more time and resources with partners where we have commitment and executive buy-in to drive business growth together.
Creating an alliances program and building the team included facilitating standardized plans, approach, enablement, and best practices. I also successfully increased communication cadence with both our channel partners and internal colleagues. While the overall goal of this increased communication was to inform audiences, a large portion centered on a regular enablement series to collaborate with our channel partners to elevate our success stories and awareness of capabilities. I also developed new engagement models to facilitate partner engagement tracking, taking a data-driven and longer-term approach to engagement and loyalty programs.
I strive to foster a collaborative environment between alliances, marketing, partner programs management, and software sales support, while enabling a continued close working relationship with sales and delivery. The pandemic has presented its own unique challenges to achieve this. However, opportunity is born out of adversity. My team continues to focus our channel partner engagements on virtual events, driving close partner collaboration and new pipeline opportunities.
What advice would you give to women just entering the channel?
Relationships are everything! The channel community is relatively small, and you will work with people in different capacities over the years. Build and maintain good integrity-based relationships. Be authentic and do your best to drive win-win scenarios for your business partners. Be transparent when a partner request doesn't make sense for your company. Saying "no" is as important as saying "yes" as it allows everyone to move onto more productive endeavors.
What honors, awards or commendations have you won over the past year?
I was recognized as a CRN 2021 Women of the Channel and on the Power 60 Solution Providers. These were incredible honors for me and affirmed the passion I have for working in technology.
Our Women in Technology Employee Resource Group hosted a happy hour where global colleagues shared the names of women who inspired them throughout their Perficient career. I was honored to hear several women call me out as their inspiration.
I was also honored as a 2021 Red Jacket Club member. This is an honor afforded to Perficient colleagues who have made tremendous contributions to our sales efforts.
What's one thing you love about your job and why?
A great manager and working environment are worth their weight in gold! Perficient's environment encourages colleagues to praise each other and gives them the necessary tools to be successful. You spend so much time at work, it's worth enjoying the people you spend that time with, and the work that you do. Perficient has strong, integrity-driven leaders that create an environment where colleagues are challenged, championed, and celebrated – it's in our DNA!
READ MORE: Perficient's People Promise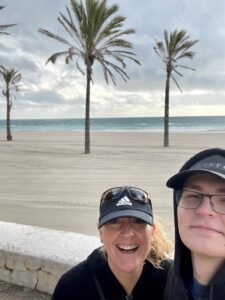 What's the one thing you wish your colleagues knew about you? 
I seek to follow this definition of leadership: "A great leader possesses a clear vision, is courageous, has integrity, honesty, humility and clear focus…Great leaders help people reach their goals, are not afraid to hire people that might be better than them and take pride in the accomplishments of those they help along the way."
I strive to provide the tools, resources, and framework to enable my team members to be successful – then give them the space they need to thrive. A high tide raises all boats, and I love championing and celebrating my team members as they rise.
---
At Perficient, we continually look for ways to champion and challenge our talented workforce with interesting projects for high-profile clients, encourage personal and professional growth through training and mentoring, and celebrate our people-oriented culture and the innovative ways they serve Perficient and the community.
Visit our Careers page to see career opportunities and more!

Go inside Life at Perficient and connect with us on LinkedIn, YouTube, Twitter, and Instagram.