Oracle Cloud ERP offers several built-in tools for reporting. While native reporting tools like Oracle Transactional Business Intelligence (OTBI) and Oracle BI Publisher are well-suited for specific types of operational reporting, they do have limitations when it comes to performing complex and enterprise-wide reporting. It is therefore crucial to complement the Oracle Cloud ERP application with an enterprise reporting solution.
A major consideration to keep in mind is that Oracle Cloud ERP is a SaaS application. Unlike Oracle E-Business Suite (EBS), direct access to the Oracle Cloud ERP database (OLTP) is typically restricted. Therefore, traditional approaches to ERP reporting that may have worked well with EBS, do not fit very well with Oracle Fusion SaaS applications. For example, you may have done EBS reporting with Noetix for IBM Cognos, OBIEE, Discoverer or other legacy BI tools. Or you may have several ETL processes that extracted, transformed, and loaded on-premises ERP data into a data warehouse. However, following a similar approach for Cloud ERP reporting is not ideal. The recommendation is to have the ERP Cloud implementation accompanied by a more innovative reporting methodology that fits well with the modernity of the Cloud ERP application, is scalable to perform adequately, and offers timely time to value when it comes to addressing continuously evolving business needs for analytical insights. In this blog, I will describe how Oracle Cloud ERP is supplemented with Incorta, an innovative data and reporting platform that transcends common challenges of the classical approach of the data warehouse.
What Differentiates Incorta Analytics for Oracle Cloud ERP?
Severals factors come into play when deciding on which type of reporting solution works best with the applications at hand. Here I am presenting Incorta as a very viable option for its capabilities in handling data and reporting features. Out of many reasons why, I am focusing here on the three I believe are most relevant with Oracle Cloud ERP.
Expedited Deployment & Enhancements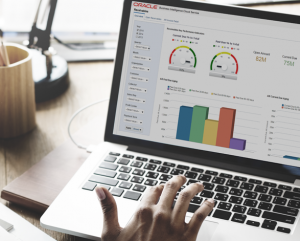 Explore key considerations, integrating the cloud with legacy applications and challenges of current cloud implementations.
Deploying Incorta for Oracle Cloud ERP follows a much faster cycle than implementing traditional data warehouse type deployments. Even after the initial deployment, rolling out additional reporting enhancements on Incorta follows a faster time to value due to several reasons:
Direct Data Mapping: While conventional data warehouses require extensive data transformation, Incorta leverages data structures out of Oracle Cloud ERP in their original form. Consequently, Incorta replaces ETL processing, star schemas and data transformations, with a Direct Data Mapping technology. With Direct Data Mapping, the Incorta approach maintains source application data models in their original form, with minimal transformation. Consequently, we end up with a one to one mapping to the corresponding data objects and relationships in Oracle Cloud ERP. Traditionally this didn't work well for reporting due to a significant impact to querying performance. However, the innovation introduced with Incorta Direct Data Mapping enables high performing batch queries on massive amounts of data, without requiring extensive ETL transformation, as was previously the case with a data warehouse. Eliminating the overhead involved in doing extensive data transformation is at the root of why Incorta offers a more expedited path to initially implementing and regularly enhancing Incorta analytics.
Oracle Cloud Applications Connector: Unlike on-premises ERP applications, direct database access is not available, in a scalable manner, from Oracle Fusion Applications. Doing a reporting solution on Oracle Cloud ERP involves a major undertaking related to the initial setup, scheduling and ongoing refreshes of data extracts of hundreds of data objects typically used for ERP reporting. You may be thinking that using tools like Oracle BI Publisher or OTBI may be a way to go about getting the Cloud ERP data you need for reporting. While such a technique may get you going initially, it's not a feasible approach to maintain data extracts out of Cloud ERP because it jeopardizes the performance of the Oracle Cloud ERP application itself, the integrity of the reporting data and its completeness, and the ability to scale to cover more data objects for reporting.
The whole data export process is however streamlined and managed from within Incorta. A built-in connector to Oracle Fusion applications allows Incorta to tap into any data object in Oracle Cloud ERP. The connector performs data discovery on Oracle Cloud ERP View Objects (VO), reads the metadata and date available in both Oracle VOs and custom VOs, and loads data into Incorta. The connector adheres to Oracle best practices for exporting Oracle Fusion data in bulk. The connectivity happens through the Oracle Fusion Business Intelligence Cloud Connector (BICC). There is no need to develop the BICC data exports from scratch as the Incorta Blueprint for Oracle Cloud ERP already includes pre-defined BICC offerings for various ERP functional areas (such AP, AR, GL, Fixed Assets, etc.). These offerings are available to import into BICC, with the option of updating with custom View Objects. Managing the data load from Oracle Cloud ERP into Incorta takes place from the Incorta web UI and therefore requires minimal setup on the Oracle Fusion side.
We can schedule multiple pre-configured offerings from the Incorta blueprint, depending on which modules are of interest to enable in Incorta for Oracle Cloud ERP reporting. This matrix provides a list of BICC offerings that get scheduled to support different functional areas of interest.
Pre-built Dashboards and Data Models for Oracle Cloud ERP: Time to value with Incorta is significantly shorter compared to doing analytics on other platforms because Incorta has a ready-to-use data pipeline, data model and pre-built dashboards specifically for Oracle Cloud ERP. The ready-to-use Cloud ERP blueprint also incorporates business schemas that enable power users to self-serve their needs for creating their own reports. The Incorta Oracle Cloud ERP blueprint includes pre-built dashboards for:

Financials: General Ledger, Accounts Payable, Employee Expenses, Accounts Receivable, Fixed Assets, and Projects
Supply Chain: Procurement and Spend, Order Management and Inventory
Human Capital Management: Workforce, Compensation, Absense and Payroll
In addition, pre-built dashboards include reporting on common business functions such as: Procure to Pay, Order to Cash, Bookings, Billings and Backlog.
High Performing and Scalable to Handle Billions of Rows
If you are familiar with data warehouses and BI solutions, you are probably aware that the performance of a reporting solution is key to its success. And performance here includes both the data layer, whereby data refreshes happen in a timely manner, as well as front-end reporting response times. If the business is unable to get the information required to drive decisions in a timely manner, the reporting platform would have failed its purpose. Therefore, laying a solid foundation for an enterprise-wide reporting solution must have performance and scalability as a key criterion.
What I like about Incorta is that it is not only a data visualization or reporting platform, but it is a scalable data storage and optimized data querying engine as well. With Incorta we don't need to setup a 3rd party database (data warehouse) to store the data. Incorta handles the storage and retrieval of data using data maps that offer very quick response times. Previously, with a data warehouse, when a table (like GL journals or sales invoices, for example) starts growing above a few million rows, you would need to consider performance optimization through several techniques like archiving, partitioning, indexing, and even adding several layers of aggregation to enhance reporting performance. All these activities are time consuming and hinders productivity and innovation. These traditional concepts for performance optimization are not needed anymore as Incorta is able to easily handle hundreds of millions and billions of rows without the need to intervene with additional levels of aggregate tables.
Support for Multiple Data Source Applications
It is often the case that analytics encompasses information from multiple applications, not just Oracle Cloud ERP. A couple things to consider in this regard:
Multiple ERP Applications: The migration of an on-premises ERP application to Oracle Cloud ERP may not necessarily be a single-phased project. The migration process may very well consist of multiple sequential phases, based on different application modules (GL, AP, AR, Projects, Procurement, etc.) or based on staggered migrations for different entities within the same organization. Consequently, it is often the case that the ERP reporting solution needs to simultaneously support reporting from other ERP applications besides Oracle Cloud ERP. A typical use case is to source GL data from Oracle Cloud ERP while sub-ledger data is sourced from an on-premises application like EBS. Another common use case is to combine data for the same ERP module from both Oracle Cloud ERP and EBS. Incorta allows for multiple schemas to be mapped to and loaded from various applications, besides Oracle Cloud ERP. Incorta then handles the union of data sets from multiple schemas to be reported against seamlessly within the same report.
Cross-functional Reporting: Along the same lines, there is often a need to report on ERP data in conjunction with data external to ERP, such as from a Sales, Planning, Marketing, Service, or other applications. With a rich list of supported connectors and accelerator blueprints for various source applications, Incorta can connect to and establish separate schemas for each of the applications of interest. Data objects loaded into Incorta can then be joined across schemas and mapped appropriately to enable reporting on information from various source systems.
If you're on your journey to Oracle Cloud ERP and wondering what to do with your legacy data warehouse and reporting platforms, I encourage you to reach out for a consultation on this. The Perficient BI team is highly experienced with ERP projects and has helped many customers with their upgrades and analytics initiatives leveraging a diverse set of technology vendors and platforms.