Amarender Peddamalku Embodies a Lifelong-Learner Approach & Enjoys Sharing His Expertise
At Perficient, we are proud of our global colleagues that bring their unique perspectives to work every day. As a part of Perficient's People Promise, we look to foster a culture that embeds Growth for Everyone. Amarender Peddamalku takes this to heart and enjoys the opportunities he has to learn and grow at Perficient.
I had the privilege of taking some time to get to know Amarender, who prioritizes learning and inspires his colleagues and the wider tech community through sharing his expertise. Read on to learn more about Amarender and the impact he's made throughout his career!
What is your role?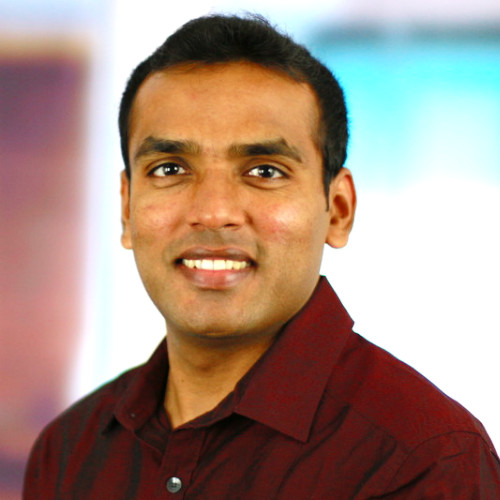 I'm a Practice Lead & Practice Architect for Perficient's Microsoft Modern Work Practice. I have almost 14 years of experience in total with Microsoft Technologies, but I joined Perficient a little over a year ago. (I actually hit my one year on April 19th!)
I oversee the technical delivery of different engagements and I help clients with their digital transformation. I meet them at the intersection of business and technology – making sure my clients are successful in realizing their vision. I help them as a trusted advisor and thought leader in a given technology space.
Basically, I'm trying to solve the most complex business problems by understanding the problem first and then working backward to pick a technology and implement a solution. Understanding the client's needs and making sure they're successful is extremely important to me, and that's what I really care about.
So what does a "day in the life" look like for you in your role?
Day in a life is a combination of a lot of things. I'm split across multiple accounts, so I'll be part of sales engagements for some part of the day and then come back to the technical delivery for other parts. I'll make sure everything is flowing smoothly at the client location, and if there are any concerns, we'll come up with remediation plans.
In addition to client work, I also focus on supporting our internal talent. Asking questions like "How are we collaborating?" or "How can we make the Microsoft BU a place where everyone can express themselves and learn from others?" Let's say I'm stuck with something. I put a post in our Teams channel and various people with different backgrounds chime in and offer solutions. That expedites my troubleshooting, but it also enables a collaborative culture among our BU. I support the development of that culture for existing colleagues. I also support recruitment which means sometimes interviewing potential candidates and other internal tasks.
I'm also a public speaker. I speak at M365 events, SharePoint events, and local user groups. I love to share the knowledge I've gained over the years with the community. I care about educating others and bringing awareness and letting them know what's going on in the world and at the same time learning from others.
They say you should know three times more than what you're presenting, so it keeps me on my toes. I get a chance to meet new people, bring value to the community, and represent Perficient which helps with brand awareness. Every day is a different learning experience, but at a high level, that's what I do.
So how did you wind up at Perficient?
I met Ron Jones (Perficient's Microsoft Modern Work Director) about 4 years ago when he was the event organizer at one of my speaking engagements. We stayed in touch, and then last year I thought of exploring some new opportunities. I saw Ron's post on LinkedIn about an opening at Perficient, looked up who Perficient is, and then got in touch with Ron Jones. And here I am a year later!
So, you've been here for a year. What kind of growth have you seen in the last year? What have you learned?
Personally, I've grown a lot in the last year or so. I've been challenged on multiple projects and pushed out of my comfort zone a bit (which I love). That way you're constantly learning! A day without learning is a waste for me, no matter how small it is. It wouldn't be fun to do the same thing every day, in and out. I'd just get bored.
I'm curious to learn, I'm willing to explore, and I'm willing to make mistakes, but learn from the mistakes quickly to not repeat them. And if I'm getting better as a person each day, that helps everyone.
From the technology perspective, it's been an opportunity for me to explore areas that I didn't explore in the past – whether it's the Power Apps, portals, Power Platform in general, Azure B2C authentication, or how things would work with the portals and Microsoft Cloud for healthcare clients.
I've enjoyed every bit of my time at Perficient. As I've said, I span into a lot of areas, but the most enjoyable part is the people that I work with. They're open and willing to work together. For us to achieve success, everyone brings value to the table and we work to achieve a common goal. And that's what I love doing.
What motivates you? It seems like learning new things every day and solving clients' business problems, anything else?
The whole goal at the end of the day is to make sure that your client is successful and then you work backward. The customer is the ultimate boss and that's who you want to see successful. You go through this journey of exploring things, experimenting with things, coming up with innovative ideas to solve the business problems, and in the process, of course, you learn a lot of new things. It's the journey that I enjoy, and the ultimate result is customer success.
What are some of your proudest accomplishments in your career or personal life? Either at Perficient or before that, what's been the highlights?
I've had many highlights throughout my career. I've built multiple solutions which enabled change for the customer experience. For example, I worked with a Fortune 500 financial company and spent a year architecting a solution and overseeing the delivery. Now, if you go to their credit cards application page, when you put in your information it brings back a approval decision in less than 30 seconds, which is amazing. You don't have to wait for the approvals or wait for the paper mail to arrive. The decision is guaranteed within 30 seconds and most of the time it actually happens within a few seconds.  To see millions of users use the application I built – which changes their experience interacting with the banking application – that motivates me.
Another project I'm proud of is a power outage application I built for a power supply company in Virginia. When your power is out, you go to their website, and you report an outage. I built that system end-to-end for end-users to use in a real-world scenario when their lights are off. That brings a smile to my face – not necessarily the lights are going off! – but the application that I built serving people at the right time in the right way.
I was also the lead architect on a mobile app for Universal Studios Florida. Obviously, a lot of people buy day tickets and on a busy day, it's not easy to cover everything in the park. Not to mention that for the most popular rides in the park, you may have to wait up to 2 1/2 hours in the line to ride. What I introduced was a wait time alert concept. If you download their app, you can sign up for a wait time, like, "Notify me when this ride's wait time goes to 10 minutes". It uses sensors in the line to see how long the line is and depending on that, you get notified based on whatever wait time you set up on your mobile app.
At Perficient, I worked on our application for VITAS which improves the patient care journey. (We were actually listed as a finalist for Microsoft's Healthcare Partner of the Year for this solution!) This was one of the applications where we really made a positive impact for people coming in and waiting in the office, making sure the right personnel is attending to the right patient, making sure they are getting treatment in time, making sure they're getting the right services again in time, which is really important. You don't get a chance to touch people's lives through technology every day and doing so has been one level up from anything I've done in the past.
And one last thing, about 10 years back I built the Intranet portal for a health system in Virginia. I've been there since then when my wife went to deliver both our babies at the hospital (one five years ago, one recently 9 months ago). And I saw they were still using the Intranet that I built for them, and it was helping them to be more efficient in a day. It's those moments when I'm most proud.
I love solving questions like "How do you enhance the customer experience regardless of the technology or solution?" I care about improving the experience of the customer and then bringing smiles and efficiency into whatever that experience is.
So you and your wife just had a new baby 9 months ago. How have you balanced your work life and your home life?
Yes, I'm a proud dad – my wife and I have two children. I love my work and what I do but family is absolutely my priority. It's been a blessing to work remotely, and I've seen my little one grow which I didn't get a chance to do with my first one. I really love the flexibility where I can watch and play with my little one every now and then whenever I take breaks. Since I am at home, I can help my wife with whatever she needs help with, and at the same time take care of my work.
Usually, my day lasts from like 8:30 to 5:30ish. And after 5:30 I don't open my laptop, check my emails, or anything unless the roof is on the fire! That mental disconnect is really important. Of course, there are exceptions when something is going on or you're going through production deployment, or a client has a burning issue, stuff like that.
But leaving those exceptions aside, I'm trying different things to recharge my battery on a daily basis without constantly having in the back of my mind things that went well in a day or what I want to do tomorrow. In an ideal world, I would be completely unplugged from work after 5:30 or 6. It's a process, and I'm not there yet but maybe I'll get there one day!
What's something surprising that people may not know about you or your background or your career? 
A lot of people might not know my background. I was born and raised in India, I finished my bachelor's in India and then came to the United States 12 years ago to pursue my master's, then started to like what I was doing so I continued with it. Usually, people will say they can tell if someone is from a different country by the accent or something. But a lot of people say they can't tell with me. Maybe it's a good thing or a bad thing, I don't know. But that's one thing that people can be surprised by!
Where in India did you grow up?
A city called Hyderabad, in a southern part of India. Information Technology is really big in that city and we have a lot of IT talent. All the big IT companies have branches like Microsoft, Facebook, Google, you name it. Perficient has quite a few branches in India, and I would love to see us expand our global offices to Hyderabad. I'll gladly help!
Is there anything else that you'd like people to know about working at Perficient or about you?
Working at Perficient, diversity and inclusion are both important. 'Diversity and inclusion' means making sure regardless of your sex, race, or color, you're treated fairly and equally. We try to give every single opportunity for people to excel no matter what they do — business analyst, tester, architect or project manager, everyone has their own skillset.
We learn from one another, and we encourage each other – especially when the chips are down. We try to create a culture where they can be at their best. Because when people are at their best collectively, you achieve success! It's that collective effort that makes us successful and personally it has been a tremendous joy for me to be part of Perficient for the last year or so.
Do you have any upcoming speaking engagements that you'd like to promote?
Yes, I have three sessions during Microsoft 365 Educon in Chicago (September 26-30, 2022):
September 28 @ 11:30am CDT – Power Automate Multi-Stage Approval Workflows
September 29 @ 3:50pm CDT – Build external-facing websites using Power Apps portals
September 30 @ 12:30pm CDT – Automate content processing using AI & SharePoint Syntex
I want to thank Perficient for sponsoring my travel to Chicago as well as sponsoring travel for a recent Atlanta User Group where I presented with Ron Jones. Very grateful for that!
---
It's no secret our success is because of our people. No matter the technology or time zone, our colleagues are committed to delivering innovative, end-to-end digital solutions for the world's biggest brands, and we bring a collaborative spirit to every interaction. We're always seeking the best and brightest to work with us. Join our team and experience a culture that challenges, champions, and celebrates our people.
Visit our Careers page to see career opportunities and more!

Go inside Life at Perficient and connect with us on LinkedIn, YouTube, Twitter, Facebook, and Instagram.