Leading life sciences organizations rely on Perficient for deep subject matter and technical expertise to achieve their missions of helping people feel better and live longer. I recently connected with one of these experts, Param Singh. Param is director of clinical operations solutions at Perficient with 22 years of consulting experience. We discussed how Perficient's culture of collaboration enables him to use this experience to help our life sciences clients succeed.
Thank you for joining me today, Param. I'd love to start by hearing more about your role as director of clinical operations. How do you impact our clients and our culture in this role? 
I lead service and delivery for clinical operations solutions in our life sciences practice. For me, our culture is defined by our customer and employee success. So, each day I look for opportunities to help our clients and our employees succeed.
I respect the work our team supports in life sciences, and I feel honored and humbled in the role we play in supporting clinical trials. In the past few years, this has become more important than ever. We rely on these medical breakthroughs in the industry to change people's lives.
I love the fact that I don't have a typical day. Each day brings its own challenges and opportunities. However, I am often working with our internal teams on our strategy and growth or working with our clients to help them overcome challenges and obstacles to positively impact their own strategy for growth.
LEARN MORE: Modernizing Clinical Trial Operations With Digital Experience Technologies
What do you value most about your role? What makes Perficient special?
As a director in our life sciences practice, I am honored and humbled that our work makes an impact on patient care. I think everyone at Perficient should take a step back and look at the larger impact our work has. It has especially been rewarding during the pandemic, as our team has directly supported trials for one of the COVID-19 vaccines. We are honored to have been a part of that effort. As our team and executive management has stated many times during this pandemic, we are proud of our contributions to helping our clients bring life changing impacts to the world.
In my 22 years of consulting, this is the most talented team I have worked with. They prioritize the goals of our company and our clients above all else, all while supporting each other and myself. I am constantly in awe of their talent and dedication, and I value all that they do to impact our collective success at Perficient.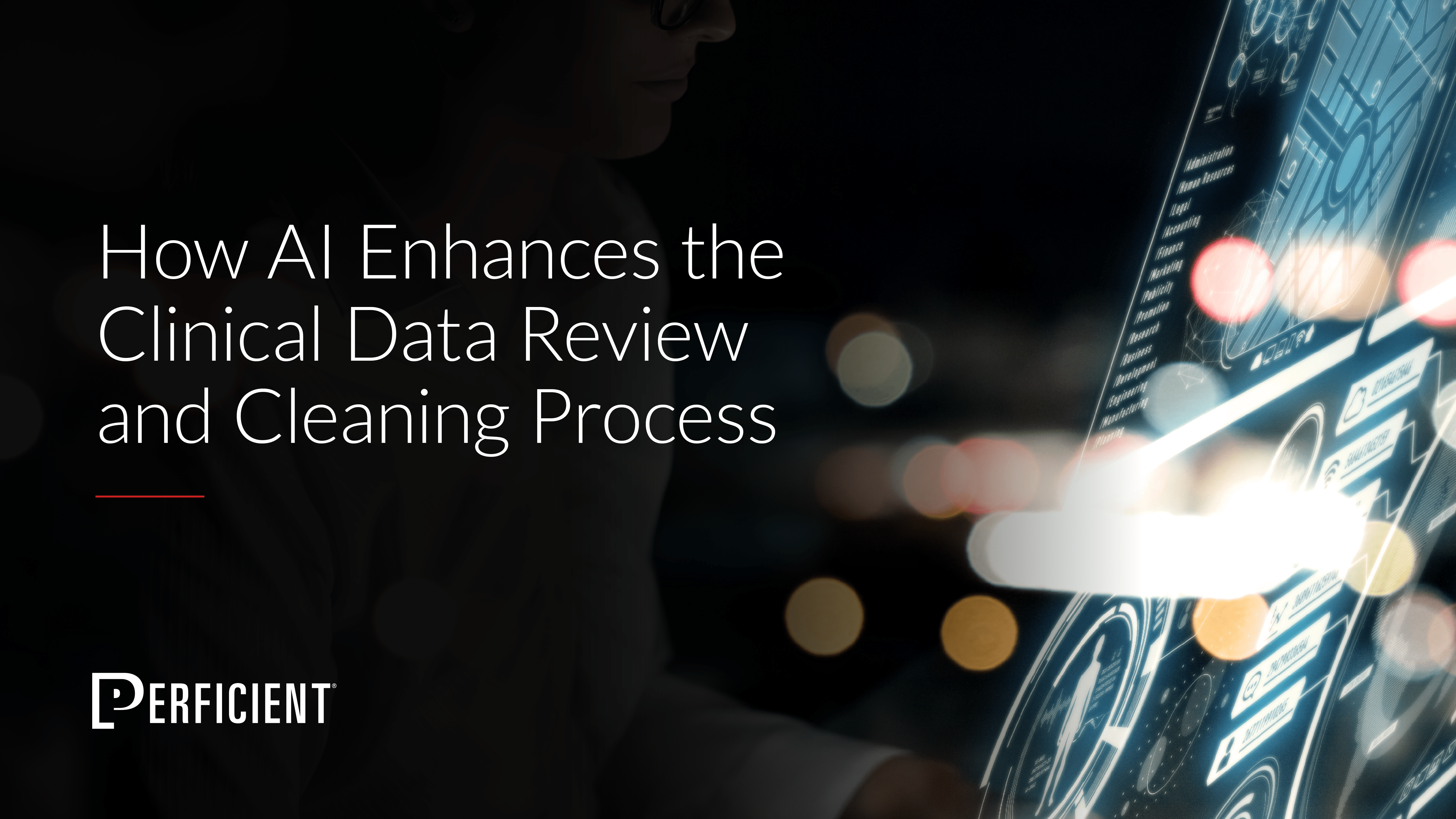 Learn how AI/ML can be used by pharmaceutical and medical device companies to improve the clinical data review and cleansing process.
In my 14 years at Perficient, I have come to understand clearly that the value, the strength, and the reason for our continued success, comes from our people. I truly value both the professional and personal relationships that I have made, and I attribute those relationships to my own success.
EXPLORE NOW: Life Sciences: Strategy + Innovation to Advance Your Critical Work
How did you come to work for our global digital consultancy? What motivates you to keep providing value to our life sciences clients?
I joined Perficient, like many others, through an acquisition. BioPharm Systems' culture was incredibly supportive, collaborative, and cohesive. One of the concerns leadership had during the acquisition was a potential culture clash. However, we quickly realized that Perficient's culture was very much aligned to BioPharm's culture, and that made for a very smooth transition. That was over 8 years ago, and I just had my 14th anniversary this January.
I enjoy what I do and the impact that we have, but what makes me stay and want to do the best work is the people that work alongside me as we deliver excellence to our clients.
LEARN MORE: About our Promise to Challenge, Champion, and Celebrate our People
Life Sciences Leaders Turn to Us
Our deep expertise in life sciences and digital technologies, including artificial intelligence and machine learning, helps transform the R&D process and deliver meaningful value to patients and healthcare professionals. More than 150 ​​pharmaceutical, biotechnology, medical device, and clinical research organizations have counted on our world-class industry capabilities and experience with leading technology innovators.​
We bring pragmatic, strategically-grounded know-how to our clients' initiatives. And our work gets attention – not only by industry groups that recognize and award our work but also by top technology partners that know our teams will reliably deliver complex, game-changing implementations. Most importantly, our clients demonstrate their trust in us by partnering with us again and again. We are incredibly proud of our 90% repeat business rate because it represents the trust and collaborative culture that we work so hard to build every day within our teams and with every client.
With more than 20 years of experience in the healthcare industry, Perficient is a trusted, end-to-end, global digital consultancy.
---
It's no secret our success is because of our people. No matter the technology or time zone, our colleagues are committed to delivering innovative, end-to-end digital solutions for the world's biggest brands, and we bring a collaborative spirit to every interaction. We're always seeking the best and brightest to work with us. Join our team and experience a culture that challenges, champions, and celebrates our people.
Visit our Careers page to see career opportunities and more!

Go inside Life at Perficient and connect with us on LinkedIn, YouTube, Twitter, Facebook, and Instagram.