Meeting the ever-increasing IT demands of the healthcare industry is critical for organizations to keep up and stand out from their competitors. According to Forrester,
"The stakes are as high as ever in healthcare, as the decisions made through the end of the decade will determine an organization's success for the next 50 years. Being informed and getting in front of the industry shifts provides a much-needed injection to fuel success for HCOs in the future."
Staying up to date on IT and making the right decisions about digital strategy lays the foundation for healthcare firms that want to reach their goal of a healthier population. Many organizations are choosing Perficient and Red Hat to help further their modernization efforts and break away from the constraints of legacy technologies to take advantage of innovative care and wellness solutions.
Modernizing legacy platforms and applications enables healthcare organizations to embrace the cloud and improve healthcare experiences, unify disconnected systems, and find cost savings/efficiencies. Let's take a look at a few of the ways Perficient and Red Hat can help healthcare organizations from wherever they are along their modernization journey.
Modernize IT to Improve Outcomes
Modern healthcare organizations are using data to improve patient and clinical experiences. Getting real-time insights and capabilities at the point of care requires a flexible IT infrastructure. That usually consists of cloud (hybrid or multi-cloud) and a trusted application platform.
OpenShift, Red Hat's enterprise-ready Kubernetes platform, provides the operational consistency and interoperability needed to advance healthcare IT innovation.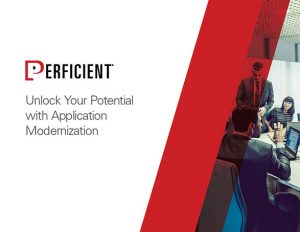 Application modernization is a growing area of focus for enterprises. If you're considering this path to cloud adoption, this guide explores considerations for the best approach – cloud native or legacy migration – and more.
Patient Data and HIPAA Compliance
Collecting and interpreting patient data is critical for healthcare organizations. They must also protect that data and comply with the Health Insurance Portability and Accountability Act (HIPAA) and other standards.
With Red Hat Ansible Automation and Red Hat OpenShift, healthcare organizations can automate security checks, find vulnerabilities, and immediately remediate issues at scale while remaining in compliance with HIPAA and other government mandates.
Intelligent Data-as-a-Service for Modern Data Management
To improve the quality of patient care, healthcare organizations, as well as patients, need access to the right data, at the right time, and in the right context.
You need to eliminate data silos and disparate systems with an architecture that can process data from many sources and intelligently route information to a variety of destinations. Red Hat's intelligent Data-as-a-Service (iDaaS) solution helps make healthcare data available where it's needed―in real-time.
Perficient + Red Hat
Perficient's healthcare expertise earned us recognition by Modern Healthcare as the fourth-largest IT consulting firm and ninth-largest management consulting firm. As a Red Hat Premier Partner and a Red Hat Apex Partner, we help drive strategic initiatives around cloud-native development, DevOps, and enterprise integration to ensure successful application modernization and cloud implementations and migrations.
Want to learn more? Check out our content hub.