Discover the New Optimizely and What it Means for Your Business
---
In the past few years, we have seen many mergers and acquisitions in the marketing technology space. With the advance in content management systems (CMS), e-commerce software, and marketing optimization tools, we've seen many tools come together under one brand. This is seen across the industry as marketing technology companies adapt to online enterprise companies' needs.
Optimizely was originally an Experimentation and Personalization tool and was acquired by Episerver in 2021. The new Optimizely also acquired many other technologies to form their new enterprise DXP (Digital Experience Platform).
The following products are included within the Optimizely DXP:
With numerous new tools in this DXP, it can be difficult to understand which tools are right for a business and how they work together. This post will give you a concise background of our history of working with Optimizely and offer clarity on how to use certain products.
To learn how to gain the most value from Optimizely tools, contact us today. If you have questions or certain topics of interest, ask us about Optimizely here.
History of Our Partnership
Perficient's partnership with Optimizely and its acquired or merged brands has proven to provide clients with the best there is to offer. Our partnership offers top-of-the-industry DXP, CMS, commerce, experimentation, and personalization platforms as well as experienced strategic and technical support. The partnership between our two companies over the years is driven to help companies improve and enhance their user experiences, grow their online revenue, and strengthen their partnership with buyers and partner companies via a more mature digital experience.
Perficient is the Unicorn Partner for Optimizely
Perficient is the only partner that offers end-to-end expertise across Optimizely's major solution areas – CMS, commerce, experimentation, and personalization.
As one of the most credentialed Optimizely partners in the world, we can holistically address a broad range of projects to deliver success from concept to launch and beyond.
Introducing the Optimizely Digital Experience Platform (DXP)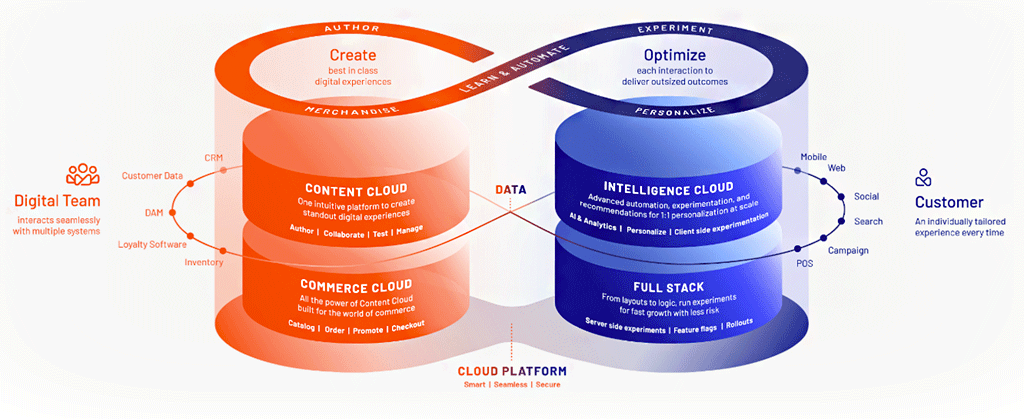 Overview of the Optimizely Product Solutions
Perficient has three dedicated teams to serve the various Optimizely solutions, these areas include:
Content
Commerce
Optimization (aka Intelligence Cloud) – Includes Experimentation, Customer Data Platform (ODP), and Content/Product Recommendations
---
Content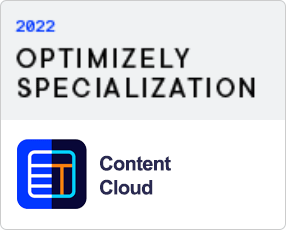 Content Cloud by Optimizely is the industry-leading content management system (CMS) built on .NET and Microsoft Azure. You can also use it with any other programming language if you run headless. The programs work together to manage and create content that generates exceptional digital experiences.
Perficient's dedicated CMS team has received the "Optimizely Content Cloud Specialization" for three consecutive years and will continue for years to come.
Key Features of Optimizely Content Cloud
Approval Workflows
Content Management
Media Management
Authoring & Layout
Search & Navigation
A/B Testing & Visitor Groups (simple personalization)
Various connectors for integrating tools (Salesforce, Dynamics, Marketo, etc.)
Outcomes Using Optimizely Content Cloud
Increase speed to value, leveraging the power of the Optimizely product suite
Empower marketers to design and implement engaging experiences
Create relevant and personalized purchasing experiences for your customers
Gain insights from data, analytics, and testing to drive informed decisions and achieve higher conversions
Ways to Maximize Success Using Optimizely Content Cloud
Leverage a system such as SCORE to make Optimizely easier to use by fully enabling and enhancing the page editor experience
Improve Responsive Image Optimization
Utilize connectors and components integrated into Optimizely beyond the base product
Provide easy enablement for content authors. This provides structure and a training path for new clients or team members
---
Commerce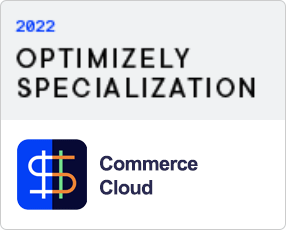 Commerce Cloud by Optimizely is built to be scalable with deep integration capabilities, developed on Microsoft .NET stack. Our team of skilled strategists, architects, and developers deliver the solutions to drive your brand and seamlessly combine campaigns, content, and commerce. We translate your complex B2B and B2C processes into easy-to-deploy digital solutions that offer tremendous value. The goal is to shape digital shopping experiences through technically enabled content, commerce, and order orchestration.
B2B Commerce Cloud is best-of-breed commerce and CMS capability with native PIM to provide a world-class buying experience for B2B and B2C Customers. The platform comes with features to build your brand and seamlessly combine campaigns, content, and commerce. This helps customers with complex B2B processes to convert into easy-to-deploy digital solutions that bring tremendous value.
Perficient's dedicated team has received the "Optimizely B2B Commerce" Specialization.
Key Features of Optimizely Commerce Cloud
Native support for B2B and B2C personas including personalization capabilities around customer segments and markets.
Supports responsive framework for both website user and the administrator.
Built to integrate with various internal systems and third-party solutions.
Ability to create and administer multiple sites in a single instance.
Outcomes Using Optimizely Commerce Cloud
Guided shopping experiences and design of the self-service cart and check out workflows
Technical architecture design and integration into third party systems
Enablement of full platform capabilities or headless architecture support to connect to external content systems
Centralization of the supply chain through ordering and fulfillment processing
Streamline product information flow from ERP to PIM to commerce and content systems
Things to Consider with Optimizely Commerce Cloud
Leverage a Perficient developed B2B Commerce QuickStart to enable a commerce store using out-of-the-box platform functionality, for manufacturers and distributors.
Migrate from the on-prem version of the commerce platform to the cloud-hosted Optimizely Commerce Cloud and receive support, hosting, and regular product updates by Optimizely.
Build a self-service dealer portal for dealers and distributors.
Leverage the CMS built on the B2B platform on the latest React technology framework.
---
Optimization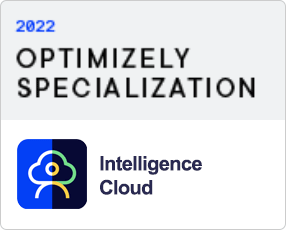 This is where it starts to get a little confusing. Perficient has a dedicated team that has received the "Optimizely Intelligence Cloud" Specialization. This specialization extends across optimization products like experimentation + personalization, recommendations, and customer data platforms. This is one of Optimizely's most important product lines due to its inclusion of several various solutions, including:
Web & Full Stack  (Experimentation + Personalization & Feature Management)
Content Intelligence (Content & Product Recommendations)
Optimizely Data Platform (CDP & Data Intelligence)
These are all standalone products and can be added to any website, app, or other digital experience. The optimization products can be implemented onto any e-commerce or CMS platform including Sitecore, Magento, Shopify, WordPress, and other digital experience platforms.
Here is an overview of each solution:
Experimentation
Optimizely is home to a complete suite of standalone experimentation personalization tools, which are not to be confused with legacy tools that are located within the Content Cloud CMS. There are several key differentiators between these products and your marketing execution needs to be considered which path is best for your company's approach. We will not cover the Content Cloud CMS A/B testing and personalization capabilities as they are simple functions that take longer to deploy and are more complicated from a technical perspective.
Optimizely Experimentation Consists of Two Types of Products:
Web Experimentation – Client-side A/B/n Testing & Personalization
Full Stack – Server-side Feature Flags, Feature Testing, and Rollouts
Client-Side versus Server-Side Experimentation
Both client-side and server-side testing have a place in the experimentation world. Determining which of these are right for your website/mobile app, optimization strategy, and customers are based on what differentiates one from the other. Some of these differentiators are:
Client-Side (Web): This type of testing is focused on acquisition and engagement strategies. Tests are created using a simple WYSIWYG or by making changes to HTML, CSS, or JavaScript. Using client-side testing also provides the ability for a higher test velocity due to minimal constraints and dependencies. This product also offers the ability to personalize and deliver multiple audiences with different personalized experiences. This tool is simple to use and allows anyone in the marketing and growth teams the ability to run A/B tests and personalization campaigns with ease.
Server-Side (Full Stack): This type of testing is focused on feature adoption and product performance improvement. Tests are created directly on the webserver which provides the ability for more complex tests that include feature flags and rollouts, search algorithms, price testing, and mobile app enhancements. Full Stack is made for product and engineering teams to measure and improve the results of their feature rollouts and application enhancements.
Additional Strategies to Consider When Using Optimizely Web Experimentation
Leverage the Optimizely Behavioral API for advanced personalization and targeting. This is one of the most underutilized features in Optimizely Web.
Automatically deliver the best performing digital experience using multi-armed bandit experimentation. This uses machine learning to dynamically allocate traffic to the best-performing variation. This approach helps quickly identify and distribute more traffic to the best-performing variation to maximize the impact of the experiment. Underperforming variations will gradually receive fewer visitors.
Content Intelligence
This solution is comprised of content and product recommendations. This allows users to deliver the right content, articles, and products to their users based on audiences and segments that are most important to them.
Content Recommendations: Based on a user's browsing history or customer attributes, we can determine if the user is a logged-in user. We then display articles, content, and FAQs to increase their engagement to consume content. These types of personalized content experiences help increase user engagement and motivate users to progress within the customer journey. This tool also provides analytics for the blog/articles/keyword performance and uncovers insights to optimize your website content.
Product Recommendations: You have viewed these on commerce websites that display related items based on your preferences, browsing history, or what you have added to your cart. Optimizely provides the ability to serve and experiment with different product recommendations that users may be interested in. The goal is to make it easier for users to find comparable items they are interested in and raise the average order value for e-commerce transactions.
Optimizely Data Platform (ODP)
This is the Optimizely Customer Data Platform (ODP) product that enables users to align their customer experience and let us do the heavy lifting of surfacing opportunities, automating tasks, and streamlining execution. Users then identify their most important customer types and which cohorts have the most opportunity for revenue growth. Lastly, ODP provides the ability to segment visitors on a website, app, email campaigns, and other digital advertising to deliver personalized experiences.
Outcomes Using Optimizely for Experimentation, Personalization, CDP, and Recommendations
Drive growth and KPI performance without breaking the bank by leveraging experimentation to know what works
Simple implementation and integration for Web Experimentation and Data Platform to help brands validate and learn more about what resonates with target customers
Run successful tests faster so we deliver greater speed-to-value for brands
Maximize the value of customer data by streamlining data and customer behavior across the brand's existing tech stack
Connecting content and commerce platforms enables seamless buying
Plus, adding Optimization allows you to innovate and drive faster growth
---
Introducing Welcome from Optimizely
Optimizely recently acquired the Welcome platform. Welcome is described as a marketing orchestration platform that allows your business to plan, analyze, and host content that can be used across DXP and CMS platforms. This tool creates a dedicated workspace for storing information associated with each stage of the process. Users then have the power to share content that represents their brand and create content workflows that focus on 'strict' or 'flexible' components. Lastly, users can store all required assets and details for decision-making in one place, allowing them to publish and promote the latest content on a consistent schedule.
Drive Your Business Success with Optimizely DXP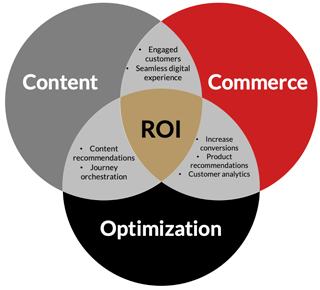 As the need for digital increases, so does the demand for a consistent buying experience. When connecting a client's content and commerce platforms, we enable a seamless buying experience and better back-end connectivity. We then leverage the optimization tools to accelerate KPI growth and enhance the overall digital experience.
Perficient helps customers achieve their business objectives by offering strategic guidance that allows them to extract the most value from the Optimizely DXP. Whether it be support for CMS, commerce, personalization, or experimentation, Perficient can do it all.
What questions or topics do you have about Optimizely?
Please let us know what questions you have or information you want to learn for any of the Optimizely DXP solutions.
Submit topics of interest or ask questions now!
---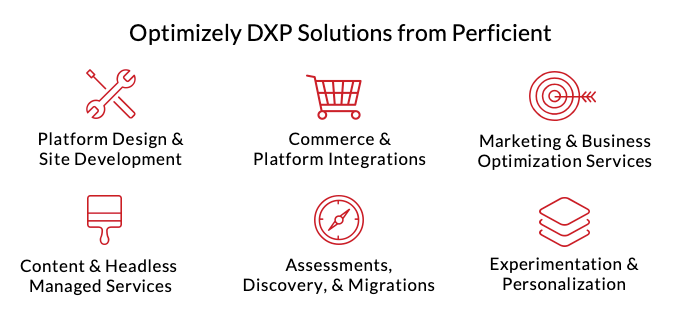 ---
Accelerate your success with the Optimizely Digital Experience Platform…
Get in touch with a Perficient expert today!