Recently, in honor of International Women's Month, Perficient hosted a roundtable "Mastering Manufacturing with Experts", with female manufacturing experts to discuss top trends in the manufacturing industry. Our panelists included Megan Glasow – Director, Salesforce Solution Delivery at Perficient, and speakers Melissa Busen – Director of Digital Product Management at Caterpillar; and Elizabeth Barry – Sr. Marketing Manager at Lincoln Electric Company.
For each attendee, Perficient donated $30 to Girls Who Code, one of the eight organizations supported by Perficient's Giving ERG. Girls Who Code aims to change the image of what a programmer looks like and does. With the percentage of women computer scientists continually declining, Girls Who Code is on a mission to make an impact by working to close the gender gap in entry-level tech jobs by 2030. Donations to Girls Who Code help inspire, educate, and equip girls with the computing skills to become change agents in their communities.
Panelists and attendees discussed the key manufacturing trends, the barriers to achieving a data-driven organization, and how to overcome business challenges. One of the interesting discussion topics was creating connected customer experiences. Panelists also discussed go-to-market strategies for bringing new or existing products and services to market.
Before diving in, let's look at some interesting manufacturing facts:
30% of the manufacturing workforce is women
1 in 4 manufacturing leaders are women
75% of women would recommend career in manufacturing
48% of women in manufacturing participated in STEM programs
Source: www.commerce.gov, Global Electric Service (www.gesrepair.com/women-in-manufacturing)
Top Manufacturing Trends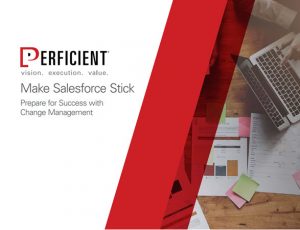 To ensure your Salesforce implementation or migration goes as planned, our team of change management professionals discuss how to manage the transition process to ensure your team is ready, willing, and able to perform effectively in the new environment.
Key trends in manufacturing that are accelerating the need for digital transformation are:
Developing commerce excellence
Deploying digital experiences
Building service-based business models
Being a "data first" or data-driven organization
Enterprises are considering these trends due to the ongoing pandemic, and that deploying digital experiences and being a data-first organization are challenging.
"Organizations must discover how to meet customers where they are and provide a digital experience that is engaging enough to make them want to do business with you."
Melissa Busen – Director of Product Management at Caterpillar
In order to engage customers and achieve optimal digital experiences, you need to understand their needs, wants and meet customers where they are digitally.
"Data is King – if you do not have correct data and facts, it is difficult to serve up the right information to your customers."
Elizabeth Barry – Sr. Marketing Manager at The Lincoln Electric Company
Barriers to Tackling Manufacturing Trends
Panelists discussed the challenges that are slowing manufacturers' ability to tackle the current trends, including but not limited to people, process, technical, and data barriers. One of the panelists said that the greatest barrier for them is to figure out how to pull together large amounts of data and identifying the right information and insights from the data. It was also discussed how to shape data in the future – this is one of the most important steps in digital transformation, along with leveraging data and insights
All industries experienced some form of "great resignation", making it difficult to find and retain good talent. Manufacturers can be successful in finding and retaining good talent by giving them a clear career path. Companies also need to get their name out and establish themselves as key players in the digital space. The new generation of workers wants to connect with the story – companies should figure out their story and should know how they can express that story to attract talent.
Our experts shared their advice to other companies regarding creating a connected customer experience and how others can engage the supply chain network to create those experiences. Following are some key takeaways:
Focus on creating a centralized location where all content and information can be found easily to create a holistic, frictionless, and connected experience.
Assist the distribution and retailer network when needed to establish long-lasting, successful relationships.
For a connected experience, direct feedback is important – create discussion groups where employees can highlight their key concerns and feedback.
Take a methodological win-win approach when dealing with retailers and distributors.
"Embrace your distributors and dealers to establish a trusting relationship – create a shared vision and show how you can add value to their business."
Elizabeth Barry – Sr. Marketing Manager at The Lincoln Electric Company
"Success will come if you clearly tie the value you can provide with your results."
Melissa Busen – Director of Product Management at Caterpillar
 Establishing a Scalable Go-to-Market
Increased competition and pressure to evolve business models is a central focus in the manufacturing industry. Panelists talked about how this is the most important strategy when bringing new or existing products and services to market.
According to Melissa Busen, the business needs to clearly show the value their product drives along with the win-win situation for everyone involved. She said that every department and dealer is different but there should be one shared, consistent vision across the company that establishes the framework and then works to bring each segment into it.
Elizabeth Barry seconded these thoughts, saying that alignment within your business is key to erasing confusion in the market. It is important to ensure that your internal organization is aligned around the values you provide and how you as a company view them.
Learn more about how Perficient can help solve the top challenges in manufacturing with Salesforce.