Perficient has a long-standing reputation as a philanthropic organization with colleagues who are passionate about giving back to the communities in which they live and work. One of these colleagues is Paddy Cozens, Technical Architect. I recently sat down with Paddy to discuss how he delivers value to our life sciences clients. We also discussed his role as a volunteer firefighter and how he balances his career in IT with the volunteer work he is passionate about.
Thank you for joining me today, Paddy. I'd love to hear more about your role supporting life sciences. How do you provide value to Perficient's clients in this role?
I am a technical architect working within the healthcare consultancy division. My principal focus is pharmaceutical-centric applications, such as clinical trial patient data recording systems, clinical trial management, and adverse event reporting. My interaction with clients is varied. It can be as simple a help desk ticket for an issue that takes just moments to solve, or it can be a year-long project to upgrade or migrate a customer's system/data.
My goal is always the same; for the client to see the value Perficient brings, and that the end result will exceed their expectations.
Yes, there will be hurdles and bridges to cross…but as I always tell them, "No matter the rough waters or stony ground we cross, I will without a doubt make them laugh and smile for taking the journey."
EXPLORE MORE: Quick Guide to Planning Your Clinical Trial Management System Implementation
What motivates you in your work at Perficient? 
Along with the day-to-day challenge of thinking outside the box to solve complex problems, my colleagues are without a doubt the single biggest factor that I value about working at Perficient.
The wide range of people I get to meet and collaborate with motivates me. Plus, the individual perspectives, skills, and experiences of the team collectively helps navigate the complex obstacles we encounter daily.
LEARN MORE: Perficient Promises to Challenge, Champion, and Celebrate Our People.
What initially drew you to a career at Perficient and what makes you stay?
My path to Perficient was unexpected, which sounds slightly unusual and needs some clarification. My career with the company came by way of an acquisition. I had been working for one of the largest pharmaceutical companies with over 100,000 employees. Then, I suddenly found myself working at a much smaller company (under 100 employees).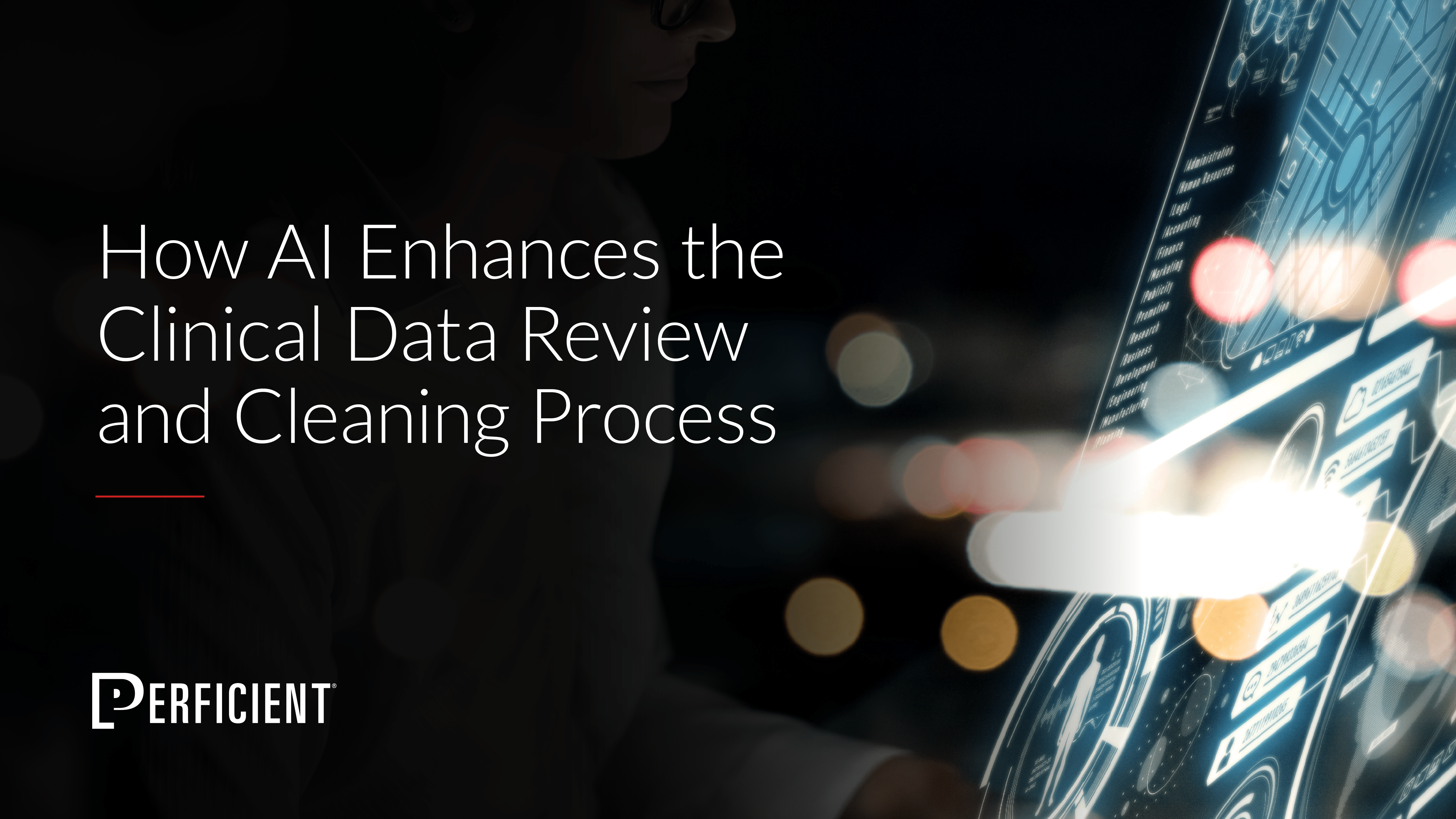 Learn how AI/ML can be used by pharmaceutical and medical device companies to improve the clinical data review and cleansing process.
This company was then acquired by Perficient. I went from a big company to a whole new environment in a short period of time, which was a bit of a shock to the system. Once I had adjusted, I found myself enjoying the freedom that came with working in a less siloed environment. It enabled me to work more horizontally, which gives me a broader view of the environment and more holistic input and impact. This, along with the diverse group of people that I get to interact with, inspires me to do my best work.
Can you tell us a little about your contributions as a volunteer firefighter? How did you get involved in volunteering and what motivates you to continue?
Since coming to the U.S. from England, I have become a collector of boats. One of the new phrases I heard in the U.S. was "He who dies with the most toys wins!" With this ideology, I jumped in with both feet! For the first time in my life, I had what my new boss described as "disposable income" (an expression/situation I never heard or had in England). Thus, I became a collector of things: boats, cars, motorbikes, etc. My wife has since put a quash on this madness (I think it is called an intervention!). However, the last collection to suffer these spousal cutbacks were the multiple boats in the yard.
This led to a knock on the door one day: "Hi, I am Deputy Chief of the local fire department. We need new members, especially to help crew our fire boat. I see you have a few boats, and we really need someone with marine and boat knowledge." I had to laugh as I replied, "I think the number of boats in my yard actually demonstrates that I know nothing about boats". But it was 6 p.m. and I had a glass of wine in hand. So I let him over the threshold for further talks, and he twisted my arm.
Now, I am Captain of the department, an EMT, a pilot/engineer on a fire boat that forms part of a coastal marine group for search, rescue, and other emergencies, in an area within the Long Island Sound. Unfortunately, this came late in my life. I wish I had done it a lot younger. The rewards are beyond imagination. The people I have met, both within EMS response and from the interactions with the public/patients, are life changing.
Nobody calls upon my department's services when they're having a "good day," indeed they are probably having their worst! How ironic it is that in kindergarten, on dress-up Friday, I would fight everybody to take the fireman's costume home for the weekend. Forty-five years later, I got a real outfit! I even get to drive and pilot some great toys. A 40,000-pound fire engine and a 16,000-pound fire boat are every boy's dream! I would encourage everyone to offer up some time to give back in any way possible. It will change your life!
EXPLORE NOW: Perficient Giving, Employee Resource Group 
How do you balance a career in IT with serving your community? 
Working at Perficient is challenging and rewarding every day. The nature of my job means that I am always solving problems, and they are usually urgent.
What makes it enjoyable is the people I work with, the relationships I build, and the teamwork and camaraderie to problem-solve together.
My job gives me the ability to be creative (technologically). It allows me to strike a balance with my personal life where I'm creative in other ways. I love to cook (my wife calls it making a mess!), I will tackle any household breakdown (you have to love YouTube), I even built a car (the one toy my wife loves). I'm also able to give back to my community.
READ MORE: Work-Life Balance at Perficient
Life Sciences Leaders Turn to Us
Our deep expertise in life sciences and digital technologies, including artificial intelligence and machine learning, helps transform the R&D process and deliver meaningful value to patients and healthcare professionals. More than 150 ​​pharmaceutical, biotechnology, medical device, and clinical research organizations have counted on our world-class industry capabilities and experience with leading technology innovators.​
We bring pragmatic, strategically-grounded know-how to our clients' initiatives. And our work gets attention – not only by industry groups that recognize and award our work but also by top technology partners that know our teams will reliably deliver complex, game-changing implementations. Most importantly, our clients demonstrate their trust in us by partnering with us again and again. We are incredibly proud of our 90% repeat business rate because it represents the trust and collaborative culture that we work so hard to build every day within our teams and with every client.
With more than 20 years of experience in the healthcare industry, Perficient is a trusted, end-to-end, global digital consultancy.
---
It's no secret our success is because of our people. No matter the technology or time zone, our colleagues are committed to delivering innovative, end-to-end digital solutions for the world's biggest brands, and we bring a collaborative spirit to every interaction. We're always seeking the best and brightest to work with us. Join our team and experience a culture that challenges, champions, and celebrates our people.
Learn more about what it's like to work at Perficient at our Careers page. See open jobs or join our talent community for career tips, job openings, company updates, and more!
Go inside Life at Perficient and connect with us on LinkedIn, YouTube, Twitter, Facebook, and Instagram.