The medical information (MI) call center is part of a complex pharmacovigilance system. It may be the only opportunity to gather adverse and product quality data. It's imperative that it operate efficiently. With a growing number of calls, it's easy for a center to overrun. That can lead to team burn out, long wait times, dropped calls, and decreased overall quality of your PV system.
This isn't an isolated scenario. Many companies are struggling to meet the growing demand from patients and HCP. So, after a day of heavy caseloads and difficult calls, late night re-runs are comforting. I became a fan of "I Love Lucy" reruns, trying to close the day with a bit of humor.
One of my favorite episodes is pictured above. Lucy and Ethel decide to take jobs in a candy manufacturing company on the assembly line, wrapping each piece before the chocolates get to the box. At first, it's manageable, but then the pace picks up as does the volume. They soon become over-run. Sound familiar? As a stop gap, they have a great solution – eat the chocolates or stuff them down their uniforms. That is only temporary; something must give or change. Just like in a runaway MI call center, we must change our paradigm.
A holistic pharmacovigilance system in many ways reminds me of this episode. We've all felt the pressure of too many calls and too many serious cases. We've all been overwhelmed with emails, calls, and IMs, while trying to give the best service to callers. So, let's focus on the chocolate assembly of a call center. Whether it's for a patient/consumer question or for a health care provider, the call center in Pharma requires patience, good training, and current drug information.
The call center is the face of your company. How the call center functions makes immediate impact. No one wants calls backed up or put on hold; just like no one wants to see chocolate that never makes it to the box. It's not a sustainable business model.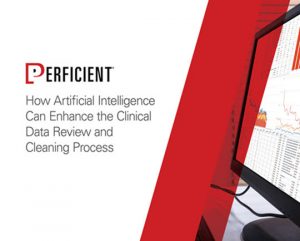 This guide analyzes how artificial intelligence – including machine learning – can be used by pharmaceutical and medical device companies to improve the clinical data review and cleansing process.
To keep medical information (MI), or any call center, flexible and providing the same or a higher level of quality, we turn to our scary friend – technology. Why is technology scary? Because most of us don't have a robust background that gives us a deep understanding of what technology can do in a call center setting.
We now have tools such as artificial intelligence (AI), natural language processing (NLP), and automation that have matured and can be layered over your current workflow.
See the below configuration for a call center workflow, and the addition of adding multiple contact methods and a human like empathetic virtual agent who can take voice to text, text to text, and triage calls to the proper front-line agents.
The data collected can then be parsed, AEs, concomitant medications, and other case data collected, formulated into an E2B XML file, and uploaded directly for processing in your AE database. The call itself (audio or text or other) can be uploaded as the source document. The beauty of this model is that the NLP and AI train against your data, using your procedures, your coding conventions, and gradually can take more calls over time.
If you don't have the resources internally (including a team to validate against your data); choose a partner who understands the pharmacovigilance and MI needs, has a strong technical team, will support the solution for you in a cloud-based environment, and will manage and monitor the solution for you; including providing a hosting service where users can call in with "how-to" questions. The ideal partner will have a team that speaks on everyone's level, so that there is no chance for technology and PV/MI speak to be misinterpreted. Choose a partner who listens to your users.
A good partner will start with a Phase 0 to understand how you are currently working, what your goals are, and the ideal user experience. An effective partnership interfaces with existing technology and workflow practices (unless you want to change it).
A partner should be able to communicate in a meaningful way identifying pain points, has deep experience with various technology solutions, and listens to your requirements.
We start with developing a road map. Will the MI center see immediate relief? Is it adaptable? Is it compliant with regulatory guidance, such as FDA-2019-N-1185, FDA Guidance for Industry No. 0910-0856?
Then we fit for purpose. Does the solution for your call center maintain the user experience? Is it omni-channel capable, flexible, scalable? Does it have down-stream benefits in your PV/PQC workflow? Does it meet the guiding principle of implementing computer systems validation and the tenants for good machine learning and artificial intelligence?
Will your partner support you during implementation and after? No one wants a "load and go" partner, one who disappears once things are completed. A good partner will "stay and play" by maintaining your system, keeping you apprised of other improvements, and monitoring to mitigate technical issues.
What does the return-on-investment look like in efficiency and ability to absorb higher call volumes without a corresponding increase in staff?
It's not just the technology. A call center that utilizes these tools is not designed to replace staff, but to augment their ability to provide quality service to all types of callers. For and MI call center, the reach of benefits extends far beyond the call center itself. Parsing data and having it uploaded directly into the database saves on data entry. Depending on what AE database you are using, there are many more points where automation can be introduced. It's a crawl, walk, run fly approach.
Perficient has an uncompromised commitment to delivering custom solutions for complex problems, especially in the pharmacovigilance and regulatory science space. Please feel free to reach out directly for a run through of our demo MI platform and how it can help optimize your MI center now and grow into the future.  kari.owens@perficient.com
Kari Blaho-Owens, Ph.D., is the Director of PV/RA and Safety within Perficient's Healthcare business unit. She was born and raised in the southern US (hence her southern humor) and now lives with her family in northwestern Montana.