Param Singh: Hello, everyone. My name is Param Singh and I'm the Director of the Clinical Operations Solution Practice here at Perficient Life Sciences. And I want to welcome everyone to today's discussion on our new partnership with Lokavant. And this discussion today is a way for us to introduce the offering and solution to all of you.
And I'm very excited to have with me today Todd Johnson, who's the Head of Customer Success at Lokavant. Todd, thank you so much for joining us today. We're really looking forward to today's discussion. And first, I want to give you an opportunity to introduce yourself to everyone and speak to your role at Lokavant.
Todd Johnson: Sure. Thanks. I'm happy to be here. So I'm Todd. I have 30 plus years in the life science industry. I actually started as a statistician at Abbott Labs, now AbbVie, 30 years ago. Made the transition to clinical operations. So I managed trials, programs, assets. I transitioned to Astellas where most of my ClinOps career was. And worked at Takeda. Most of my experience has been on the sponsor side.
About halfway through my tenure at Astellas, I transitioned more into a clinical systems role, so I led clinical analytics groups at Astellas and PPD, where my main remit was really to provide business, the business – which is anyone in the development team from ClinOps data management, med writing to medical monitoring, etc. – really providing the business with the data or the reports they needed to do their jobs.
From there I transitioned into life science consulting, and I've spent my last four years in a consulting group where I primarily worked on system implementations. It could be systems like Lokavant Oversight or really focusing on systems, really getting folks access to data. A lot of it having to do with ICH E6 (R2) and compliance therein.
So now I'm at Lokavant. As Param said, I'm Head of Customer Success. My main role is to create value. Identify and create value for customers. So if our customers don't obtain value with our solution, I'm not doing my job. So I have a vested interest in seeing our customers succeed.
PS: Thanks, Todd. Again, I'm really glad to have you here with us today. And I believe your deep knowledge and experience in working at life science companies, seeing their challenges firsthand and helping them work towards making them successful is really going to help contextualize the discussion around the solution.
And so for those joining us today that have not seen our recent posts and press releases, Perficient and Lokavant have entered into a new partnership to bring the power of the Lokavant platform and solutions that provide insight to enable proactive risk and quality management for our clients on all of your global studies. And so, Todd, I recognize the audience today may not know much about Lokavant and the platform. So I wanted to ask you if you could provide a short overview on what Lokavant is and what it can do for our customers.
Clinical Intelligence Platform: Ingest. Standardize. Aggregate. Understand.
TJ: Sure. Happy to. So I'll start with who we are and then I'll explain a little bit about what we are. So really Lokavant was born out of Roivant. Roivant is our parent company. So at the time, Roivant as well as some of the other -vants they had, they were dealing with two operational efficiency challenges around data.
One is nothing new. It's access to data. So as trials become more complex, you have more data sources, you're working with more vendors. We really had trouble understanding what was going on at any one point in our trial. So real-time data access was one of the challenges.
The next challenge was really to learn from our data, from our trials. So really going back into the data when a study is completed and trying to look for signals and lessons learned and anything like that, having to deal with data. Not just from a legacy standpoint, but really also from ongoing current ongoing trials.
So those are the two main data challenges. So Roivant created Lokavant to address these challenges. We're hoping to turn these two challenges into an advantage. So as far as what Lokavant is in a nutshell, we're a clinical intelligence platform. So it was primarily built to address those two challenges.
The platform works in three primary steps. The first step is to ingest, standardize, and aggregate your clinical data. So whether the data sits in your IRT, EDC, CTMS, ePRO, eCOA, any clinical system with any clinical or operational data, we're creating it and putting it in a standard data model so we can access it real time.
So as a sponsor, you're not relying on a third party vendor to provide you with dated reports on what is going on. As a vendor or CRO, you don't have to log into a bunch of different systems to understand what is going on. Everything is there for you in the platform.
I should mention, this is not unique to Lokavant. There's plenty of other solutions that do this type of extract, transform, load capability, primarily because it's an absolute requirement for any type of data reporting, data quality, master data management practice. So that's a necessity in order for us to do what we do next, which is the differentiator. And it's around predictive analytics.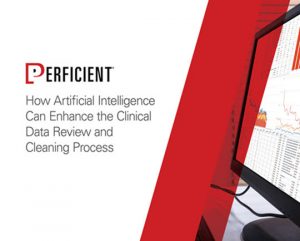 This guide analyzes how artificial intelligence – including machine learning – can be used by pharmaceutical and medical device companies to improve the clinical data review and cleansing process.
So what we do now, once we ingest your data, we run predictive analytics using our data engine on all of our historical data. We have a sizable dataset, thousands of trials, tens of thousands of sites. So we use that data in combination with your in-trial data to power any clinical data use case. So these use cases could be RBQM, risk management. Could be vendor oversight. It could be medical monitoring. It could be enrollment forecasting. Any question you could ask, the data will be able to assist with.
So lastly, just surfacing this data these insights, these analytics into a UI that's easy to use. And in my experience, it's extremely easy to use. I've used dozens of these types of systems and there's minimal training required. One of the benefits of keeping all of this data, integrating all of this data in a single platform is that obviously your teams no longer have to log into a bunch of different systems to understand what's going on. And really, the power of your insights grows as we ingest more data, more of your actual data.
PS: Yeah. And so, as we've been working on this partnership, we've had, you know, our team has had many opportunities to see the power of the solution and really the unique features of the UI. Like you said, it's really intuitive. And what I really love about it is the usability component of it, especially the configurable key risk indicators and how they tie in to the specific metrics of cost and timeline and submitability for the study.
So I can really see our clients getting an immense value in seeing a snapshot of the overall health and risk of a study, but then being able to dynamically drill down into specific areas of that data to identify where those risks are originating. That really shows the value of the solution.
And as an independent global consultancy, Perficient works with many software vendors that provide solutions to our clients. But we only enter into key partnerships where we see great value proposition and benefit that our customers can take advantage of, which is why we're really excited about this partnership with Lokavant to bring this innovative capability to our customers.
And then, with this area of RBQM specifically, Todd, we see many vendors offering capabilities around this area in their own solutions. Can you provide some detail around how Lokavant is unique and some key differentiators there that that set it apart from other solutions?
Risk-based Quality Management (RBQM) in Clinical Trials
TJ: Sure. Happy to. So, I've worked with dozens of these solutions. I mean, not just for implementation, but an actual user of a lot of solutions. And really, Lokavant was the first solution – Lokavant Oversight was the first solution that really spoke to not just my business user side, but also the statistician in me. So really, from the statistics side, I'm just incredibly impressed with the focus on data. So that whole single platform, common data platform, for all of your data ingestion needs really spoke to me.
I mean, just from a data quality, master data management perspective, from a data science side, we have a team of data scientists – and this is something that was unique that I'd seen – is that there's actual genuine prediction going on here. There's algorithms, there's actual AI and machine learning use cases that we're doing. And I mean, the only way that we're, the only reason we're able to do that is based on those thousands of trials that are in our dataset. We've got a lot of data. Not a lot of companies have that dataset and certainly not the data science expertise.
From the business user side, I'll focus on RBQM use cases. So I'm going to pretend I'm a clinical operations lead or trial manager, and it could be a CRO, could be at a pharma or biotech company. So really, if I'm using oversight from a from a trial planning perspective, first, I can use Oversight. One of the more common key risk indicators would be enrollment, right.
So initially, I could use Oversight to get an accurate estimate of how long the enrollment period is going to be. And this is a lot more than just patients per site per month times the multiple times the number of sites you have. It's actually identifying clusters of studies similar to yours – could even be in rare disease – and identifying those variables. Matching those variables.
It could be TA, it could be phase. It could be any number of variables from number of sites, number, number of patients, etc. and giving you the length of the enrollment duration. And what's really cool when you actually start collecting data, it switches in the different weights and actually uses machine learning to use that data to revise that estimate and even give you probabilities of meeting last patient first visit at any time during the trial. That's one use case.
The second use case around really just, creating KRIs, identifying thresholds. I mean, for those folks that have participated in risk identification meetings at the beginning of the study, they're definitely mandatory, they're cross-functional. It's where you list all the risks. You list the KRIs, the risk related to critical data, critical process, the KRIs you're going to use to measure those.
Most of the discussion is spent on the thresholding piece. So we use that same cluster of studies that's similar to your study to identify and recommend thresholds you should be using for KRIs. Certainly you'll monitor these as you go along, but they're much more accurate then how that risk identification and management process is, ongoing.
And lastly, really just from a risk management perspective, it's the access to data piece where connect, you can rest be assured that you're connected to IRT. So you have the single trusted source of truth for site activation, for patient screening, patient enrollment, screen failures, discontinuations. We're pulling from that. We're pulling from ADC around query rates, query aging reports, data entry times. We're pulling from CTMS or data lakes around trip reports, monitoring visits, protocol deviations.
All of that information is not re-transcribed into a spreadsheet or a PowerPoint presentation and provided to you on a weekly basis. That's how it was done before. You'll have real-time access now, so you'll see data as it happens. And you can, you'll have much more time to mitigate that risk.
So really the main value is that, I'll just say, our customers are teed up for success from an insight perspective on day one, or really day "minus one." So even before you start the study, you're teed up for success. And the algorithms only get more precise the more data that fuels them.
Benchmarking and Predictive Analytics on "Day Minus One"
PS: And this is one of the things that really spoke to us as well. Life sciences organizations obviously have their specific transactional systems they use to manage their studies. And we support and implement all of those solutions where you have your data management and EDC solutions, you have CTMS, and even robust integrated eClinical suite applications.
And while all of them have great capability in handling the transactional or operational data and process, where I see Lokavant shine is when it comes to applying smart business intelligence and analytics capabilities on that data, and then aggregating that data alongside data from over 2000 other historical studies to provide benchmarking and predictive analytics capabilities to your specific study on day one. Or like you said, on day "minus one."
So Lokavant enables an organization to be incredibly proactive and not reactive with how they manage risk, model enrollment, and provide oversight on their studies. So, as you all may be able to see, we're all very, very excited about this partnership. And to give you a bit more insight into the partnership, this partnership essentially formalized to allow us to take advantage of the key strengths of each company and their resources.
So with Lokavant focusing on the delivering on that product value, Todd and his team have already developed several modules on top of the platform specific to the use cases that they've worked on. And they're continuing to add modules to that. This partnership is going to allow Lokavant to continue to enhance the product to ensure that the platform is scaling with the needs of the industry, with the needs of our customers, and continuing to deliver additional value.
And then Perficient, specifically the life sciences team with our depth and breadth of knowledge at implementing solutions like these in our regulated industry, – our expertize in providing implementation and integration services specifically to speak to that ingestion piece and bringing this data together from all of the various systems that we're supporting for our customers, identifying industry best practices, advisory, system validation, and support, – those are going to be the key drivers in ensuring our customer success with the solution.
And this is really what we've laid out in the partnership where Lokavant and Perficient work seamlessly as one team to deliver and help sustain value for our customers. So we're really excited about that. And this this discussion today is really meant to be an introductory discussion and an overview. So I anticipate more discussions like this and for us to be able to share a lot more on this partnership and the solutions that we're going to provide.
So with that, Todd, I really want to thank you so much for being with us today to help me give this overview, an introduction to the solution and the partnership. Our team is extremely excited to work alongside you, your team in serving our customers.
And then thank you to everyone that joined Todd and me today for this introductory session. And if you'd like to learn more about Lokavant and have a much more detailed conversation about the solution, please reach out to us and we'd be happy to schedule a demo and deeper dive discussion. Thank you all so much.
TJ: Thanks, Param. Thank you.
Learn More About Our Life Sciences Solutions
Leading life sciences organizations rely on us for strategic and technical expertise to achieve their missions. Our thought leaders are here to support you in achieving business goals and solving your most complex technology challenges. If you are interested in learning more about Perficient's Life Sciences solutions or would like to contact us, click here.