As part of Wix's ongoing efforts to support their clients' SEO needs, Wix contacted Perficient to perform an independent third-party assessment of the platform's SEO capabilities. Rather than simply doing another dry analytical competitive comparison Perficient and Wix agreed that the best approach would be for Perficient to participate in optimizing a site built on the Wix platform and generate a case study.
Prior to starting the work on the case study site we did some research on the types of things being said in the market about Wix. It seemed that there was a perception by some parties that Wix was not a particularly SEO-friendly platform. But what is the truth? Is Wix bad or good for SEO? This is what we set forth to find out.
The approach that we agreed upon with Wix was to have Perficient's SEO team perform an audit of a small business website currently hosted on the Wix platform, make a set of recommendations on changes to be made to improve their SEO results and then help them make the changes within Wix. This process was designed to get us actively engaged with working with the platform and see what it was like to optimize a site for SEO.
Wix picked Copper & Brass Paper Goods, a solopreneur-owned e-commerce site that sells paper goods and stationery products featuring Black artists and designs, to participate in the project.
About Copper & Brass
Copper & Brass Paper Goods was started by solopreneur Ariel Young in 2017 to continue a family tradition of giving care, detail, and love when creating beautiful gift packages. The company fills a diversity hole in the market, providing paper goods and stationery with products featuring Black people.
Copper & Brass Paper Goods' style is one of a kind, as its values flow effortlessly through its creations.  The brand shines a light on Black culture by promoting positive representation and using gorgeous illustrations that highlight the community's beauty and power.
Ariel Young has done a great job developing visibility for her business. Copper & Brass has been featured      on major TV and news outlets such as Good Morning America, CNN, and Today. It has also been seen in Cosmopolitan, Good Housekeeping, Etsy, The Oprah Magazine, Essence, Martha Stewart, Black Southern Belle, Women's Health, Elite Daily, and Reader's Digest.
The Plan and Execution
The project kicked off on June 21, 2021. After a call with Copper & Brass CEO Ariel Young, Perficient started its audit, which included many of the basics:
A crawl of the website
A baseline measurement of organic search traffic
A review of Google Search Console (GSC)
A detailed hand analysis by an expert SEO from the Perficient team
Supporting keyword research
We used all of this information to get a read on the current state of the site from an SEO perspective, as well as learn the capabilities of the Wix platform. Over a period of a few weeks we became quite familiar with both and delivered the audit results to Copper & Brass on August 16th, 2021.
We quickly learned that the site was well-structured. The site architecture was clean and simple and free of any significant problems. We didn't find any broken links or any excessive or suboptimal redirects. The basic process that Copper & Brass had used to build the site was made easy by the Wix platform which made for a great start.
The reason this is so important is that you need the technical SEO foundation of your site to be rock solid or else you will be hampered in your efforts to earn organic search traffic. However, ultimately, once that foundation is set, the SEO game is won based on the depth, strength and quality of your content, as well as your skill in developing visibility for your business and the site.
From the perspective of Copper & Brass having that tech SEO foundation all set out of the box is huge, as the company does not have easy access to development resources. However, it's comparatively easy for the company to focus on improving existing content or adding new content to the site. This is, in fact, where our audit found the most room for improvement.
For example, on the home page we updated the title, the H1 header tag, and body copy with a goal of improving keyword targeting. We also updated the meta description to emphasize that the site offers products that focus on positive representations of the Black community, as we felt that this would increase the CTR among relevant potential customers.
We also worked on the home page user experience. This included adding "Paper Goods" to the company logo, moving the contact email and Privacy Policy link to the footer and adding more conversion-oriented copy. While these are not actually SEO considerations, increasing conversion rates can increase ROI from SEO.
We also saw the opportunity to compete for more highly relevant keywords by creating some new category pages. For example, we added pages for Father's Day Cards, Mother's Day Cards, Birthday Cards, Valentine's Day Cards, Graduation Cards, and Thank You Cards.
There were many other similar types of content changes that we did. These included implementing more user-friendly URLs, updating title tags, H1 tags and meta descriptions across numerous other pages, and updating product descriptions to use more descriptive copy. There were a few other pages where we did more extensive optimization of the content to better compete for related keywords. The pages that saw more extensive editing included Notebooks, HBCU Notebooks & Sorority Fraternity Products.
Perficient made most of the site changes, once approved by Copper & Brass. As an exception to this, Copper & Brass took the lead on making recommended updates to product descriptions to include more detailed information.
Many of these changes were made within the first couple weeks of the project. Most of the changes were implemented by August 9, with some product descriptions taking a bit longer to complete. There is more opportunity to keep improving the site by optimizing the product descriptions on an ongoing basis. While a lot of progress was made during this engagement, there is more to be gained by continuing to work on the content.
Organic Search Traffic Growth
We gave these changes a few months to percolate and then did an analysis of how the site responded to the changes. In a November 24 review, we saw substantial gains in organic search presence and traffic for Copper & Brass. This included increases in page one rankings, organic search impressions, and click-generating pages, as shown here:
Looking at the impression data on a YOY basis within GSC for October 2020 and October 2021, we see a consistent increase in overall impressions, indicating that the early changes made in the project already had a significant, sustained impact:
Reviewing the data comparing July 2021 to November 2021 also saw strong positive results. This included an increase in page one rankings and organic search impressions.
The impression growth comparing October 2021 to May 2021 was also impressive:
We also compared traffic to the site using both the built-in Wix Analytics as well as Google Search Console. Here we saw strong traffic growth as well:
In addition to these gains, another important development was the increasing potential for future gains in impressions and traffic. An increasing number of terms moved from completely unranked to showing up in mid-tier rankings (page 2 plus). A small sampling of these are shown here: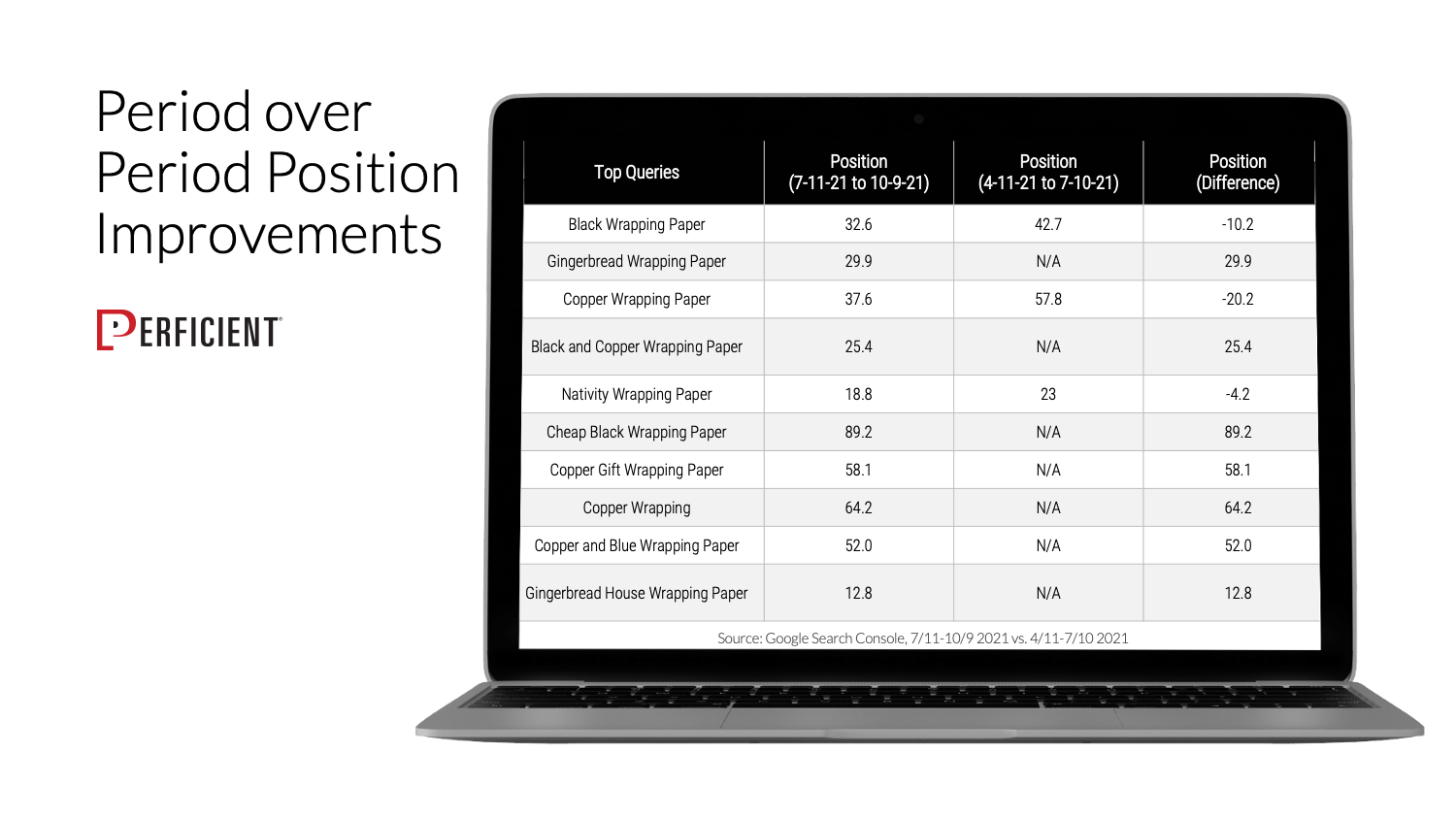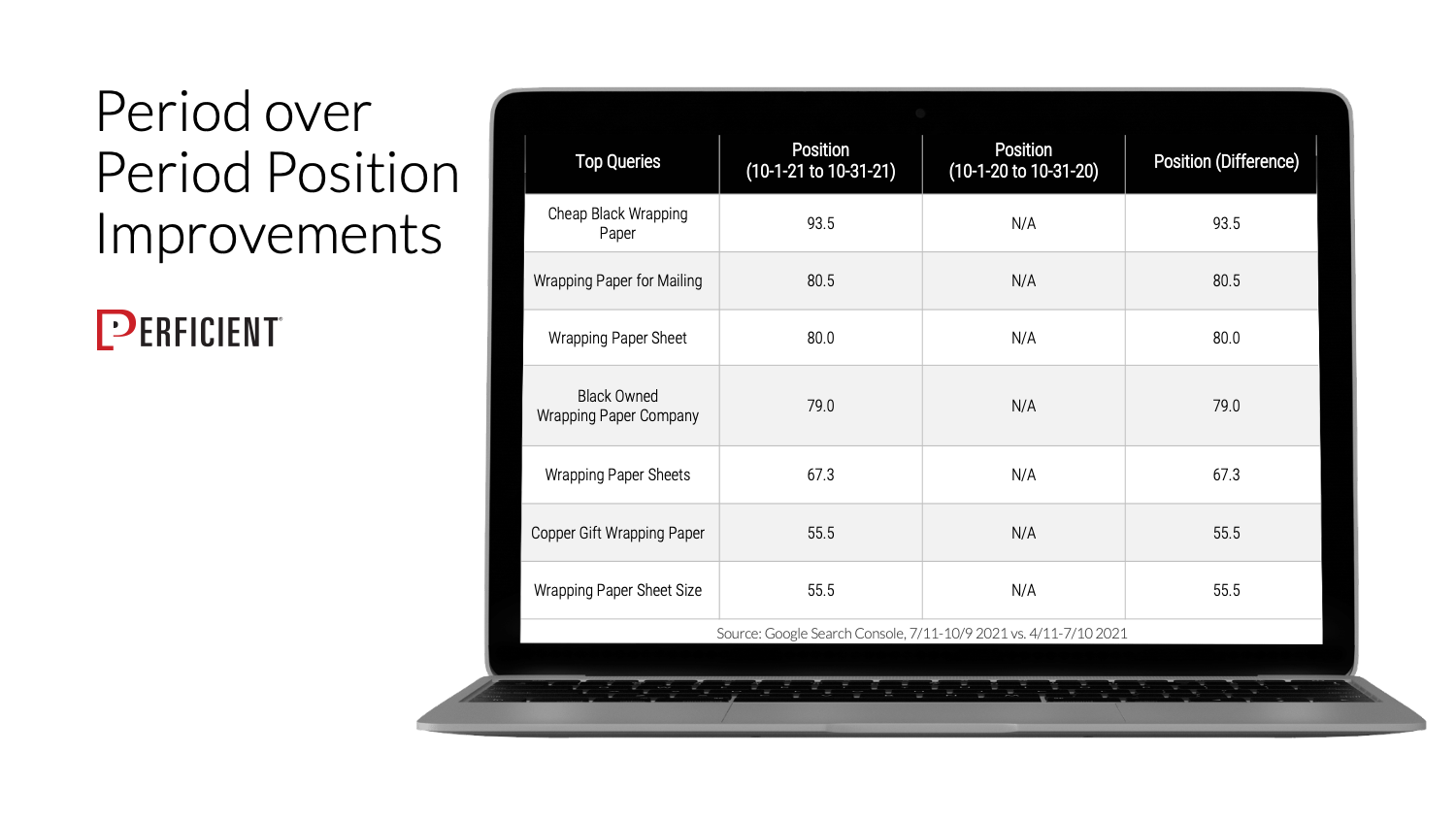 On-Page SEO Capabilities of Wix
Wix's closed-source platform allows the end-user to benefit from the economies of scale related to the external management of a site's technical framework (e.g., OOTB structured data, lazy loading, image compression, mobile responsiveness). These items are handled in the background to allow site administrators to focus on creating great content.
Overall, the Wix platform allows site administrators to configure the vast majority of on-page elements according to SEO best practices. Implementing these aspects of SEO does not require any plug-in. As a result, critical SEO elements can be configured at page-level or scale to strengthen relevancy signals and enable intended crawling, rendering, and indexing. The on-page SEO capabilities for Wix include:
Meta Robots. The Wix platform allows site authors to enable or disable indexability via the "SEO" tab page setting.
Title Tags & Meta Descriptions. Content authors can adjust each page's title tag or meta description to a custom value within the "SEO" tab of page settings. In addition, the "SEO Patterns" feature within "SEO Tools" enables users to configure these elements at scale by using database variables.
Heading Tags. The Wix platform allows administrators to customize the default page heading (H1) and subsequent headings (H2-H6) via "Text Settings" within the editor.
URL Structure. Site administrators can simply adjust the URL slug for each page within the "SEO" tab of the page settings section. By default, links use absolute URLs, but these can be changed to relative URLs if desired. Users can also fully customize the URL structure of product pages and blog posts.
Breadcrumbs & Internal Links. While not enabled by default for all content, Wix's product detail pages (PDPs) include a hierarchical breadcrumb link component to show relationships between certain parent and child pages. This will be especially useful for the future rollout of product category templates. The Wix platform also allows content authors to edit internal links and anchor text within page-specific or global components.
Body Content. Either by adjusting default description fields or inserting text boxes, site authors can draft custom, well-optimized body content on all category and product pages.
Images. Content authors can edit file names, titles, and alt attributes for images used or uploaded to the site.
Structured Data. Most pages allow users to insert custom JSON+LD structured data into the source code via the page setting's "Advanced SEO" section. This is especially useful for leveraging Local Business markup for the site's homepage or location pages. Some page templates feature out-of-the-box (OOTB) structured data enhancements (e.g., Products, Events, Video, Blog Posts). These features generate markup that is automatically eligible for rich snippets. Users can edit SD markup presets for pages of the same type, using variables. Wix has told us that more customization of markups will be available in the future.
Technical SEO
Overall, the Wix platform allows users to configure site settings to adhere to technical SEO best practices. These SEO capabilities ensure that administrators have the opportunity to remove any obstacles to proper crawling, rendering, and indexing by search engines. One distinct advantage of the Wix platform is the centralized location and OOTB nature of these SEO features. Additionally, users require minimal applications or plug-ins to configure these settings (e.g., Wix Multilingual). The technical SEO capabilities for Wix include:
Crawl & Indexation Efficiency. All page types feature templates that allow search engines to effectively crawl, render, and index content. Search engines do not have to rely solely on XML sitemaps to discover content efficiently.
Canonicalization. The Wix platform includes self-referencing canonical tags for each page by default. Additionally, users can edit this field to declare a canonical for duplicate content via the page setting's "Advanced SEO" tab.
XML Sitemaps. Site administrators can rely on the Wix platform to auto-generate a clean, valid sitemap index. The sitemap index lists individual XML sitemaps conveniently organized by page type (e.g.. store pages). These settings can be accessed via the "SEO Tools" section. The platform also automatically removes any page marked as "noindex" from XML sitemaps. One minor drawback for XML sitemaps is that redirected pages must be marked as "noindex" or deleted to be excluded from the listings.
Robots.txt. The Wix platform allows site administrators to edit the robots.txt file with custom disallows, sitemap locations, etc. These settings can be accessed via the "SEO Tools" section.
JS + HTML. While users cannot edit the base HTML or JS, they can add or overlay JS snippets in global or page-specific files via Velo "Dev Mode" settings. This is especially useful in the realm of structured data enhancements. Additionally, administrators can insert custom HTML or JS into the head, body, and footer of specific page templates.
Redirects. By default, the platform enables rule-based 301-redirects for protocol and subdomain variants (e.g., HTTP to HTTPS). Content authors can create individual or pattern-based 301-redirects for archived pages via the "URL Redirect Manager" in the "SEO Tools" section.
404 page. Wix's default 404 pages generate the correct status code and include a homepage for users to continue their site experience. Site authors were recently given the ability to create a customized 404 page with unique messaging and navigable links.
Mobile-Friendliness. Wix's platform features an OOTB responsive design for mobile users — without creating inconsistencies between the standard desktop content and UX. Site authors can rely on Wix's platform to generate a "mobile-friendly" validation from Google's testing tools.
Site Speed. The platform leverages advanced CSS, global CDN, caching, and JS compression by default. Images are optimized via lazy load settings and auto-formatting. Additionally, images are automatically converted to Webp format and videos are set up for preloading by default.
HTTPS. Wix's platform loads all pages and assets under the latest HTTPS secure protocols, generating a valid certificate and connection.
Analytics Integrations. Site administrators can verify and connect their domain to various web analytics tools like Google Analytics and Google Search Console via the "SEO Tools" section. Administrators can also add custom HTML or JS to global components for tracking and other purposes.
AMP. Although this feature does not extend to other page types, content authors can enable AMP versions of blog pages via the "Blog Settings" section.
Videos. By default, Wix allows users to upload unique video content in an SEO-friendly format (e.g., MP4, preloaded). Users can also manage their video content's meta title and description information.
Multilingual. While there are limitations in terms of auto-translated content and page type restrictions (e.g., bookings), Wix's own "multilingual" app allows users to create language variants of their site. Additionally, the platform automatically generates the appropriate href lang tags to aid search engines in displaying the right content language to the right users.
Perficient's Experience Working with the Wix Platform
The Wix platform offers a well-organized experience allowing individuals in various roles within an organization to effectively develop well-optimized websites for search engines. The SEO tools are comparable to those that you find in WordPress. In addition, no special plug-ins are required to implement most on-page and technical SEO best practices.
Content authors can set up critical page elements such as title tags, heading tags, and meta descriptions in an easy, straightforward manner. In addition, administrators can configure technical settings to mitigate any obstacles to proper crawling, rendering, and indexing by search engines.
Wix offers e-commerce support as well.  The Wix e-commerce platform is comparatively easier to implement than some other options, such as Shopify, and is well suited to smaller businesses who (a) have simpler product catalogs to promote and sell, and (b) would find it more challenging to work with a more complex platform.
Analytics integration is also straightforward and easy to implement. In addition, Wix provides tracking for e-commerce sites that includes sales and revenue data.
Areas for Improvement
We also found some disadvantages to the Wix platform. For example, users are currently unable to edit base platform code and the .htaccess file. While Wix does provide a redirect tool, users that want to implement more advanced .htaccess file functionality, such as blocking specific IP addresses from crawling your site, currently can't do so.
Another shortcoming for Wix was the lack of dedicated e-commerce subcategory page templates (called Collections within the Wix platform). However, additional page templates will be released in the near future. E-commerce is one of the areas where Wix may not be the best fit for enterprise-level applications or medium-sized businesses.
For out-of-the-box ("OOTB") structured data (e.g., PDPs), the ability to edit these enhancements at the page level would be especially useful for advanced SEO professionals. Wix has confirmed that this functionality will be available in Q1 2022.  For page types that don't include breadcrumb components, we couldn't embed a "breadcrumb" element. We also found ourselves wanting to have the ability to leverage JSON+LD for breadcrumbs.
In addition, we've seen situations where the out-of-the-box Page Speed Insights (PSI) scores showed poorly, specifically with respect to Largest Contentful Paint (LCP). While the platform provides competitive solutions to achieve better Core Web Vitals scores, speed improvements are handled primarily by Wix. Customers lack the option to do their own tuning of the Wix platform code. Wix does work with a variety of CDN providers and manages those on your behalf. As shown in the chart below, this is an area that Wix has been improving for some time, and Wix tells us they are constantly working on more improvements.
Platform Performance Over Time in The U.S.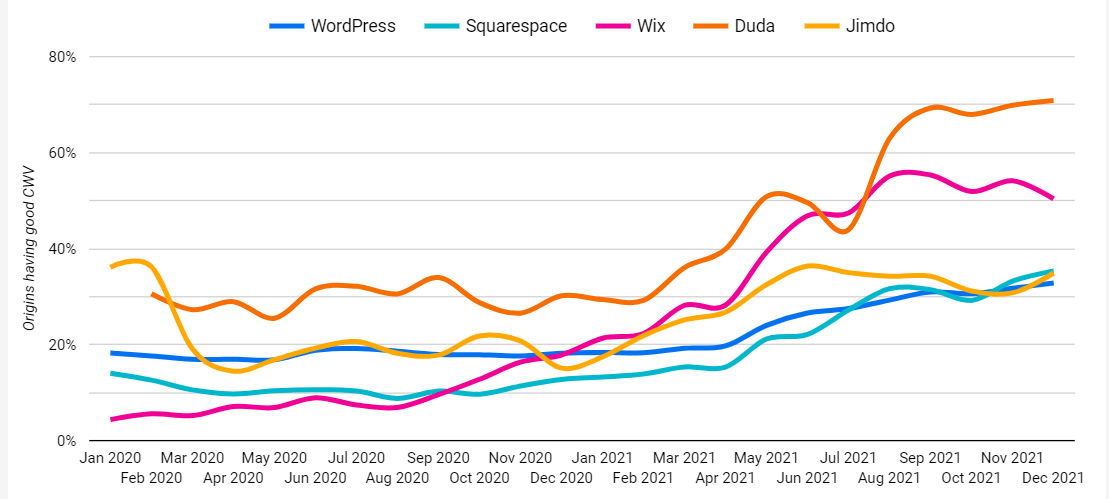 Source: http archive Core Web Vitals Technology Report
A summary of the planned improvements to the Wix platform that we're aware of:
Structured Data Overrides that will address the concerns that we outlined above
Support for Image and Video Sitemaps
Category URLs
Site Speed Enhancements
Reassessing Common Beliefs About Wix Limitations
Let's go back and reassess how Wix stands up against the general perception among users we discussed in the introduction to this study: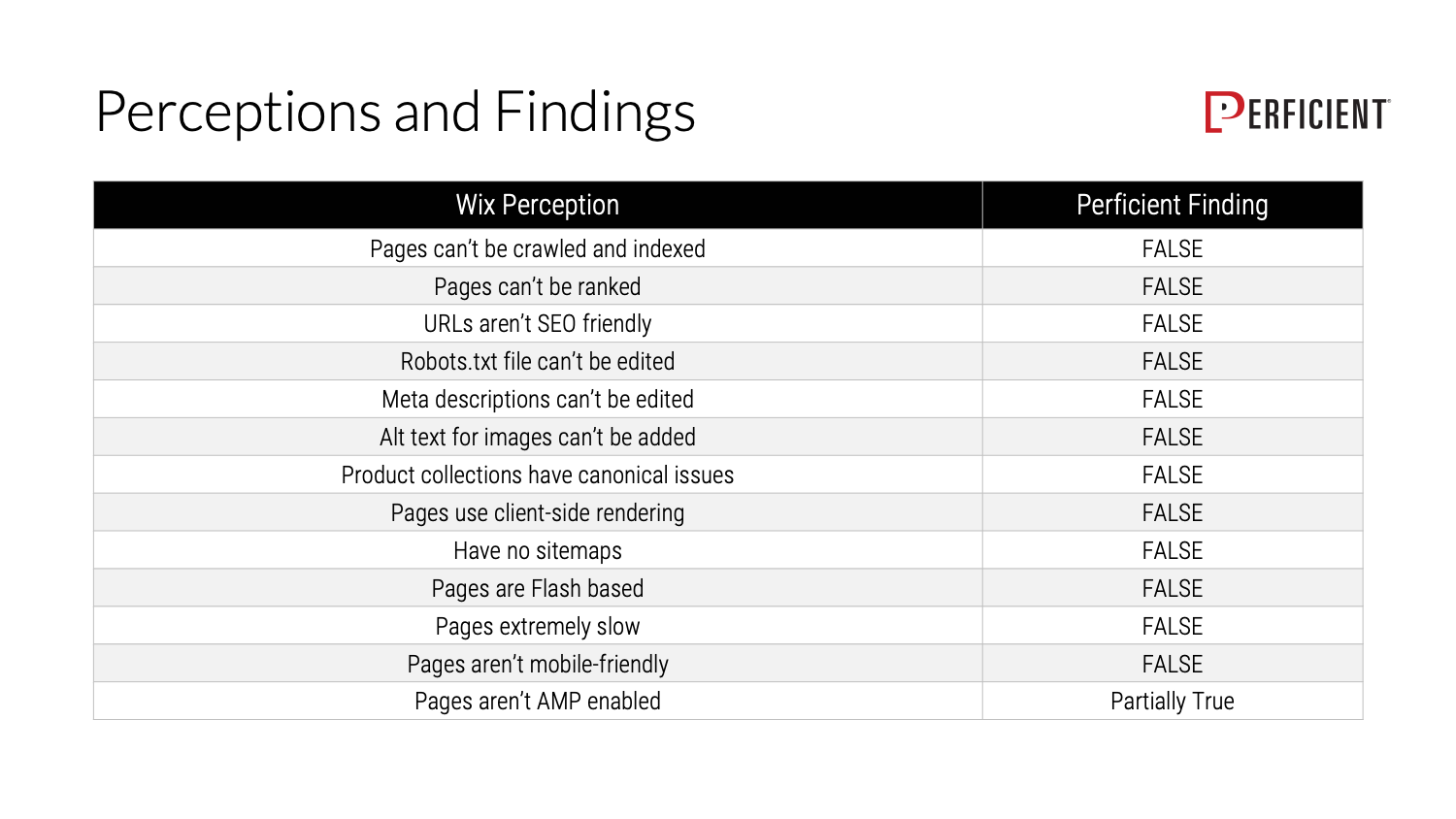 Additional Comments on Wix
To supplement our own research, we sought out the opinions of two other parties with respect to their experience with the platform.
Here is what Copper & Brass Paper Goods CEO Ariel Young had to say about the Wix platform:
"Building my website using the Wix Platform was a great experience. I lack website building knowledge; however, the templates provided by Wix and the ease of use helped me build a great website to showcase our products.  The templates allow customization and creative liberty with the design process.
"Many of the tools are self-explanatory, which eased my mind while developing the website. I would recommend the Wix platform to anyone interested in selling their products online. Wix is a great value for the money you have to invest, and as a small business owner having control over my website and saving money are important."
For more context about Wix as a platform, we also spoke with Blake Woolwine, creative marketing director for How 2 Media. He has built more than 30 sites on the Wix platform across a broad array of applications, such as e-commerce sites, religious organizations, nonprofits, best-selling authors, and actors. Here is what he had to say about Wix:
"Wix is a powerful all-in-one platform for business. It allows business owners, freelancers, and marketing agencies to synchronize roles and responsibilities with CRM, email marketing, social ads, website design, SEO, analytics, invoicing, mobile app, automation, business line, member platform, blogs, e-commerce, and more. Through the Wix owner app, users can manage their business on the go and anywhere in the world."
Summary
What we learned during this project is that Wix provides a robust set of SEO capabilities. As noted earlier in our work with Copper & Brass we did not encounter any significant technical SEO issues. This enables site owners to focus on the value-added aspects of SEO such as providing superior content or products to their users and customers.
Note: that our agreement with Wix explicitly states that it is both our right and obligation to publish our experiences and findings with the platform.
Looking for an expert to evaluate your site or platform with a Technical SEO Audit? Contact our team today to discuss how we can partner to provide you the solid foundation you can use to grow in organic search.