Today, many businesses depend on Microsoft Teams for internal communications and Amazon Connect for their contact center, making it challenging for agents to accept queued calls and simultaneously answer internal calls in Teams. Suppose there is no status synchronization between the two solutions. In that case, this behavior could significantly impact several levels, such as the quality of service, as some calls are abandoned and not answered. Additionally, it could affect the response rate, which is an important KPI for contact center supervisors. And when it comes to transfers, the agents would also need to look for available resources in Teams to find out the best way to transfer the calls to them. For sure, this might not be how contact center agents imagine their workday.
Configure your MS Teams status sync with PACE
Perficient's Amazon Connect Experience (PACE) supervisors and agents don't need to worry about this as they can easily integrate Teams and keep a consistent presence on both platforms. Configuring the MS Teams integration in PACE enables the syncing of statuses from Microsoft Teams to Amazon Connect in near real-time. Agents can simply enable this integration as each agent can choose either to enable or disable it with a click directly from the Agent Console. With this functionality they also retain the level of flexibility, as they don't need to involve supervisors or administrators to configure this for them multiple times per day.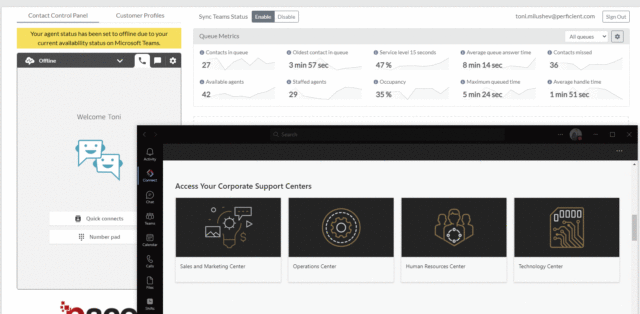 Connect customers with your MS Teams contacts
Another feature I find super helpful is transferring a call to an MS Teams contact within your organization. During the active call on the Agent Console, the agent can easily search for contacts either by their name or tag. Tags are a great way to categorize people by their team and expertise. So, for example, you can organize all people from the Sales department by a simple sales tag.
Learn the six most common pitfalls when upgrading your contact center, and how Amazon Connect can help you avoid them.
In some cases, an agent might try to transfer a call to a contact who is busy on another call or away from his desk. With PACE, the agent can see the Teams presence indicator of the contact to avoid this scenario. Moreover, the presence indicator also helps provide a better customer experience by minimizing agents' hold times.
In either case, for those who like to experiment, here is what happens when you attempt such transfer. First , a warning message displays asking for your approval to proceed. After that, you can continue with the transfer if you would like to, but the system has informed you of the possible outcome.
Microsoft Teams Integration setup
Administrators must only configure a few Azure AD settings specific to the environment and select the Enable Teams Status Sync checkbox to allow status syncing. Voila! Just a couple of configuration values and your journey with MS Teams and PACE is ready to begin.
But wait, there is more
We continue to listen to your feedback, and we're constantly working on adding new features. For example, our roadmap includes MS Teams Chat-Bots, which allow Teams users to trigger chats directly from Teams without opening any browser or searching the company website. We're also adding presence sync from PACE to MS Teams and more.
If you're interested in MS Teams integration with PACE, or Amazon Connect in general, we can help. At Perficient, we are an APN Advanced Consulting Partner for Amazon Connect which gives us a unique set of skills to accelerate your cloud, agent, and customer experience.
Perficient takes pride in using a personal approach with enterprise clients to help transform and modernize their contact center and CRM experience with platforms like Amazon Connect.
For more information on how Perficient can help you get the most out of MS Teams integration with PACE or Amazon Connect, please contact us here.