Around the holiday season, the Perficient Lafayette Delivery Center (LDC) looks for ways to bring some well wishes and holiday cheer to our local Lafayette community.
Though south Louisiana has a reputation for being hot and muggy, the winters can be surprisingly chilly, and this means some of our local friends and families need a little extra help staying warm.  The LDC's Culture and Philanthropy Pillar partnered up with the Extra Mile this year to host its Winter Clothing Drive.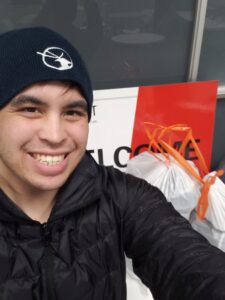 The Extra Mile Clothes Closet is run by Lafayette volunteers.  They support a large number of local non-profit organizations including the Acadiana Area Human Services District, The Department of Children and Family Services, The Office for Citizens with Developmental Disabilities, and many others.  To learn about The Extra Mile and how they give back, read more here.
Our consultants were invited to go through their closets and pick out any gently used clothing items they wished to donate to a good cause.  Donations were accepted in the breakroom at the LDC and items were transported to the drop off location by one of our own Culture and Philanthropy team members.  Pants, shirts, dresses, and more for people of all ages were welcomed and appreciated.
Whether clearing out their closet to make room for a fresh new wardrobe, or simply wanting to do a good deed for others in need, everyone's donations made a big difference for the community.  In total, 11 large bags and 5 smaller bags of clothing were collected and delivered to the Extra Mile this January.
Now that the holidays are behind us, it's important to keep looking for ways to continue making a difference in the lives of those around us all year long.  This is the LDC's second year partnering with the Extra Mile, and we're looking forward to helping out again in the future!