Bob Vanek is the chief strategist for Perficient's supply chain practice. He has more than 20 years of experience managing project delivery across various industries and consulting environments.
Denver & Dentists
Madeline McDermott: Where were you born?
Bob Vanek: Fort Dix, New Jersey.
MM: Where did you go after?
BV: When I was about six months old, we moved to Denver, so I'm almost a native. Being a native is a big deal in Colorado, because we have so many transplants.
MM: People still give you a hard time because you're technically from New Jersey?
BV: Yes, if they were born in Colorado. But my roots are actually in St. Louis. My dad was a dentist in the army, so that's what brought the family to Fort Dix.
My dad's brother was also a dentist and had moved to Denver, and as soon as my dad was no longer obligated to stay in Fort Dix, he moved us out to Denver, and the two of them opened a practice. I'm the nondoctor of the family, which is hilarious. They have no idea what I do for a living. I was getting my teeth cleaned at their practice, and my dad was trying to explain to another patient what I did, and he was not remotely close to being accurate.
MM: It sounds like you have a fairly tight-knit family, though! How many siblings do you have?
BV: Two brothers. One is a dentist, and one is an anesthesiologist.
MM: Are you the youngest?
BV: I'm the oldest, actually.
MM:  Is your immediate family in Denver?
BV: Yes, but most of my extended family is in St. Louis.
MM: Kids, no kids?
BV: Three kids. One boy and two girls.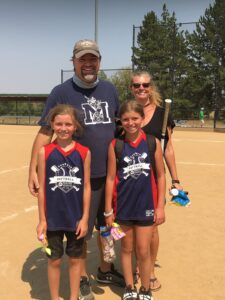 Bob and his family on the field.
MM: Did you go to school in Denver?
BV: I went to the Colorado School of Mines, which is about 15 minutes from the house I grew up in. It's the premier engineering school, probably in the region, and you know, people often say that if you're good at math and science, you should go to an engineering school. My degree was in chemical engineering. I got a chance to play baseball there, too, so it was a good mix.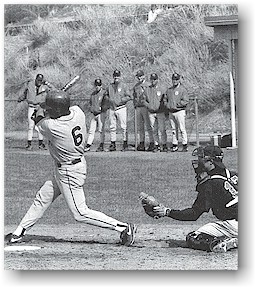 Bob playing baseball at the Colorado School of Mines.
MM: Did you play baseball all four years of college?
BV: During my sophomore year, I decided to run full speed into a wood fence while playing outfield during a game against the University of Denver. That pretty much put an end to my legitimate baseball career. I couldn't throw for about a year, and I was primarily a pitcher.
Consulting, Chief Strategizing, and Community
MM: You've spent most of your career working for consulting companies, correct? Accenture, Slalom, and then RAS & Associates, which was acquired by Perficient? How would you describe the difference between them?
BV: Exactly, that's pretty much my resume. I look at Perficient like my early days at Andersen Consulting. Andersen Consulting was more focused on projects rather than massive outsourcing programs. Over time and after Andersen Consulting became Accenture, outsourcing was a much more significant portion of its business. At Anderson, you felt like you were working on a project to change a critical part of a business rather completely taking over a part of the business. I liked that part, and that's similar to Perficient.
After Anderson and Accenture, I was recruited to work at Slalom's Denver office. It had less than 10 people. I spent around eight years at Slalom. When I left, they were over 300 people in the Denver office, and some of the people I worked with at Slalom came with me to RAS. In fact, there's a group of people that are part of the MC team at Perficient that I've been working with for 20 years.
MM: How would you describe your current team?
BV: There are many ways I believe our team now is genuinely different, aside from our unmatched abilities. We're about community and culture. We value the communities we live and work in, and we love to participate in them. We want to be a place where people enjoy working every day, so it's a big focus.
The global nature of our business, from our people to our clients, brings lots of diversity. One minute you're talking to someone on your team in Colombia, the next minute, you're talking to someone in China, and a few hours later, you're talking to our team in Texas.
Another cool thing is that there are only a few degrees of separation between you and anyone in the company. And I mean that. No one is too big for you. Everyone is accessible.
I should also mention growth. "Growth for Everyone" is actually a significant initiative at our company. At Perficient, we can build people and give them great opportunities and experiences.
At the point where I am at in my career, I'm really enjoying building the next generation of leadership for our management consulting and supply chain teams. Stewardship has become a focus for me right now. Unfortunately, part of building people up is that they become very attractive to other companies. We can't keep them all, but I enjoy looking at the people I've worked with and seeing their success. It's how we build a sustainable culture.
MM: Let's talk about the chief strategist role. In your words, what do you do in that role?
BV: Each chief strategist has taken the role a little bit differently. We have many people who know a lot about supply chain, but I am the de facto point of contact. I know a little about a lot of things, but I also know who to bring in as the expert in any area. Our collective group of supply chain experts is pretty darn smart.
MM: What's your bread and butter in supply chain?
BV: Reverse logistics. I've spent a lot of time in that space.
MM: What exactly is reverse logistics?
BV: On the consumer end, it's the return side of things. On the business side, it's how we take advantage of supplies, equipment, and resources that were purchased but didn't end up being used. For example, we consider reverse logistics often when we do extensive physical infrastructure build-outs.
I was on a project one time, and we were trying to pull back unused network equipment. One gentleman was standing there, with probably around $1 million worth of product literally tied to the roof with a rope because it was leftover, and he didn't know what to do with it. It's scary how many times you're out in the field walking through warehouses or yards, and you see all this stuff that was bought and never taken out of the wrapper. It just sits there rusting and rotting. It blows your mind.
The whole sustainability side of supply chain – the amount of waste – is terrible. Part of it is due to broken processes. You can argue – is it a reverse problem or a front-end problem? So many products shouldn't even leave the warehouse. Quality control is essential.
MM: What's the last project you completed?
BV: At this point, I'm managing many supply chain projects at a large — let's just say — communications company. The company is getting into a new area of business that involves the introduction of new products and services. A lot of the work we're doing has to do with standing up their supply chain operations for their new line of business. We also have a team that has set up the procurement operations that supports it.
MM: Are you doing anything for clients regarding reverse logistics?
BV: The procurement team we have on the ground generates supplier contracts through the procurement process. This process consists of, for example, sending a purchase order to a company for hundreds of thousands of items, which then go to a warehouse, then to a store, and finally get shipped to a customer. There are many links in the long chain, and we're playing an important role in many spots.
***
Rapid Fire Questions
MM: People's favorite brands say a lot about them. Tell me your favorite brands.
BV: I'd never really thought about it before. I tend to buy a lot of Under Armour, so I'd say them. Anheuser-Busch is a favorite, too. They have many brands I like. And the brand I've always been most faithful to, going back to my baseball roots, is Rawlings.
MM: What about your kids' favorite brands?
BV: My son is a Microsoft Xbox guy. He's dedicated, no question about it, and Take-Two Interactive is part of that. The girls like Claire's.
MM: Do they like TikTok?
BV: Oh, gosh. Yeah.
MM: What are your hobbies?
BV: I love to coach. I spend a lot of time coaching. I coach the girls' basketball; I coach softball in the summer. We've got a pool in the backyard, so swimming is a hobby, even though I'm more of a sit-by-the-pool-and-watch-the-kids-swim type. In the winter, I like fantasy football.
MM: Coffee or tea?
BV: Neither. Diet Coke. I took my daughter to the Starbucks drive-thru after school yesterday, and I got a hot chocolate. I'm not a coffee guy. My grandfather was, though. He was a baseball player and scout in the St. Louis Cardinals organization pretty much his entire life. He played in the minors, managed in the minors, managed up to what is essentially Triple-A. While he worked most of his career with the Cardinals, he finished with the Mets. He signed Stan Musial to his first contract.
An excerpt from a newspaper article about Bob's grandfather, Ollie.
MM: Favorite item on the menu?
BV: Steak.
MM: Well, medium, rare?
BV: Medium-rare.
MM: Are you a to-do list person?
BV: holds up a Post-it Note I am a sticky note person.
MM: Do you prefer email, phone, or IM?
BV: Ideally, I like to talk to people. If I had to choose, I would prefer to speak to people on the phone or face-to-face on Teams or Zoom.
MM: Most famous person you've met?
BV: Stan Musial.
MM: Favorite sport?
BV: Baseball.
MM: Favorite movie?
BV: Favorite movie of all time is Jaws. Favorite movie since I had kids is Transformers – the joy on my son's face when he watched it the first time was unbelievable.
***
It's no secret our success is because of our people. No matter the technology or time zone, our colleagues are committed to delivering innovative, end-to-end digital solutions for the world's biggest brands, and we bring a collaborative spirit to every interaction. We're always seeking the best and brightest to work with us. Join our team and experience a culture that challenges, champions, and celebrates our people.
Visit our Careers page to see career opportunities and more!

Go inside Life at Perficient and connect with us on LinkedIn, YouTube, Twitter, Facebook, and Instagram.