Our life sciences and technology experts recently delivered the webinar, "Improve Medical Product Information Sharing With Virtual Agents," where they discussed how automation and artificial intelligence can be used to optimize call center operations and improve end-user experiences.
Here are five key takeaways:
Just because a system is powered by AI doesn't mean you have to sacrifice empathy. Systems can be designed to have a natural conversation flow and recognize whether a message is negative or positive. For example, suppose someone calls to inquire whether they should give their puppy more medicine because it vomited shortly after taking its dose. In that case, an AI system can be programmed to compassionately respond with, "I'm sorry to hear that," before searching its database for the accurate medical advice to relay.
AI isn't meant to replace the call agent, but rather, its purpose is to allow them to focus on higher-value escalations. The severity of adverse reactions and urgent HCP questions can vary significantly from case to case. Conversations with live agents can be prioritized and triaged to quickly route those calls to the best call center resource.
AI can help address specific call center challenges. Many pharmaceutical and medical call centers experience extremely high call volumes, especially at certain times of the year (i.e., flu season), resulting in unacceptably long wait times and excessive dropped calls. Call center agents are also challenged with having to meticulously record their interactions, which only exacerbates these issues. AI can use NLP to help address these issues and record interactions. The great thing is that it interfaces with current systems, works in any regulatory area (e.g., biologic, device, animal health, human health, dietary supplements), and can be deployed globally to overcome language barriers.
AI virtual agents can be fine-tuned to effectively handle various types of callers. For example, a virtual agent that speaks with doctors may be programmed to communicate using more medical vocabulary than a virtual agent designed to speak with patients.
An AI virtual agent delivered in a truly omnichannel capacity will greatly reduce frictions in the user experience. Suppose someone is experiencing an adverse reaction to a medication that gives them a sore throat. In that case, a texting method of communication may be better suited for them than a phone call, and AI systems can equip users with such options. If someone is at the point of sale and has questions about an OTC product or their prescription, they could easily text with questions or concerns.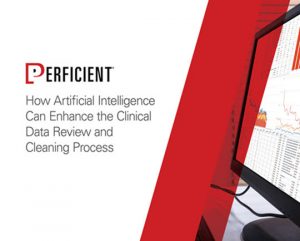 This guide analyzes how artificial intelligence – including machine learning – can be used by pharmaceutical and medical device companies to improve the clinical data review and cleansing process.
READ MORE: 10 Questions & Answers About Using Virtual Agents for Medical Information Sharing
Curious to learn more? Watch the recording here or below.