Check out the latest episode of Perficient's "What If? So What?" podcast with our special guest – entrepreneur, Dallas Mavericks owner, and star of TV's "Shark Tank," Mark Cuban! Mark and our hosts discuss his most memorable Shark Tank technology products, how to remain relevant to customers across generations, and why he's excited to be working with Perficient to host AI Bootcamp's for underserved students.
Mark talks about some of the lessons he's learned throughout his career, the key to success in any industry, and the importance of sales and understanding your customers.
Additional topics include:
The innovative way the Mavericks are using Non-fungible tokens (NFT)
His focus on smart contracts that run on the Ethereum blockchain
Decentralized economist organizations for a competitive advantage
We also learn about the Mark Cuban Foundation's AI Bootcamp, training the next generation of AI leaders. Click to learn more about The Mark Cuban Foundation AI Bootcamp.
We'd love to get your feedback on a "white noise" word or topic you'd like for us to cover. Send your suggestions to podcast@perficient.com. 
Subscribe Where You Listen
Apple | Spotify | Amazon | Google | Stitcher
Meet our Guest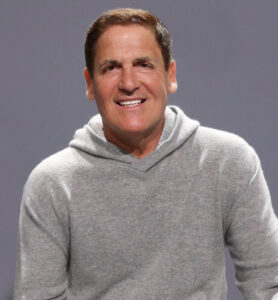 Since the age of 12, Mark has been a natural businessman. Selling garbage bags door to door, the seed was planted early on for what would eventually become long-term success. After graduating from Indiana University – where he briefly owned the most popular bar in town – Mark moved to Dallas. After a dispute with an employer who wanted him to clean instead of closing an important sale, Mark created MicroSolutions, a computer consulting service. He went on to later sell MicroSolutions in 1990 to CompuServe.
In 1995, Mark and long-time friend Todd Wagner came up with an internet-based solution to not being able to listen to Hoosiers Basketball games out in Texas. That solution was Broadcast.com – streaming audio over the internet. In just four short years, Broadcast.com (then Audionet) would be sold to Yahoo for 5.6 billion dollars. His trade to collar his shares of Yahoo! stock received in the sale of Broadcast.com in advance of the popping of the Internet bubble has been called one of the top 10 trades of all time.
Since he acquired the Dallas Mavericks in 2000, he has overseen the Mavs competing in the NBA Finals for the first time in franchise history in 2006 – and becoming NBA World Champions in 2011. They are currently listed as one of Forbes' most valuable franchises in sports.
In addition to the Mavs, Mark first appeared as a "Shark" on the ABC show Shark Tank in 2011, becoming the first-ever to live Tweet a TV show. He has been a star on the hit show ever since and is an investor in an ever-growing portfolio of small businesses.
Mark is the best-selling author of How to Win at the Sport of Business. He holds multiple patents, including a VR solution for vestibular-induced dizziness and a method for counting objects on the ground from a drone. He is the executive producer on movies that have been nominated for 7 Academy Awards: Good Night and Good Luck and Enron: the Smartest Guys in the Room.
Quick to call out unscrupulous business practices, Mark established Sharesleuth, a research and investigation website to uncover fraud in financial markets, and endowed the Electronic Frontier Foundation's Mark Cuban Chair to Eliminate Dumbass Patents, an effort to fight patent trolls.
Mark gives back to the communities that promoted his success through The Mark Cuban Foundation. The Foundation's AI Bootcamps Initiative hosts free Introduction to AI Bootcamps for low-income high schoolers, starting in Dallas. Mark also saved and annually funds the annual Dallas Saint Patrick's Day Parade, the largest parade in Dallas and a city institution.
Mark lives in Dallas with his wife Tiffany, daughters Alexis and Alyssa, and son Jake.
Meet the Hosts
Jim Hertzfeld is Principal and Chief Digital Strategist for Perficient. He works with clients to convert market insights into real-world digital products and customer experiences that grow their business.
Kim Williams-Czopek is a Director of Digital Strategy at Perficient. She works with clients to devise digital experience strategies and how to translate strategies to tactics. She specializes in digital commerce, digital product development, user research and testing strategies, and digital responsibility.