Perficient and Reuters Events recently hosted a virtual roundtable about how inventory transparency boosts consumer confidence. Industry experts Karie Daudt and Justin Racine, Directors of Commerce Strategy at Perficient, facilitated the discussion which featured eleven panelists from different enterprise brands including Lowe's, Staples, Uber, and Fastenal. Each panelist discussed how their organization is using inventory transparency to exceed consumer expectations in the ever-evolving retail industry.
The Role of Order Management and the Future of Commerce
The dramatic shift to online shopping has made inventory transparency essential to providing a customer experience that sets brands apart from the competition. This includes informing consumers about the quantity of an item available and providing alternate choices when an item is out of stock.
Karthik Mahadevan, Senior Director, Product Management at Lowe's, pointed out how inventory forecasting and the ability to promise, (ATP), provide accurate end-to-end visibility. When companies are familiar with their inventory, they can forecast how long it will take to get the products to customers and calculate the lowest delivery cost and fastest route. Meanwhile, the ability to promise, (ATP), builds ROI and customer loyalty. If a customer wants to buy a Samsung refrigerator and sees it is out of stock online but knows when it will be back in stock, Lowe's won't lose the sale to a competitor.
Adam Moriarty, VP, Inventory Management & Planning at Staples, mentioned the importance of inventory visibility depending on customer expectations. Some customers are willing to accept an alternate version whereas other customers are not as flexible. Staples provides good front-end information about inventory availability and is working towards providing more accurate delivery dates instead of a range of back-order dates.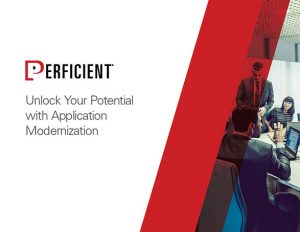 Application modernization is a growing area of focus for enterprises. If you're considering this path to cloud adoption, this guide explores considerations for the best approach – cloud native or legacy migration – and more.
Lauren Collett, Director of Sales at Uber, spoke to how Uber has pivoted to leverage drivers to partner with shippers to bring products directly to consumers. She emphasized the importance of determining the right information and data to provide to shippers to ensure customer satisfaction.
Jeff Hicks, VP, Sales at Fastenal, pointed out how technologies such as vendor-managed inventory, (VMI), allow companies to react to consumer demand more quickly. VMI helps with supply chain unreliability by serving as an extended warehouse. Fastenal is building a network of plans to give visibility into inventory using VMI.
A Roadmap to Better Inventory Visibility
Overall, the panelists agreed on the benefits of having an order management system, (OMS), in place. An effective order management system provides accurate end-to-end visibility into inventory and makes it easy to execute order fulfillment, provide a stellar customer experience, and maintain a competitive advantage. Inventory transparency empowers customers at the point of purchase and builds brand loyalty, ultimately boosting ROI.
To learn more about how inventory transparency delivers a smooth shopping experience read The Evolution of the Modern Supply Chain.