Mobile Apps are entering a stage of maturity to the point of ubiquity. A comprehensive approach is needed to meet the rapid shifts in consumer behaviors and the underlying technology that drives these experiences. As the mobile ecosystem matures and new capabilities emerge, user expectations have never been higher.
Let's recap the past year in the mobile landscape and look to the future as the mobile ecosystem evolves outside of the app and into the virtual world.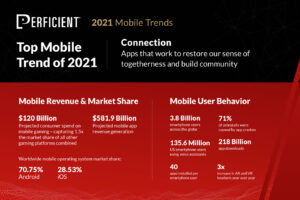 Narrow your Focus to What you Do Best
In 2010, there were only 210,000 apps in the Apple App Store. Today, that number has grown exponentially to 4.5M apps. Even though there are more options than ever, the average smartphone user only has about 40 apps installed on their device. In the increasingly competitive mobile landscape, a bad user experience can take you out of the game. 71% percent of app uninstalls occur due to application crashes. For any mobile product to succeed and keep users engaged, you must listen to your users. Managing a mobile product involves researching new ideas, iterating quickly, and using those learnings to move in the right direction. A mobile product runs its course until it no longer meets the needs of your business.
Keeping your users focused and engaged becomes more difficult as your app becomes more complex. Most companies are moving away from the super app concept in favor of a more focused approach. A super app is a mobile app that provides multiple services and effectively becomes an all-encompassing solution. While the emerging super app concept is the ambition of companies like Facebook and PayPal, the do-it-all approach is not always better for the end user. In most cases, apps with too many disconnected features and functionalities lack the focus and usefulness consumers expect from a mobile app.
For example, Airbnb had planned to move in the direction of creating a super app for all booking experiences. When the pandemic hit, their CEO reduced investment activities that did not support its core business of home share and experiences. The result was increased bookings for the quarter and the year. One of their competitors, Booking Holdings, took the super app approach and saw bookings fall more than Airbnb during the pandemic. Only 50% of their bookings were direct, versus 90% for Airbnb.
It pays to focus on your core offering by utilizing mobile apps to do a few things well and leave out the rest. Simplify your approach to serve up relevant content outside of your app and focus on solving customer problems. This will give your app an advantage against emerging super apps in the future.
The Experience Outside of your App is Equally Important
Android may hold the crown for worldwide market share, but Apple continually accelerates user adoption of new hardware and features. Apple's WWDC announcements this year emphasized the importance of performance across the operating system outside of your app. Sharing, widgets, notifications, and other features have advanced and are becoming essential. It is predicted that 135.6 million US users will be using voice assistants in the coming year. Does your app work with Siri and my AirPods? How about CarPlay?
As we saw with the Apple Watch, or widgets previously, one of the toughest challenges is that these experiences provide limited real estate as you move outside of your app (smaller screens, less content, etc.). To take advantage of these experiences, you must simplify your offering and solve a few problems well. You do not have to jump on all the latest software or hardware, and some may not fit your business or solve a customer problem. Still, it is essential to monitor how it changes user behavior and listen to your users to meet their expectations. Considering the entire mobile ecosystem is critical to long term success, as the future of mobile applications is no longer limited to the phone.
Mobile Experiences Enter the Metaverse 
Apple's top trend for apps in 2021 was connection, or apps that restore our sense of togetherness. Mark Zuckerberg recently sat down with Gary Vee and discussed a new reality commonly known as the Metaverse or Omniverse. Zuckerberg says these new experiences need to satisfy human connection and make people feel like they are together. Forward-thinking brands are already turning their attention to this new reality. Chipotle, Verizon, and Nike have built digital worlds on metaverse-like platforms such as Roblox. Web 3.0 and a decentralized system on the blockchain will require a complete overhaul of the mobile ecosystem. Digital currency/tokens and NFTs will be how users purchase and obtain digital ownership of your products.
Shipments of augmented reality and virtual reality headsets nearly tripled year-over-year at the start of 2021. Facebook recently changed its name to Meta and put $10B towards this bet in the future. Rumors are flying that Apple has a headset of their own on the horizon. A simple pilot or prototype is a great way to try out these new mediums and see how your customer responds. Sooner than later, one of these new platforms or devices will become more important than the phone itself and require you to reimagine your mobile offerings.
We're Here to Help
Perficient's Mobile Solutions Group specializes in Mobile Product and App Development. We partner with mobile product management and engineering teams to build and evolve your most important mobile product initiatives.
Evaluate your current mobile experience, operations, and technology with Mobile IQ℠. For more information, contact Perficient's Mobile Solutions experts today!