The Breakfast of Champions 2021
This December, the Lafayette Delivery Center (LDC) held its first annual Breakfast of Champions tournament. The contest aimed to give our colleagues an opportunity to take a breather after the Thanksgiving holidays, and a chance to show off their favorite breakfast creations.
Participants competed for the title and distinctive honor of being named LDC's World Champion of Breakfast. Along with the reigning world title, the contestants were competing for a custom-designed 'PERFIES' cereal box cover carrying their own likeness. As a virtual event, contenders presented and promoted their breakfast dishes to all those in attendance via Teams video conferencing.
Once all of the dishes had been presented, the judges deliberated and announced the two finalists moving into a final showdown. In this final round, all attendees were given the opportunity to vote for their favorite breakfast presentation. The champion and runner-up were then announced and congratulations were shared.
Fall-Star Bougie Breakfast
Our champion, Derrin Tullier (Senior Technical Consultant), the now reigning World Champion of Breakfast, wowed the judges' panel with his culinary masterpiece which he titled, "Fall-Star Bougie Breakfast."
Derrin assured us that it tasted as great as it looks. That was eggs-actly what we expected, of course!
Sunshine Spud

Runner up Sara Roberts (Business Consultant) down-played this breakfast baked potato creation as a last-ditch effort, in her own words, "I needed to go grocery shopping and it was the only meal I had ingredients for."
The judges' panel was captivated by the use of dazzling color composition and expert execution. This landed the dish directly in the finals.
Congratulations to Derrin Tullier and Sara Roberts for being named the finalists in this competition, and congratulations to Derrin Tullier, the World Champion of Breakfast!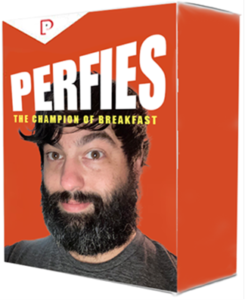 While we are excited to have the FIRST World Champion of Breakfast hailing from the LDC, we look forward to the future where we challenge contestants across our Perficient global family to compete for this esteemed distinction!
Thank you everyone for your participation, and we look forward to seeing you at our next food championship event in the future.
---
At Perficient, we continually look for ways to champion and challenge our talented workforce with interesting projects for high-profile clients, encourage personal and professional growth through training and mentoring, and celebrate our people-oriented culture and the innovative ways they serve Perficient and the community.
Learn more about what it's like to work at Perficient at our Careers page. See open jobs or join our talent community for career tips, job openings, company updates, and more!
Go inside Life at Perficient and connect with us on LinkedIn, YouTube, Twitter, and Instagram.