Perficient recently conducted a survey that asked executives from enterprise organizations about their current and future marketing technology (martech) investments and strategy. (See the findings from the full survey here.) The data revealed many insights into how companies pivoted over the last year in response to the pandemic and how they plan to change moving forward. An area of particular interest that warrants further exploration is what the data tells us about B2B companies.
Martech Becomes A Priority
During the pandemic, more than 60% of B2B respondents said they increased spending in martech (Figure 1), demonstrating that they are investing in their digital experience capabilities to meet the demands of existing and prospective customers. An even higher percentage said they would increase investments in the future (Figure 2), so it's clear that businesses are working to fulfill the expectations and needs of consumers.
People and Process Lag Behind Tech Investment
While B2B organizations are closing the technology gap that's historically existed, the people and process lag is felt strongly in B2B. When asked about their greatest challenges with data integration and governance, B2B respondents overwhelmingly said they lack the right people (Figure 3).
In our experience, this is a strong indicator that an organization's existing processes, tools, and structure are not reflective of their present-day business or can't support their desired future state. To fix this, organizations should evaluate their marketing operations, focusing on talent that can help align core KPIs and metrics and implement a data strategy and measurement plan that supports business goals.
Personalization: The Key to Success in the Next Normal
The survey revealed that the top challenge for B2B companies is personalizing content (Figure 4). We recommend organizations implement a personalization strategy that starts with an assessment of the data types available for personalization and available content elements. From there, they can develop a holistic and informed ongoing testing plan to help operationalize their personas and better understand when and how to personalize their content/messaging for the greatest impact in the journey.
As organizations establish their new normal and continue to do more with less in the current staffing situation, we recommend investing in building a strategic and sustainable program that can scale over time. Too often, we meet with clients or prospects dealing with the internal effects of a failed program launch due to taking on too much too quickly or launching without the right tools or staff to manage and sustain over time.
Summary
B2B organizations have historically lagged behind B2C in terms of advancement and adoption of new technology opportunities. The pandemic, and resulting customer behavior shifts, forced a narrowing of that gap, prompting B2B companies to invest in martech to meet the changing needs and expectations of their increasingly sophisticated consumers. However, B2B companies are now facing a resource gap – they have the tech, but not the people or processes needed to set up, scale, and manage it. This gap is contributing to one of B2B's top challenges – personalizing content.
To evolve successfully, B2B companies must invest in their marketing operations, ensuring they have the tools, staff, and data strategy and measurement needed to implement personalized customer journeys that accurately reflect their customers' new expectations and habits.
Figures
Figure 1
Figure 2
Figure 3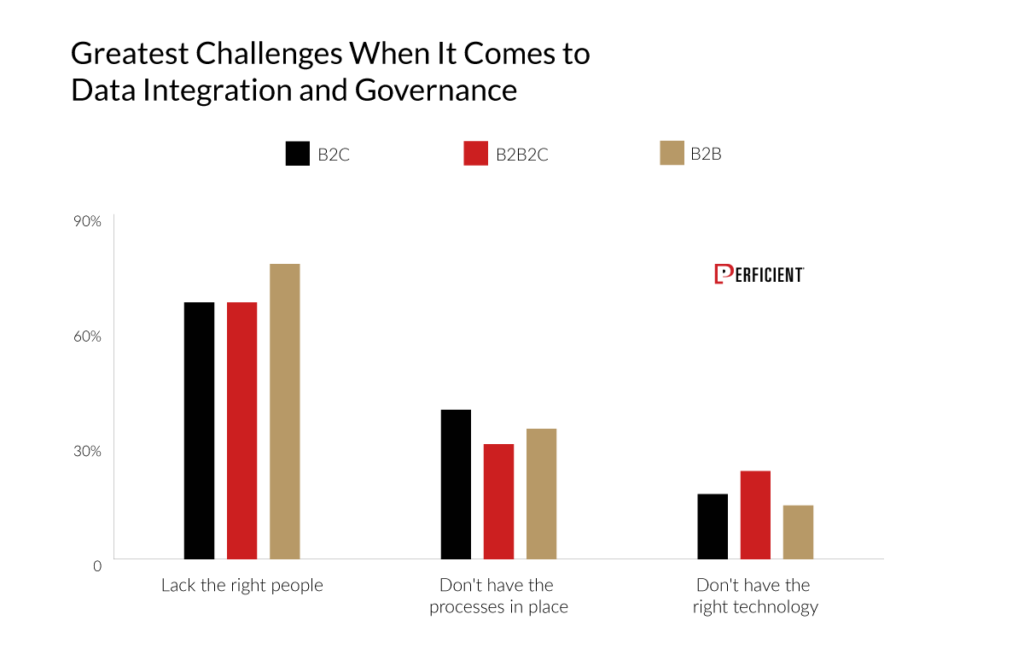 Figure 4