Can I bend your ear for a moment? I want to talk to you about the importance of User Groups in today's business environment, which has found companies experiencing the need to undergo sweeping, rapid changes. It's not just employers navigating a tsunami of challenges, ranging from managing a displaced workforce to supply chain woes — employees have found themselves facing a new work paradigm that has become increasingly digital and remote.
In this environment, people's development becomes critical in order for organizations to compete in and maintain leadership in their industry. To quote Nick van Dam, full professor at Nyenrode Business Universiteit (The Netherlands), from his professorial lecture "Learn or Lose," he states "The people who will thrive and flourish in the 21st century are those who embrace new learning and are motivated to acquire new skills and competencies." So how do you stay abreast of new technology and develop new skills that not only further your own career but benefit your current and future employers with your newfound knowledge?
User Groups Help Grow Your Career and Personal Value
Enter the User Group. A well-formed and well-managed User Group provides a huge network of like-minded people with whom you can rely for help with finding answers to the questions you have about the tools of your day-to-day job. In it you will find new ways to do something, learning tips and tricks along the way. You will also benefit from others by seeing how they have approached the same problem you are trying to solve. You can further advance your professional development through the many webinars, meetups, and networking opportunities that a good User Group will offer.
ODTUG is a User Group for Oracle Tool Users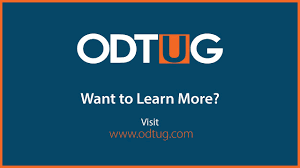 If you are an Oracle tools user, one of the best User Groups out there is ODTUG . ODTUG is "where the experts are" and what sets it apart from the rest is its focus on content, knowledge sharing, and education — not on sales. In it, you will a good mix of Oracle tool developers, users, Oracle "insiders", and customers — all intent on connecting and sharing with like-minded professionals.
READ MORE: Oracle blogs from Perficient
My Experience with ODTUG
I've been a part of ODTUG nearly since its beginning.  I've never found another user group more connected with and invested in its user community.  In every Kscope conference I've attended — either virtually or in-person — I've been impressed (if not actually awed!) by the sheer amount of knowledge that is just there for the taking.  I walk away from every conference enriched and frankly, re-energized.
And it's not just the conferences that have provided so much value. For me personally, it is the amazing ODTUG library of webinar recordings and presentations that I find myself turning to time and time again.
Just recently I accepted the opportunity to serve on ODTUG's Board of Directors and now I feel like it's my time to give back. This next year is going to be an exciting one for me, as I help ODTUG continue to expand its knowledge-sharing and education opportunities, to continue in its goals of developing industry leaders, and to continue to be that forum and voice for advocating excellence among the many facets of Oracle professional development.
If you are not a member of a strong User Group, please consider joining ODTUG today because it's simply the best!
---
At Perficient, we continually look for ways to champion and challenge our talented workforce with interesting projects for high-profile clients, encourage personal and professional growth through training and mentoring, and celebrate our people-oriented culture and the innovative ways they serve Perficient and the community.
Learn more about what it's like to work at Perficient at our Careers page. See open jobs or join our talent community for career tips, job openings, company updates, and more!
Go inside Life at Perficient and connect with us on LinkedIn, YouTube, Twitter, and Instagram.