Perficient and Adobe hosted a virtual special edition of the annual Women in Digital panel for breast cancer awareness month in which each attendee resulted in a $20 donation to be split between Pink Ribbon Girls and The Morgan Pressel Foundation. What started at Adobe Summit in 2017 with less than 20 women has evolved into a sold-out annual event. Each year, we bring together a panel of female leaders in the industry to discuss the difficulties and highlights of being a female leader in the digital space.   
With the world being virtual, so was our Women in Digital panel. This provided the opportunity for a larger number of attendees, which is why we decided to add a second panel this year with a special component to coincide with breast cancer awareness month. While we had over 100 attendees, both Perficient and Adobe agreed to round up and donate $2,000 to each organization!  
Our special edition session also had a special guest moderator, Team Perficient LPGA Tour
Professional Golfer and NBC Golf Channel Analyst Morgan Pressel. She was joined by an amazing panel that included Meghan Flynn, Director of Digital Marketing for Ideal Industries, Inc., Amy Patel, Senior Manager, Voice of the Customer and Data Governance at Toyota Motor North America, and recurring panelists Loni Stark, VP of Strategy and Product at Adobe.  
The full on-demand video recording is available online and below are some key highlights from the Q&A.  
We have all been through so much in the last year and a half. With the world changing so drastically, what trend or outcome do you hope sticks around?
Each panelist agreed there have been a lot of lessons learned. Meghan spoke to the overarching re-focus on what is important; not only that, but employers have now started paying more attention to mental health. Loni's answer was similar in that the pandemic has taught us to not take anything for granted. Amy mentioned we also learned new ways to be creative and solve problems.   
If you could go back in time, what is one piece of advice you would give to yourself at the beginning of your career?
With the success our panelists have had in their career, we wanted to know if there was any advice they could offer to attendees that they wish they gave themselves. We started with Amy, a senior leader at Toyota, who said she would tell herself to "buckle up." Your career is never exactly as you imagined it. With that in mind, she would tell herself that learning comes in many forms. Often, the best lessons can come from mistakes which ultimately leads to growth. Amy mentioned that when she realized she could let go of being perfect, it really transformed the way she was leading people and building relationships.  
In the same way that you can't be perfect, Loni noted that she wishes she could tell herself that in order to progress in your career you have to be more than your career. To be a leader, people need to connect with you as a human being more than as some creation of a corporate organization structure. Pushing the limits of your area of responsibility requires insight. More than that, it is having built a purview that is bigger than your area of responsibility and that is bigger than the title that was given to you. You need to develop yourself as a whole human and then figure out how you bring that to the table.  
Even our moderator Morgan felt this same pressure. She explained that having a public career, most people know golfers as golfers and put her in that box. She finds it is important for her to remember she is more than a golfer and the wins and losses don't take away from who you are as a person.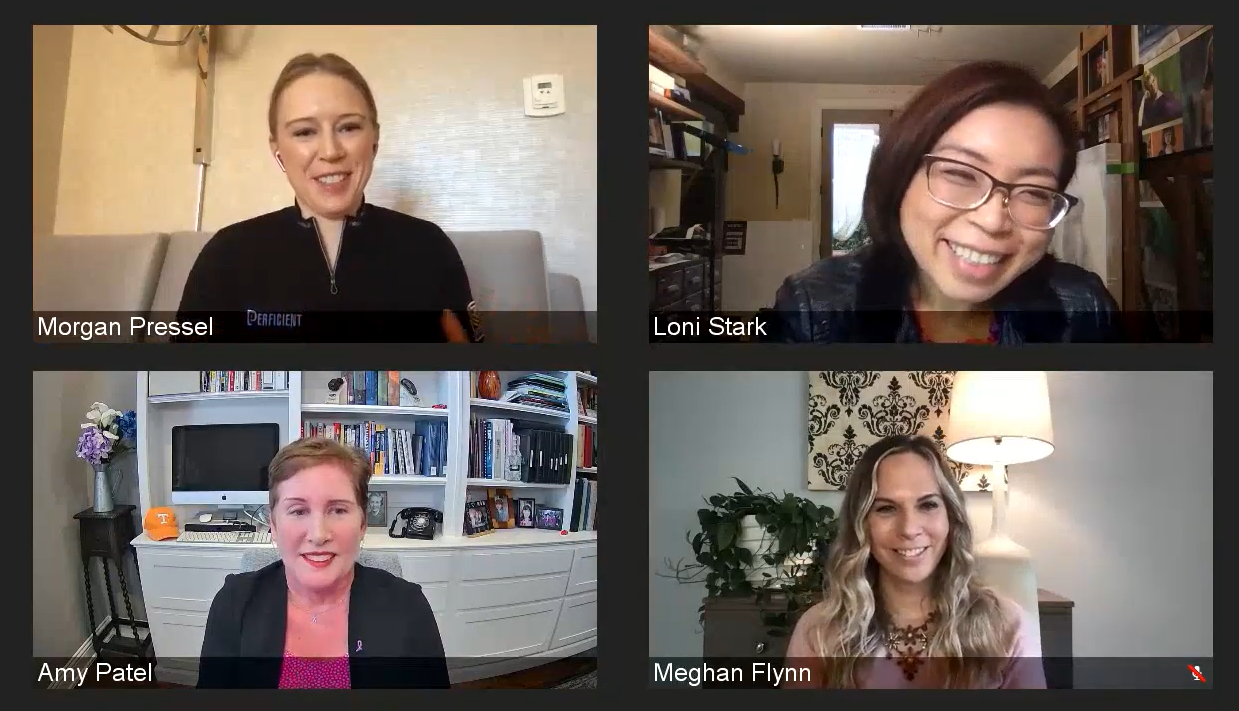 Looking back on your career so far, would you change anything or is there a defining moment from your career?
Overall, our panelists all agreed there isn't necessarily anything they would change because everything brought them to where they are today. But, they did have some defining moments. In Meghan's early career, her first job out of college, she was working in sales because she believed that was her passion. However, three months in she was in tears every day because it wasn't what she thought. She felt like she was failing at her dream. So, she took a step back and took a retail management job to refocus on what was important. It was this reset that allowed her to look at what she was good at and that launched her career.  
Loni explained finding your way in your career in an analogy. She approached it as if you were walking up on stage to give a presentation. You have in your head all the ways you should speak and sound. Then, you fall a couple of times on stage. Eventually though, you get comfortable on the stage and in your own skin.  
Throughout the hour discussion, we heard great advice from each panelist. Catch the full on-demand recording and share it with colleagues and friends. Stay tuned on our blog for more insights from our panel and additional information about our donation.