In my post from August, we learned how to effectively include stop, pause, hide, or volume changing controls into your video content to ensure the content is accessible to all users. Now we'll learn a little more about the value of including captions for both pre-recorded and live videos, as well as the option to download a transcript of a video's audio.
Below you'll see an example of a live video with generated captions that synchronize with the video as the man continues to speak. Generated captions are also available to pre-recorded content. To the right of it, you'll also find his speech that will be downloadable as a transcript for the user to review later with the "download transcript" button at the bottom.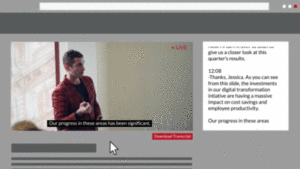 The addition of captions and the button to download transcripts for later usage make your video content more accessible to audiences who are hard of hearing and deaf, and it helps people with cognitive and learning disabilities who may struggle to retain audio (spoken) content. It's also useful to have transcripts to refer to later if you are writing a report or conducting research. Captions and transcripts make it easy for everyone to interpret information accurately and in the case of real-time captions.
These functionalities are easy to incorporate. For more information on creating accessible web and digital experiences, download our guide, Digitally Accessible Experiences: Why It Matters and How to Create Them, and to start on your accessibility journey, contact our experience design experts about our Accessibility IQ today. And, to learn more about accessible videos, check out Web Content Accessibility Guidelines 1.1.1 (Non-text content), 1.2.1 (Pre-recorded Audio-only and Video-only), and 1.2.2( Captions).