It's October! Temperatures are dropping, the sun is setting earlier, and sweaters are making their great return. Fall is here, and so are some great new Microsoft Teams updates, many of which you can already start using today!
Jump to:
Meetings
Present from PowerPoint to Teams
Presenting your PowerPoint deck in Teams has never been easier. When participating in a meeting or a call, a magic little button will appear in PowerPoint: Present in Teams. In one step, your PowerPoint deck will be on full display in your Teams meeting! Available now in PowerPoint web, Windows, Mac, and Microsoft 365 Apps for Business license. (Present in Teams will appear as long as your presentation is saved on OneDrive for Business or SharePoint.)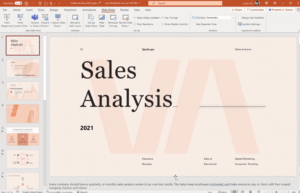 Teams meetings now available on Apple CarPlay
To further keep up with the hybrid work demand, Teams has added Apple CarPlay integration allowing you to join Teams meetings hands-free while driving. Using Siri voice commands, you can join your next meeting, look up call history, make a call or send messages to one or more Teams contacts. To minimize distractions while driving, this feature only supports audio mode.
New assignment experience in a separate window for Breakout Rooms
Manually assigning participants to Breakout Rooms is now much faster with a new pop-up window (previously in the Breakout Rooms' right panel). Sort by either rooms or participants and use the multi-select checkboxes next to participant names to add or remove participants to breakout rooms. Learn more.
2×2 video in Gallery view for web meetings in Safari
If using Safari browser for Teams meetings, users can now change the layout to 2×2 Gallery view, showing up to four participant videos during the meeting.
Scale Teams Live Events to 100,000 attendees
Through the Microsoft Live Events Assistance Program (LEAP), Teams Live Events will now support up to 100,000 attendees. This increase is only available when you use the LEAP team to produce and deliver your live event. Learn more.
Peer5 eCDN support for Teams Live Events
Microsoft has acquired Peer5, a certified eCDN partner, to expand delivery of these large-scale meetings and virtual events. You can now work with Peer5 to optimize your network for those large live events and meetings held by your organization. Learn more.
Restart Live Event
Speaking of live events… If you've ever experienced the panic of accidentally ending your live event or running into an error that caused it to end, never fear! The new Restart Event feature available to the Producer of the live event ensures that you can pick-up right where you left off.
Chat & Collaboration
Share Feedback in mobile app
The Teams mobile app now has the Help & Feedback option in Settings to send your feedback directly instead of needing to send an email. Admins using the mobile app will now be able to control elements such as sharing email addresses and logs.
Pin messages
Pinning messages within Teams channels and pinning specific chat conversations has been available for a while, but now you can easily pin messages within chat to highlight important content to all chat members. All members will be able to pin and unpin messages that will then appear at the top of the conversation. While pinning messages with images or GIFS is possible, it's best to pin text-only messages for optimal display results.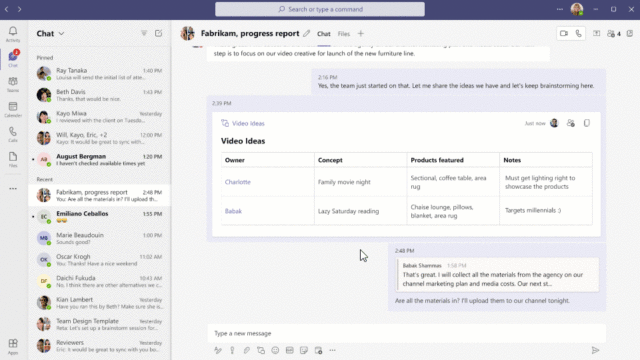 Reply to a specific message
When conversation starts rapidly flowing, it can be hard to navigate who is responding to what. Well, with the new reply feature, that becomes much easier. Replying to a specific message will include a quoted copy in the reply text box along with the reply, helping everyone make sense of the flow of conversation. Quoted replies will be available in 1:1, Group and Meeting chats.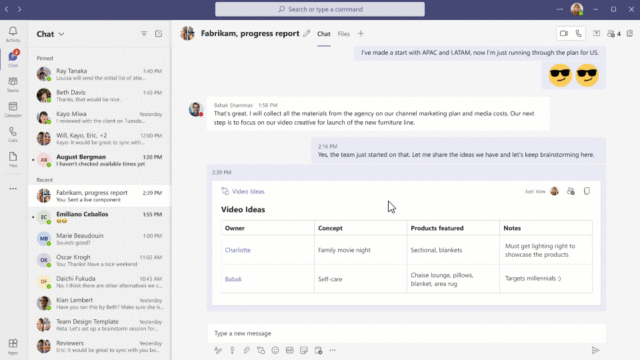 Power Automate templates to be added to Teams templates
Adding automation to your team is now easier than ever. Teams templates are already available as a quick-start for creating teams with specific scenarios by using predefined channels and preinstalled apps. And now when selecting certain Microsoft provided team templates, a selection of Power Automate flow templates have been curated for you to easily enable. Think less, automate more!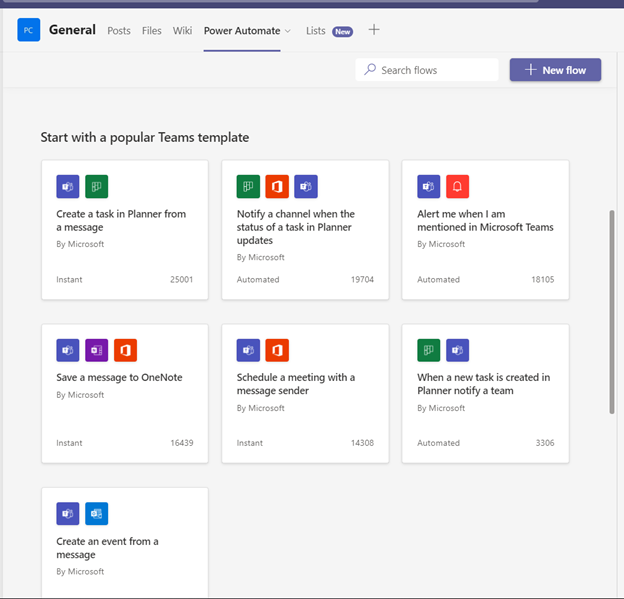 New default settings when opening Office documents in Microsoft Teams
Teams users with Office version 16 or newer installed and activated can now set a preferred way to open all Office documents when working in Teams. When selecting Open In on an Office document, there is now a setting at the bottom of the options to change default. This setting can also be changed in the General account settings.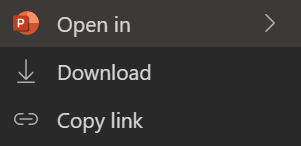 Management
Left navigation updates in Teams Admin Center
You asked, Microsoft listened. Based on customer feedback, new changes to the left navigation in the Teams admin center include more section and settings. This update makes it easier to navigate to the most important tools and organizes closely related features.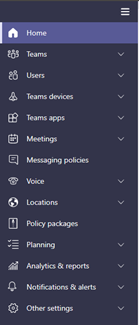 Simplified External access management in Teams Admin Center
After more Teams Admin Center feedback, the External access page user interface has been simplified for Teams administrations to easily choose between one of four external access configurations. While this usability improvement is welcome to some, please note that this will not impact any organization's current External access settings.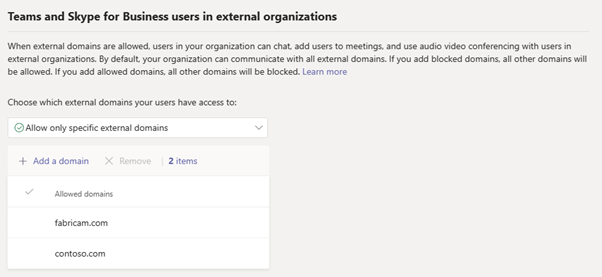 Login improvements to Teams admin center
Teams admin center login now can work without third-party cookies and login popups, allowing IT administrators to use all modern browsers for Teams admin center. Browser additions include:
InPrivate browsing or Strict tracking prevention of Edge
Incognito mode in Chrome
Safari
Frontline Workers
Pilot and deploy Teams for frontline workers with the onboarding wizard
For quicker onboarding of frontline workers to Teams, Microsoft introduces the frontline worker (FLW) onboarding wizard. This simplifies team creation (from either a teams template or from scratch) and role assignments for up to 100 users each time the wizard is run. Depending on a user's assigned role, they will receive a policy package to generate a tailored teams experience for their specific role. The onboarding wizard expands on the great tools available to organizations to support their frontline workers. Learn more.
That wraps up the Microsoft Teams updates for this month!
---
To stay up to date on all things Microsoft, subscribe to Perficient's blog, and follow us on Twitter and LinkedIn.
Our dedicated Microsoft Modern Work practice brings the best expertise in the industry. Our Microsoft Partner Advisory Council and Partner Program contributions along with our 20+ years of delivering employee experiences to our clients means we seek to build the best strategy for your organization. From Intelligent Intranet to Microsoft Teams to Microsoft Viva, our consultants are here to ensure your success.
Contact our team to learn more.