Data fuels the engine of the digital economy. Connected experiences, in the context of the customer relationship, are driven by a robust data set that confidently presents integrated, diverse data to enable actionable insights that can be automated across the customer's journey. Internally, data creates the foundation for increased analytic application of fraud detection, at-risk customer behavior, and improved cross-functional process management.
Perficient predicts that AI / ML will influence 30% of customer interactions within the next year. Over the next three years, we expect that 75% of financial service segments will shift from piloting to operationalizing AI/ML. We see support for this trend, as 90% of large organizations have hired a chief data officer.
Increasingly, customers engage with companies that demonstrate authentic knowledge of their relationship – and this requires data. Analysts predict that there will be 175 zettabytes (that's one trillion gigabytes!) by the middle of the 2020s. So, how does an insurance provider respond to this trend and the increasing number of regulations around data privacy (think GDPR or CCPA)?
Customers have demonstrated a willingness to share data in return for mutual benefit, but firms must manage data carefully to avoid turning this asset into a liability. At Perficient, we recommend a structured approach to maintain data governance, services, and management, all in consideration of advanced analytics: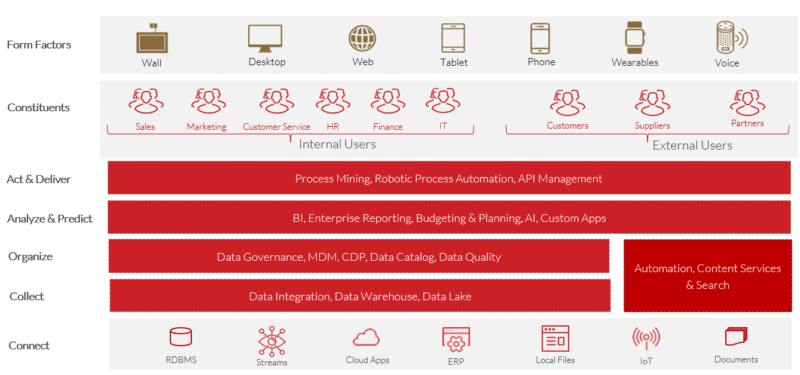 This structured model is critical as successful carriers will achieve competitive advantage by capitalizing on their robust sets of operational data to create actionable insights across a connected digital ecosystem and deliver integrated, seamless experiences tailored for consumers.