The manufacturing industry was evolving even before 2020, but the global pandemic added a new urgency to manufacturers' needs to digitally transform.
Today, organizations in manufacturing must meet new, more pressing demands of connectivity, technology, and agility.
In this article, we'll look closely at how Salesforce, MuleSoft, and Perficient offer manufacturers the technical and organizational solutions they need to stay ahead in an increasingly global market.
The Demand for Connectivity and Agility
Manufacturing companies face distinct challenges in today's industry, largely in terms of connectivity and technology. Companies lack the connectivity they need to provide customers and partners with real-time, relevant experiences. Many rely on legacy applications and siloed data sources, which limit their ability to keep an innovative pace with product demand. As markets become increasingly global and e-commerce the industry norm, manufacturers must meet the imperative of the moment – digital transformation (DX) that allows them to innovate new revenue channels and build meaningful customer experiences.
More specifically, manufacturers are realizing that traditional models of business operation do not offer the agility and core capabilities needed to pivot in the face of a crisis. Nor do these models offer the supply chain visibility required for maintaining accurate inventory. The global pandemic made this very apparent, forcing manufacturers to think about production capacity, route optimizations, demand planning and management, and logistics in a new way. The industry's future survival will hinge on supply chain modernization and companies' ability to transform at scale, something that point-to-point or legacy platforms simply cannot support.
How can organizations in manufacturing address these recent industry demands? For one thing, many manufacturers are migrating legacy assets – including data and apps – to the cloud. Cloud-based platforms and cloud-first approaches can enable businesses at multiple levels and accelerate the speed of product delivery. Organizations that have a strong base of data analytics in place are also able to customize products for end customers, especially if they utilize API integration to make data available in real-time to consumers.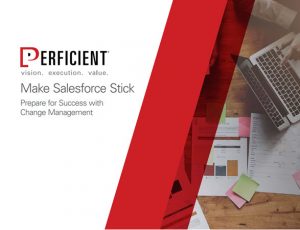 To ensure your Salesforce implementation or migration goes as planned, our team of change management professionals discuss how to manage the transition process to ensure your team is ready, willing, and able to perform effectively in the new environment.
In order to scale and achieve agility, however, manufacturers need to think of technological platforms as a whole, not merely point-specific solutions. This is where platforms like MuleSoft enter the picture as key enablers in the industry, combining the power of APIs, the cloud, and accessible data in a single platform to enable the kind of innovation and self-servicing manufacturers need to stay competitive.
MuleSoft + Salesforce as Manufacturing Solutions
Salesforce's Manufacturing Cloud has tremendous promise in its ability to improve manufacturing efficiency with workload management and providing insights into business processes through Einstein Analytics and other forecasting capabilities. Such capabilities, however, cannot be enabled without a solid integration platform like MuleSoft, designed to make data available and consumable in real-time.
Many of our customers rely on a mix of different technologies to meet such integration needs, using various platforms for basic app integration, API management, and batch filing and processing. While these technologies might meet these individual needs, together they create a disjointed landscape made up of systems that are fundamentally unable to talk to each other. As a consolidated platform that services all of these integration needs in one place, MuleSoft resolves this connectivity issue and engages front-end and back-end systems in meaningful dialogue.
MuleSoft is also API-led, which means that organizations can use it to connect legacy systems and unlock data in real-time across multiple sources. This makes it easier for business users and developers to conduct their work, but it ultimately drives the customer experience. When MuleSoft exposes API functionality, businesses can create multi-channel, repeatable, personalized experiences for their customers. They also can scale their products, optimize pricing, improve speed to delivery, and engage different markets to bring the highest-quality and highest-value products and services to audiences.
Lastly, the MuleSoft platform is more than just a tool for integration – it also encourages in-house enablement. In its decentralization of API consumption, MuleSoft goes hand-in-hand with the center for enablement (C4E) model many organizations are adopting in an effort to change their operating methodology and create a more effective partnership between business and IT. Without such a model, enterprises are at risk of creating their own shadow IT, developing services, products, and APIs that lack connectivity and raise security issues. A C4E model, however, increases an enterprise's self-servicing capacity in minimizing dependence on IT, so that everyone within an organization can contribute to the API ecosystem, discover assets, and leverage these to achieve innovation, scale, and deliverability.
Towards a Future-proof Architecture
In the manufacturing industry, digital transformation can be a significant and complex undertaking, especially for organizations accustomed to legacy systems and infrastructure. It can also take many different shapes and forms, manifesting as changes in leadership, technology, development processes, and team structure. To speed up the process of digital transformation – and make the most out of their DX initiative – enterprises need to devote significant time to creating future-proof architecture with microservices in place. They can leverage both Salesforce and MuleSoft to do this, driving the innovation of new products, offerings, and services, building meaningful customer experiences, and ultimately enabling the teams who need it most.
As an awarded industry leader, Perficient thrills clients with innovation. We help the world's leading brands use Salesforce and MuleSoft to accelerate digital transformation, drive innovation, grow their business, and create connected customer experiences. By leveraging consulting services, organizational change management, and customized solutions specific to each industry, Perficient's clients are also able to accelerate time-to-market. With Perficient, you get the experience and expertise needed to deliver impactful solutions that drive your business forward.
You can learn more about how MuleSoft technologies provide company-wide enablement and customer engagement in the MuleSoft CONNECT Session Empower Your Teams, Engage Your Customers.
Milind Bhalekar, Strategy Director in Perficient's Integration & API Management Practice, and Eric Dukart, National Sales Executive for Perficient's Salesforce and MuleSoft practices, also contributed to this article.