Welcome to July! Microsoft has a cornucopia of updates across various areas of Teams: Meetings, calling, chat and collaboration, management, and security! In this blog, we'll cover some of the latest and greatest announcements announced last month, many of which you can start using today!
Meeting Updates
Attendance Dashboard
Now as a meeting organizer, whenever you've finished a meeting or webinar you will have the ability to view the attendance report which shows who registered for the meeting versus who actually attended the meeting. This also includes the other goodies like the names of the participants, the duration they were on the call, participant join and leave times, and their role in the meeting (organizer, presenter, attendee). You will still have the option of downloading the excel spreadsheet containing the attendees but this new option is built into the Teams UI for easier access and better reporting analytics. As the meeting organizer, all you need to do is click on the Attendance tab in your Meeting Details to find the attendee dashboard. Check out the Microsoft documentation on the attendance dashboard here.
Note: The attendance dashboard is not available for channel meetings at this time.
Lower all raised hands
Now while in a meeting as a meeting organizer or presenter, if you have multiple users with raised hands you no longer need to go one by one and lower their hand. Instead, you will now see the option of Lower all hands with a single click! All you need to do is navigate to the participant pane and click on the ellipses ( … ) and you'll be presented with the option of Lower all hands. Nothing groundbreaking here, but if you have a large group of people with their hands up, this is a godsend.
Spotlight up to 7 participants at once
In the past, you were limited to spotlighting only one participant in a meeting. Now organizers and presenters can spotlight up to 7 participants simultaneously during a meeting! A common misconception is that pinning and spotlighting do the same thing. However, pinning only pins that participants video/screen for yourself, not others in the meeting. Although you could pin multiple people, you weren't able to spotlight multiple people, until now!
If you're not familiar with spotlighting, you can check out the step-by-step guide here!
New Chat Bubble pop-ups
During a meeting, it is often hard to track some of the conversations happening within the chat window. Luckily, Microsoft has added a new chat bubble that surfaces chats on the screens of all meeting participants making it easier to correlate chats with ongoing conversations. The best thing of all, you won't even need an admin to enable this, as this feature is on by default! However, if you're just not feeling the whole chat bubble feature, you can easily disable this in the meeting by going to the More actions ( … ) and then selecting Don't show chat bubbles.
Inking and Laser Pointer features in PowerPoint Live
Get the most out of PowerPoint Live in Microsoft Teams with the new visual laser pointer and inking annotations! Now, with just a few simple clicks you can engage your audience by drawing attention to certain areas of the PowerPoint or adding clarification with real-time inking capabilities! The inking will be visible to everyone in the meeting and only the presenter can point and draw on the slides.
Microsoft has some additional documentation on using these features, which can be found here!
Teams mobile large gallery view updates
With the latest updates to Teams mobile, when selecting Large Gallery view in your Teams meeting, you will now see an updated layout that allows you to swipe through all the participants in the meeting. In addition, this update allows you to see up to 10 participants (plus yourself) on the screen at one time! To get this cool new layout you'll one of the following criteria:
 iOS 13+ for our Apple folks
Android OS 9+ for our Android folks
Any OS version that has more than 4GB of RAM
Including device audio when sharing on Teams mobile
If you're familiar with the "Include computer sound" option (example below), then this will be a welcomed addition to the mix.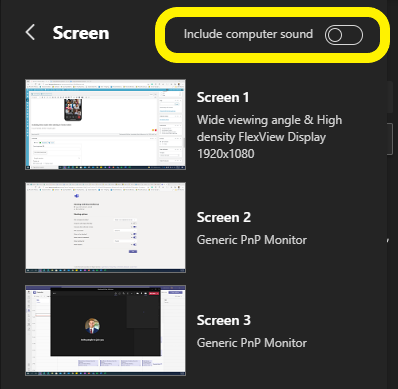 Now you can include your mobile device audio when sharing on your Android or iOS device during a Teams meeting! So if you'd like to include video audio and/or a voiceover, you can now do so all from your mobile device! Now you won't need to worry about playing music/voiceovers so loud from your mobile device speakers for others in the meeting which ultimately just resulted in audio syncing issues and massive echoes! To use this feature, go to More actions > Share screen with audio. This is available today for those with Android 10+ or iOS 13+.
Live Transcription w/ Speak Attribution for additional license types
If you're unfamiliar with Live Transcription in Teams, basically it allows you to follow and review conversations (English only at this time), in real-time with the meeting audio/video. So, if you have someone that arrives a little late to the party (or maybe they missed the entire meeting), they'd be able to easily catch up by reading through the transcript. This cool feature was only available to Office 365/Microsoft 365 E3/E5, Microsoft 365 Business Standard, and Microsoft 365 Business Premium license types. However, Microsoft has now expanded this feature to customers with Office 365 E1/A1, Office 365/Microsoft 365 A3/A5, Microsoft 365 F1, Office 365/Microsoft 365 F3, and Microsoft 365 Business Basic license types. If you're totally lost by that licensing, don't worry you can find Microsoft's license plan options here.
Large Gallery for VDI
The Large gallery feature is now available for those on VDI's! If you're using a Virtual Desktop Infrastructure you will now be able to expand your gallery and view up to 49 participants on the same screen during a Teams meeting! This now aligns with the typical Teams desktop client experience!
Calling Updates
1:1 PSTN Call Recording
There have been some slight tweaks in how call recording is enabled within the tenant. Microsoft has delineated meeting recordings from PSTN call recordings. Previously, the two fell under the same umbrella which was controlled via the CsTeamsMeetingPolicy > AllowCloudRecording attribute. With this latest update, PSTN calling will get its own policy and will now be controlled via the CsTeamsCallingPolicy > AllowCloudRecordingforCalls attribute.
Note: This feature is only available via PowerShell at this time.
Chat & Collab Updates
Approval Templates
Looking to streamline a workflow within Teams? Look no further! With the Approvals app in Teams, as a team owner (or admin) you can now use approval templates as is, customize existing templates, or create a new approval template from scratch for your organization to use! You can learn more about Approval templates here.
Tasks in Teams
You can now quickly create a task right from a chat or channel conversation! No need to jump between windows or switch apps to create a task, just click the ellipses ( … ) by hovering over the chat and then select More actions and choose Create Task. You can then find that newly created task within the Tasks app for Teams! Learn more about this cool new feature here!
Management Updates
App Risk Evaluation capabilities
As a Teams admin, you'll now have the ability to view the security, compliance, and privacy details for apps detected in MCAS (Microsoft Cloud App Security). This will help Teams admins and your security team more easily review apps to see if they meet your organization's security specifications.
Automatic Alerting for devices in Teams Admin Center
Identify device issues quicker than ever! With Device health monitoring you can proactively monitor the health of various Teams devices in your environment. For example, if the device goes Offline, you now have the ability to trigger notifications which can be turned into immediate corrective actions by your administrators.
Security, Compliance, and Privacy Updates
Data Protection for apps
Now all Microsoft 365 Certified Teams apps will contain security, compliance, and data protection details within the Teams admin center. This gives your security and compliance teams peace of mind when granting the apps access to run within the organization. You can learn more about Microsoft's App Compliance Program here.
That wraps up the biggest updates for Microsoft Teams that were announced last month! I hope you have found this blog helpful and I encourage you to check back regularly for more Microsoft 365 related content!